The Story Goes On: Melissa Kolb of "Mended"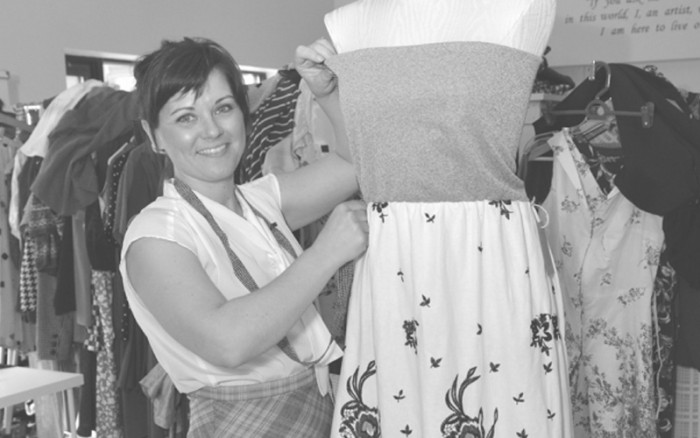 Story by Jill Lorie Hurst | Photos by Bernie Laframboise
(Due to unforeseen circumstances, Melissa Kolb and Carey Gustafson have abruptly lost the space they were leasing at 624 Livernois. For now, Kolb will primarily be working from home and selling her merchandise at the Rust Belt. The best way to reach them is through their email addresses : mendedmaterial@gmail.com / glass_action@yahoo.com)
—-
Walk into 624 Livernois, Suite 200 and you'll want to shop. A light, airy and inviting room, it's a combination retail space and workshop for Melissa Kolb of "Mended," who shares it with Carey Gustafson of "Glass Action" and Jessica Downey, who makes ceramics. A local band also uses the space on occasion. Communal creativity! The workroom area reminds one somewhat of an New York City showroom. Finished pieces and works in progress…dresses hanging, piles of fabric…every item unique. "I don't make the same thing twice" said Melissa with a smile. "It's time consuming, but I love it."
Melissa Kolb studied architecture at Lawrence Tech in Southfield and was poised to continue her studies
in New York City. She decided to stay in the Midwest when she realized that architecture was not her life's passion. It takes guts to go with your gut, but you get the feeling that Melissa is happy with the choices she's made. She, her husband, and two cats live in Ferndale. A 15-year gig waitressing at Uncle Harry's in St. Clair Shores has given her a home base and steady income, which helped her to start her own business. Melissa acquired her grandmother's sewing machine and started making clothes for herself. People liked what they saw, and she started making and remaking items for others.
She and Glass Action's Carey Gustafson have known each other for years, but just started sharing the space at 624 last March.
She finds the upholstery fabric, coats and clothing she works on at second-hand stores or through donations from family and friends. The bags range from small ones you can snap on a belt loop to large shoulder bags with sturdy straps and well-placed pockets. When I admired the hanging shelves they were displayed on, Melissa quickly told me they were built by Tyler Hall, who builds furniture and sells at the Rust Belt ("Planning for Humanity") displaying some of Melissa's items there.
I picked out a strapless black and tan print dress, elastic waist, knee length (maybe a touch above) – classic, but a little quirky. Melissa told me it came in with a collar and sleeves and was boxy. She sculpted it into a very different dress, but takes care to keep things close to their original size. "I like having a variety of sizes. Something for everyone…" It's a room full of characters – and stories? Again, her sparkly smile.
"Clothes have a story when I get them. I change the story a little bit."
I look forward to visiting Mended again. There are a couple of bags I hope will still be there on payday. If not, I know I'll find something else. And so will you, when you stop by.
If something happened with our health, we believe there is a solution to any maladies in a medicament. What medicines do patients purchase online? Viagra which is used to treat impotence and other states coupled to erectile dysfunction. Learn more about "sildenafil". What people talk about "viagra stories"? The most essential aspect you should look for is "sildenafil citrate". Such problems commonly signal other problems: low libido or erectile dysfunction can be the symptom a strong health problem such as soul trouble. Causes of sexual malfunction include injury to the penis. Chronic disease, several medicaments, and a state called Peyronie's disease can also cause sexual malfunction. Even though this medicine is not for use in women, it is not known whether this treatment passes into breast milk.