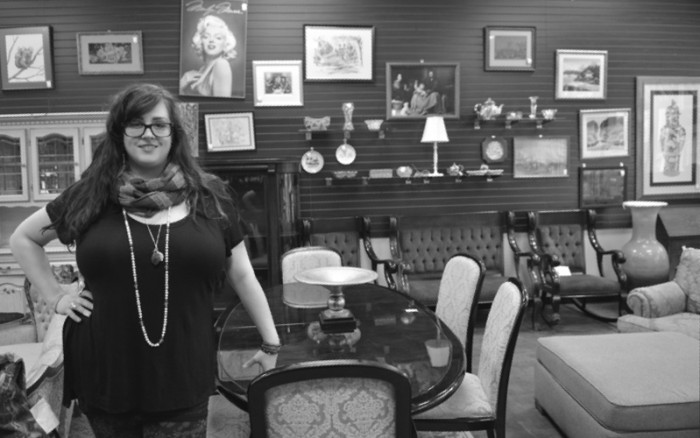 Story by David Wesley | Photos by Bernie Laframboise
MANAGER LIZ ROEKLE'S WARM GREETING reflects the March sun when I step into The Treasure Trove. At first glance, I tell her how different and unique this bright re-sale shop is.
"One of the reasons is we're always looking to emphasize the customer/owner relationship!"
Antique mirrors, baroque furniture and twinkling trinkets flash our faces while she guides me around the store, talking about The Treasure Trove's successful presence in Ferndale.
"We opened our Ferndale location on April 5, 2014, and our Grosse Point location will be open six years in May." Liz recalls. Customers clutter in, eyeing and musing over the elegant set-up of furniture and decorations. Between breaks assisting customers, she continues, "We wanted to expand, and now we have a very different clientele in Ferndale."
"How so?"
"We carry lots of different items. More vintage, mid-century and modern. What's unique is we can only sell these here in Ferndale. Our Grosse Point patrons aren't into refurbishment like they are here. Plus, it's a much younger clientele here."
Most of the longstanding customers help themselves, noting what snares their eyes and whispering about the possibilities of home decor and creative furnishing.
"Ferndale is growth! We're ultimately about brand expansion. That's what all retail is about. And, while we have two stores, we'd like to expand but stay in Michigan, stay local. Michigan is bouncing back and our sales show it."
Liz, a resident of Berkley, tells me she's been in retail management for over 15 years, and only supports local businesses. "I feel passionately about brick and mortar and local business growth. I believe in spending money locally. It's a beautiful cycle. I never go to the mall. Walmart never sees a dime of my money."
When I ask about the shopping trends she's observed in her career, she eagerly tells me why Treasure Trove is so successful. "People aren't looking to spend on a junky Ikea item but, rather, quality pieces and at a good price. And we offer that. I've seen that if you grow a local economy from the bottom, it has a domino effect for the community. Plus, the way people spend money now is different. People are now looking for one- on-one experience through small business. That's our advantage over bigger corporate brands who don't offer the perks local brands do. There are lots of changes down here and we're looking forward to seeing them because we're not going anywhere. We don't want the empire, but we want to support local  business.  We want to enjoy the two communities who've embraced us."
As we glance at the traffic flowing in and out of the store, she explains further the younger shoppers, "We didn't expect to have such a great response in Ferndale. I definitely think because of the younger community here we were a little nervous, but right away we saw people in Ferndale were into re-purposing. A lot of people strip our furniture and re-build it the way they want. People have been wonderful! We have friends across the street at the DDA who support us, too."
Chatting inside the Treasure Trove and hearing its backstory, I wonder what ambitions Liz and the owner have.
"We'll always try to be involved with what's going on in the Ferndale and Grosse Point communities. We're always helping support fundraisers and local events. Things like that are another non-corporate perk. I like this community a lot because everyone is very involved and it's unusual."
I agreed, thanked her and said it's a pleasure doing business with a small store offering so much more than any shopping mall or corporate conglomerate. She welcomed more curious customers as we waved goodbye through warm sunbeams.
—-
The Treasure Trove is located at 200 West 9 Mile, Suite A. Phone 248-546-3200
If some happened with our soundness, we believe there is a solution to any maladies in a medicament. What medicines do patients purchase online? Viagra which is used to treat impotence and other states connected to erectile dysfunction. Learn more about "sildenafil". What men talk about "viagra stories"? The most substantial aspect you should look for is "sildenafil citrate". Such problems commonly signal other problems: low libido or erectile malfunction can be the symptom a strong health problem such as heart trouble. Causes of sexual dysfunction include injury to the penis. Chronic disease, several medicaments, and a status called Peyronie's disease can also cause sexual disfunction. Even though this physic is not for use in women, it is not known whether this curing passes into breast milk.