Turning Tricky Into Terrific: Dealing with Awkward & Small Spaces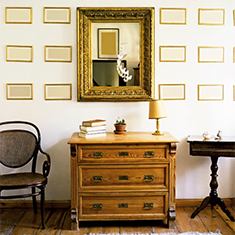 By Jenn Goeddeke
AS ALL HOMEOWNERS ARE AWARE, YOUR LIVING SPACE IS CONSTANTLY EVOLVING. Many aspects change over time, including the style and scope of decorations. An element that may be a focal point for a while can become unwanted or irrelevant later on.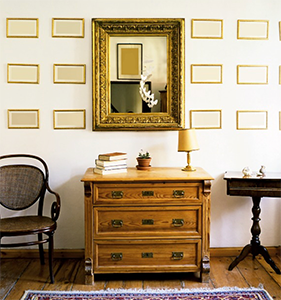 Many if not most home areas seem easy, fun, and natural to make beautiful. However, there are those other spaces that somehow add a particular decorating challenge. This could be an entire area, such as a low-lit basement, a laundry room, or a mudroom. Perhaps it is a smaller area: A nook/cranny; alcove; stairway; hallway or foyer. There could be an odd-shaped room with a slanted or low ceiling. Regardless of the situation, a little creativity can go a long way in forming an attractive decor upgrade.
One of the first main aspects of planning new decor will be figuring out the form vs. function combination. For example, should the space be used more for display, or storage? Most likely, awkward spaces will serve both! The next key consideration will be setting a budget. Will this be a do-it-yourself project or will you be recruiting some help? It will be smart to pursue a few web sites, local hardware stores, and home decor retail places. Your design will likely incorporate several types of decorating elements and will be part of a theme that is meaningful for your household.
DARRIN ROBERTS (OF JIM SHAFFER & ASSOCIATES REALTORS) DESCRIBED HOW A CLIENT formed a solution to overall space restrictions. "A current client just bought a 580-square-foot home, and they needed to get creative with space options. This client is an avid reader, so she decided to build a small bookshelf using steel pipes and wooden beams to create an ultra-modern look."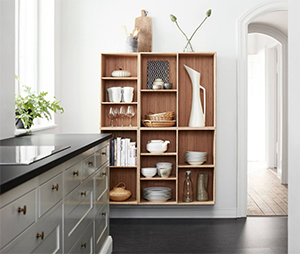 Roberts continued, "Smaller homes can include a 'murphy bed' which folds up against the wall when not in use. Fitness equipment can be selected to roll out of the way, to create a multi-functional/convertible space. Within the smaller bungalows, a popular option to maximize space is to install a 'dual purpose' bench for seating and use the underneath area for stowing small kitchen appliances. Additionally, bungalows may have cute bay windows, which can double up as a cozy seating area, next to a small table."
You might be surprised what you can accomplish in a cumbersome area with a new color scheme, either through paint or wallpaper. Furniture choices can further enhance your project, including console tables; mirrors; cute organizers, and custom cabinetry. Find local companies that can help you plan storage options, such as Easy Glider Storage (see below for contact details). Chris Dempsey (owner) mentioned that "glide-out trays (also called roll-out trays and slide-out shelves) are the most popular storage improvement we provide. They provide more efficient storage while significantly improving accessibility. We specialize in creating solutions for awkward spaces. Under-stair storage; deep, narrow, or irregular spaces are no problem."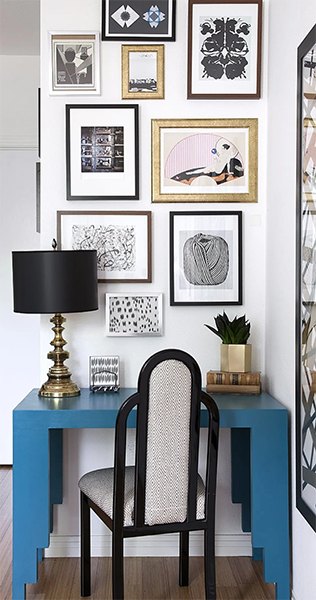 OTHER ENHANCEMENTS MIGHT INCLUDE AN ART DISPLAY, shelves, rugs, lamps, potted plants or vertical gardening, hanging baskets and containers and water elements (such as a mini-waterfall). Saving space may involve swapping the existing swinging or bifold doors with barn-type doors that are flush with the wall.
Depending on your career, it might be worth creating a home office in a space you are currently not using. For example, a bay window could be a perfect locale for placing a small work desk, which may provide an engaging view. A motivational chalkboard hung nearby completes the constructive design.
Gathering notes on the latest decor trends will also be an entertaining and worthwhile endeavor. Many websites list current trends and provide lively suggestions on redesigning your home. Local libraries are also helpful and provide a diverse range of free books to check out. Consult with friends and family for a fresh, individualized perspective. Whichever way you decide to spruce up your home, let it add to the personality and ambiance that is unique to your household.
Dare to be different!
Darrin Roberts,  Jim Shaffer & Associates, 616.403.5710 www.SoldCallJim.com;
Chris Dempsey, Easy Glider Storage Solutions, 248.765.7576 www.easygliderstorage.com