Evan Derian: The Everlasting Joy of Comic Books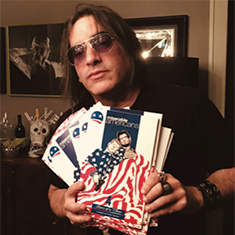 By Lisa Howard
COMIC BOOKS HAVE COME A LONG WAY SINCE SUPERMAN first flew into the American consciousness in 1938; nowadays, graphic novels and mangas are flying off the shelves, and a large swath of comics are available in digital formats.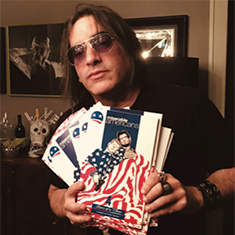 And while the Big Two (DC and Marvel) still publish books galore, many creators are taking the independent route. "I decided to just do it," says Evan Derian, creator of Miserable Americans. "I wanted to write and draw and do what's fun about comics, not wait for someone to give me that opportunity."
As a kid, he was an avid collector, and that love of comics never went away, not during his college years when he was studying graphic design and not during his years of designing mostly corporate projects.
He still does that kind of work (and ongoing graphic design side gigs) in addition to creating his own comics. Initially, he tried to break into the commercial comic industry as an illustrator, but he quickly found himself trapped in a byzantine world of insider connections and inscrutable editorial decisions.
RATHER THAN CONTINUING TO SWIM UPSTREAM, EVAN STARTED CONCEIVING the idea for his first story back in 1999. It turned into a 150-page graphic novel called Insignificant Gods, He self-published it and started taking it to comic book conventions (known by geeks as "Cons"). Ultimately, though, the con scene was a wash; the cost of having a table and how much he made in sales were pretty much even. He decided to move on to the next project.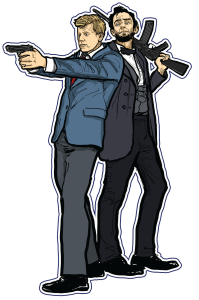 "That was a learning process," he says of his first year's foray into creating comics. "I found out that it was harder to put together pages and layouts in certain ways, plus I realized that I needed to write more detailed scripts so that I'd know how much dialogue would be in each panel." Not only that, but the process of world-building chewed up too much page space.
Hence he decided to center his next title on well-established figures rather than all-original ones. Enter Lincoln and JFK as the protagonists of Miserable Americans. "In the world of comic books, everything is possible, so I decided to clone the two most popular presidents in pop culture and write about them," Evan explains. "Once I did that, then I was off-and-running. The books just about write themselves because there's so much to mine when I drop Lincoln and JFK into various situations in modern America."
UNLIKE THE WAY THE VAST MAJORITY OF COMICS ARE PRODUCED, Evan does everything himself: he's the writer, penciller, inker, colorist, letterer, interior and cover artist, and marketer. Creating a book entirely on his own is such a labor-intensive process that sometimes it takes him a year to get a title out.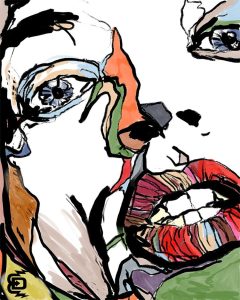 He loves being his own kit-and-caboodle production team though, and being able to embrace his own cinematically influenced style of art. His books are more realistic and darker than mainstream superhero titles. He says he draws far more inspiration from films than from other comics, with a style that's reminiscent of Thelma & Louise colliding with a Coen Brothers movie.
While breaking into comics is the polar opposite of easy, Evan loves it. Yes, marketing is a challenge, he admits. It would be nice if a PR professional handled that part. But, at the end of the day, he has a passion for telling stories.
"I love the idea that I can write and draw stories and share them with people," he says. "I love it when someone picks up my book and wants to read more. That's when you know your story is working."