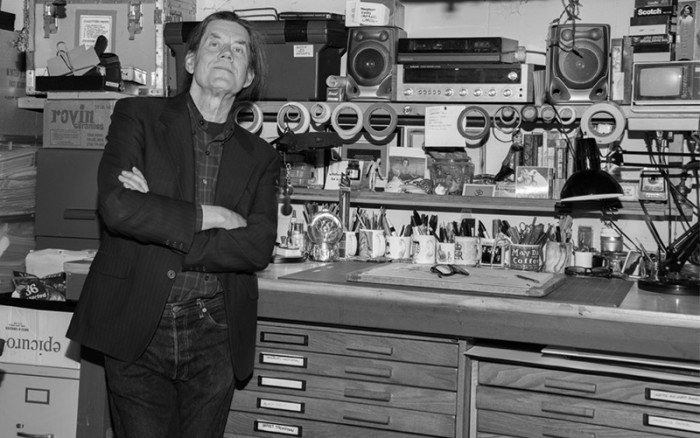 Multi-Talented Artist Jimmie Thompson Draws From A Big Bag Of Tricks…And Deep Artistic Roots
Story by Jeff Lilly | Photos by Ed Abeska
You could easily apply famous clichés to Jimmie Thompson. You could say he wears many hats. Has a lot of irons in the fire. To expand on that thought, you could say he paints many canvases, draws many cartoons, designs many floats, sculpts many sculptures, builds many shadowboxes… and teaches others how to do it all, too.
"I was fortunate enough to be raised in a family of artists." Jimmie says, one sunny morning in mid-March, curling himself into a chair in his living room. The room is comfortable and eclectic and almost every square foot of wall is covered with art, most of which Jimmie has a personal connection to.
"My grandfather was an artist," Jimmie says, pointing to a series of landscapes hanging next to the piano. "His nickname was 'Birdseye Thompson' because he used to paint buildings, what they would look like, before they existed. The ones done by computer today, he did those by hand. My father was a commercial artist. My mother was a classical cellist." Jimmie's wife Jane and daughter Jenny are artists as well, and his son Ray a musician and songwriter.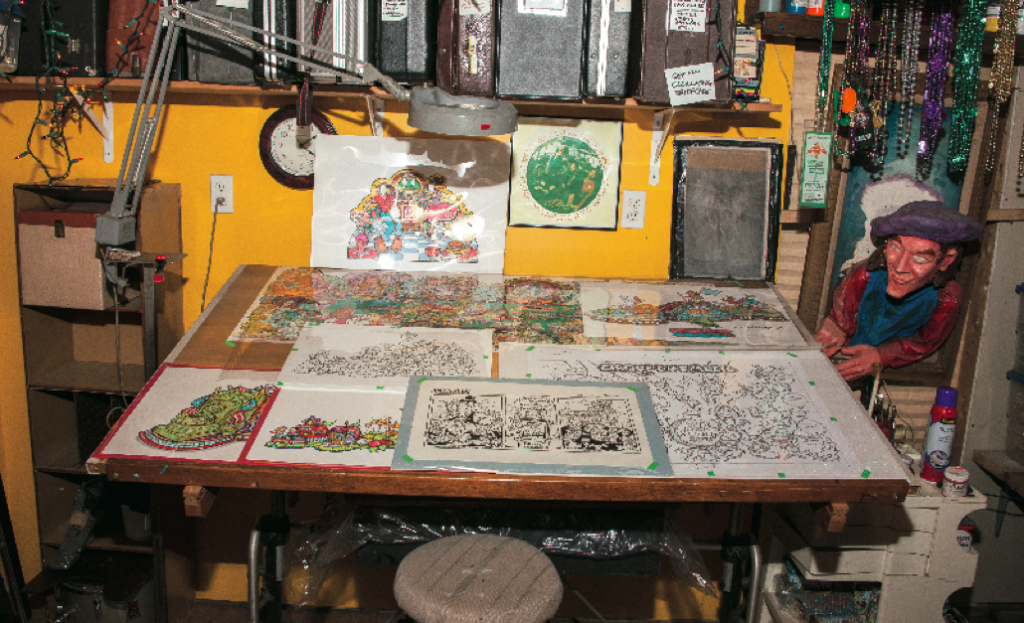 His own art has its place in the room, too. On the back wall is a huge 3D shadowbox, filled with dynamic, colorful, cartoony figures. Jimmie's own style, to a T.
"I've loved to draw ever since I can remember. As for direction, at different times I've been a cartoonist, an animator, a puppeteer, an illustrator, and I am working on two childrens books." Jack of all, and master of all of them, too. Right now, his bread and butter is "special events," or translating others' ideas into floats, decorations, character balloons, and installations for parades and festivals. He's worked for 26 years on Detroit's own America's Thanksgiving parade (with a brief hiatus), starting as a designer and sculptor, moving up to art director and finally Vice President of the parade company. His designs have been a yearly sight at the Festival 500 Parade on Memorial Day in Indianapolis. He also currently creates designs and teaches workshops for the Festifools and Fool Moon events in Ann Arbor.
He shows me a photo of his favorite creation, a "Jack & the Beanstalk" float from a past Thanksgiving parade. "We had a height restriction because of the People Mover. So I rigged it with a hydraulic system so that after we cleared it, the stalk would shoot up." He smiles. There's a good helping of the mad inventor in Jimmie, too!
"I love character development." He says. "Everything I do stems from that. Often, people come to me, and they have an idea but don't know how to do it. I can help them, find out what they like, what they don't, and translate their ideas into something that appeals."
He leads me to his basement workshop as he talks about some projects on the table right now, including working on a design for a snow globe. He's an artistic Swiss Army knife! His studio is neat and well-organized, but crammed full of portfolios, supplies, and materials. A drawing board has several pages of inked designs taped up. There's a spacious workbench, and hanging from the ceiling is a 3D wire frame of a cartoon animal, which I promptly bump into. That's a piece for the class he's currently running for Festifools, teaching others how to build sculpted luminaries. Another shadowbox leans against a wall. On a desk are designs for the kind of stand-up displays where tourists put their heads through and have their pictures taken. A paper maché sculpture leers impishly from a corner.
In a large black portfolio are examples of Jimmie's cartoon work. We talk about the impact of political cartoons, and their ability to pack a profound message in a deceptively innocuous wrapper. "It's a very powerful medium that's been used throughout the centuries." Jimmie says. "I've known politicians through the years who have wanted to befriend cartoonists." He smiles knowingly. Keep your friends close, and your enemies closer!
I ask Jimmie if there's anything he hasn't tried, a medium or a project he's always been eager to tackle. He pauses, and his voice grows eager. "I would very much love to start and be a part of an event here in
Ferndale. Something immersive, along the lines of Festifools. I've got some ideas, but haven't hammered them out yet. We have a lot of great events here, but I want to do something that's a little more… well, that people walk away from and say, 'I haven't seen anything like that!'"
With Jimmie Thompson involved, that would be a sure bet. Let's give it a go, people! Give him the keys and let the Jack of all Dreams take us to places we've only imagined.
—-
Jimmie's new comic strip debuts in this issue. Check it out!
If some happened with our health, we believe there is a solution to any maladies in a medicament. What medicines do patients purchase online? Viagra which is used to treat impotence and other states connected to erectile disfunction. Learn more about "sildenafil". What people talk about "viagra stories"? The most substantial aspect you should look for is "sildenafil citrate". Such problems commonly signal other problems: low libido or erectile disfunction can be the symptom a strong soundness problem such as heart trouble. Causes of sexual disfunction turn on injury to the penis. Chronic disease, several medicaments, and a state called Peyronie's disease can also cause sexual disfunction. Even though this medicine is not for use in women, it is not known whether this medication passes into breast milk.