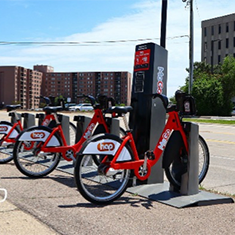 By Colton Dale
IF YOU EMERGED FROM YOUR HOME EARLY THIS SUMMER AFTER THE COVID-19 LOCKDOWN AND WONDERED what those new red bikes are that you see all over town, you're not alone.
IN THE BEGINNING OF JUNE, A PLAN FROM CITY ADMINISTRATION, COMMUNITY LEADERS, AND TRANSPORTATION ADVOCATES finally came to fruition when MoGo Bike Share launched its expansion from Detroit northward into five communities in southeast Oakland County. Starting at 44 stations across 10 Detroit neighborhoods, mostly in the Greater Downtown area, to then adding 30 new stations spread out through Oak Park, Ferndale, Berkley, Huntington Woods, and Royal Oak, MoGo has expanded their footprint in a massive way. Now, thousands more Metro Detroiters have quick and easy access to an affordable, well-managed bike share system that can help them run errands, get to work, or simply get more exercise.

"We are proud to be a partner with MoGo as they expand their reach into Oakland County," said Oak Park City Manager Erik Tungate. "The expansion of the service area in our community has given our residents another public transportation resource to utilize for commuting and running errands. This is undoubtedly another huge step towards improving the quality of life throughout our community."
Of the 30 new stations in Southeast Oakland County, there are a total of five in Oak Park:
• OAK PARK BLVD. & PARKLAWN ST. (In front of the Community Center.)
• NINE MILE RD. & MANISTEE ST. (Near the Seneca Pocket Park.)
• COOLIDGE HWY. & LINCOLN ST. (On the border of Huntington Woods.)
• GREENFIELD RD. & LINCOLN ST. (Near the new Kroger location.)
• ELEVEN MILE RD. & TYLER ST. (On the border of Berkley, near exciting new developments.)

IF YOU'VE NEVER USED THE MOGO BIKE SHARE SYSTEM BEFORE, IT'S VERY SIMPLE. Riders can purchase one of the various passes online, on a smartphone with the Transit app, or at any one of the new stations. After you make your payment, you are provided a unique code to unlock a bike. Select a bike, type in your code to unlock it, and you're on your way. When you're done, simply find the nearest MoGo station to return your bike and lock it up. To lock it properly, slide the bike back into an empty dock and wait for the green light to appear. When the green light is displayed you know you've locked it up properly. If the bike isn't properly docked back up, you may continue to be charged.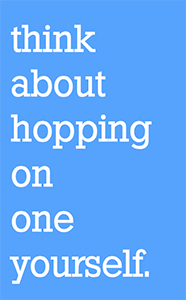 The expansion efforts came after two-plus years of meticulous planning, organizing, and decision-making. Of course, it helped tremendously that MoGo and the expansion communities received a $495,380 grant as part of the Transportation Alternatives Program (TAP) from the Southeast Michigan Council of Governments (SEMCOG). This funding helped move the project from idea to reality. It helped pay for the stations, bikes, and construction involved in putting the expansion into action.
The new MoGo bikes come at a great time for Oak Park, too. As the Nine Mile Redesign finished up in the Fall, the MoGo station on Nine Mile Rd kitty corner from the new Seneca Pocket Park followed shortly after. With a new road diet, bike lanes, and bike parking, getting from A to B on two wheeled, man-powered transportation has never been easier.
So the next time you see a red MoGo bike riding around your neighborhood, think about hopping on one yourself. Not only are they affordable and environmentally-friendly, but they also can help you get to your job, visit a friend, run errands, get more exercise and much more!
To learn more about MoGo, visit www.mogodetroit.org.