Detroit Auto Electric Fleet Services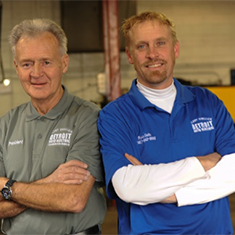 By Jennifer Goeddeke
DETROIT AUTO ELECTRIC (DAE) IS A FLEET SERVICE & MANAGEMENT COMPANY, WITH AN EXTENSIVE HISTORY. I recently visited their facility at 21040 Coolidge in Oak Park and spoke with both Sue Cetnar (office manager) and Shawn Castle (president/operations manager). Despite being under the pressure of a pressing deadline, they both gave me a warm welcome and and considerable time in sharing some details about DAE.
THE COMPANY WAS ORIGINALLY FORMED IN 1937 BY RUSS TILLIT, AND WAS SITUATED ON WARREN AVENUE. A few years later, in 1941, DAE moved to 8040 Livernois. Subsequently, Charles Davidge purchased the company in 1971, and they moved to 8113 W. 8 Mile in 1983. All three of these former locales were in Detroit.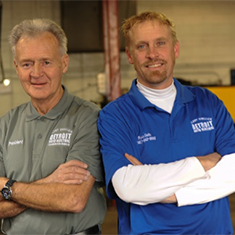 The company focus gradually shifted over the years, from auto maintenance to the maintenance of trucks, trailers and vans. A number of their service features keep customers returning because they go beyond what a typical fleet management company would do. Even though DAE does not own the trucks, Cetnar emphasized that they treat each one as though it directly belonged to them. She described DAE's basis for its success as centered on excellent customer service, with consistent communication via email or phone.
Every aspect of truck maintenance is conducted in-house, including the electrical and transmission work, with a top-to-bottom check of vehicles during every appointment. Detailed tracking records via specialized software enable the staff to keep customers informed on everything that needs to be checked. Roadside service for their customers is also offered.
DAE HAS MADE SUSTAINABILITY A PRIORITY, IN OFFERING a comprehensive Exhaust Gas Recirculation (EGR)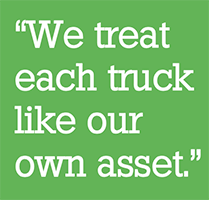 system. This greatly lowers the level of emissions and helps substantially with air quality by recirculating and burning off nitrogen oxide fumes. The system also adds to the longevity of the trucks, by efficiently keeping the EGR circuit, oil and fuel systems completely clean. Cetnar added, "we believe in it, and other places charge triple what we do."
A week before the outbreak of Covid19 in the US, DAE lost its biggest account: Art Van. This cornerstone of Detroit furniture store filed for Chapter 11 bankruptcy and began liquidation sales at its 190 stores. The Art Van account involved the maintenance of over 600 trucks, many of which were just left on DAE's lot. The whole situation was a big challenge.
Fortunately, the Taylor & Martin auction company offered to help. So they got to work getting the trucks up to full running standards, including the replacement of batteries and other differing degrees of mechanical work.
Quite a few of the trucks' buyers were located out-of-state. Thus, the entire process needed careful coordination. Just as I was conducting the interview, the deadline for the trucks' pickup had arrived. Cetnar mentioned their staff had been working around the clock to meet this deadline, "because a sitting truck is a big deal…we needed them to be okay, so we stayed busy!"

DAE kept the costs reasonable, and it turned into a win-win situation all-around. Additionally, a few other companies contacted them for work, including Forgotten Harvest. "They are running trucks massively", Cetnar added. "It was a great way for DAE to bounce back" she added with a smile.
2021 marks the 50th year anniversary of ownership under Davidge. Cetnar and Castle will be planning a party for customers and guests. Further updates will be posted on their website/social media accounts. We wish them continued success in re-building new accounts, and keeping their fleets in top running condition!
Detroit Auto Electric Fleet Services is located at: 21040 Coolidge
in Oak Park. They can be reached at 248.543.8805. Visit their
interactive website: www.daefleet.com for further information.