BACC Continues to Make Berkley the Place to Be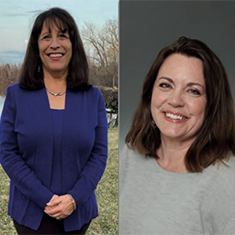 By Sara E. Teller
Photos by Ashley Poirer
THE BERKLEY AREA CHAMBER OF COMMERCE (BACC) IS DEDICATED TO CREATING A SPACE for business owners to come together to serve Berkley and our surrounding communities. The Chamber has organized many events and activities over the years, with this year being no exception despite the ongoing Covid pandemic.
Many great things have been happening around town in general, even as the world is faced with a 'new normal.' There are businesses continuing to come into Berkley, and the close-knit community has witnessed a growing number of people settling in, especially younger singles and families. Drawn to the area because of the 'everyone-knows-everyone' ambiance, free parking and many fun things to do, Berkley continues to be a go-to spot for newcomers.
BACC primarily supports small businesses by engaging in local events, organizing affordable marketing options, offering a high-volume social media presence, and initiating networking activities. In 2021, BACC was instrumental in supporting businesses through a grant from Oakland County. The Chamber offered PPE items for its members, as well as propane for outdoor heaters, hand sanitizer, wipes, and other items that weren't in the budget before the pandemic hit. The Chamber ensured members were given as much online attention as possible, particularly regarding adjustments made to days and hours they were open, and the innovative ways owners came up with to continue serving residents.
"We organized very successful 2021 summer events that brought thousands of people to Berkley, in a strategic, safely-spaced manner," explained BACC's Executive Director, Darlene Rothman, adding, "We had beautiful days for these events, and everyone enjoyed being outside. You could feel the excitement in the air!"

BERKLEY ART BASH & STREET ART FEST: While the Berkley Art Bash is traditionally held annually during the second weekend in June, the event was postponed to September 11 this year to allow for more people to receive the Covid-19 vaccination. Pinspiration Berkley and Vibe Credit Union sponsored the Kids Zone. Nearly 100 vendors offered a diverse assortment of photographs, garden art, jewelry, pottery, wearables, paintings, and gourmet offerings.
"We expanded the footprint by a few more blocks to ensure more space between vendors and to allow for safer shopping," said RoseAnn Nicolai, BACC Events & Operations Manager and owner of Nicolai Events & Communications. "A lot of the success of the event was due to April McCrumb, owner of Catching Fireflies and Yellow Door Art Market. She did such a great job curating the show and finding such talented artists to be vendors."
The County Oakland Irish Fest group hosted the entertainment which included Doug Thompson, the Flanagan-O'Hare Irish Dancers and Michael O'Brian & the Distractions. Children who attended could either make a craft there or take a kit home. Pinspiration Berkley also had a splatter-paint tent where children could fling paint onto a small canvas, creating their own piece of artwork.
The Berkley Street Art Fest date was also postponed to August 7 this year due to the pandemic. Downtown Berkley was transformed with art as professional and aspiring chalk artists created colorful street art with chances to win prizes. Shop for Good Village, a newly-added component coordinated by VITRINE owner Susan Rogal, was a curated collection of handmade products made by sellers with a primary focus on 'doing good' on a local or global scale. A commissioned artist, Ed Irmen, created a mural at Folio Offices. People throughout Metro Detroit watched these artists as their masterpieces came to life. The event was presented by the MSU Federal Credit Union.
"We are looking forward to Berkley Art Bash returning back to its usual time of year in 2022, Nicolai said. "Mark your calendar for June 11, 2022. Berkley Street Art Fest date will be announced in 2022, and County Oakland Irish Fest, which the Chamber is a sponsor, will return on September 10, 2022."
CRUISEFEST: The 2021 CruiseFest shirt, designed by Jon Murrell of Armadillo (owned by Dave Lakatos), was such a big hit that it sold out prior to the event for the first time in the CruiseFest's history. The Chamber responded by adding a limited timeframe for residents to purchase them online.
The shirt was created to promote the 25th anniversary of the CruiseFest, which was held on August 20, 2021. The event draws car lovers from all over and includes a parade of classic vehicles for attendees to enjoy. Darron Moore & the 14th Floor provided the event's entertainment. New for 2021, the Berkley Parks & Recreation hosted an outdoor movie experience in front of the Neighbor's Shoppe. The film Grease was screened immediately following the parade.
RESTAURANT WEEKEND & NIGHT MARKET: BACC partnered with the Berkley DDA to bring, for the first time, a Restaurant Weekend to downtown Berkley the first weekend of October. Katie Kutscher and Christine Gross, sister owners of Berkley Common, also helped pulled together this amazing event.
"Berkley Common was the driving force behind this," Rothman said. "Katie initiated the conversation, encouraging us to do something to help the restaurants." The owners wanted everyone (BACC, DDA, and the participants) to join together as a team to bring extra attention to the restaurant community during an especially difficult time.
Those who participated included Berkley Common, 24 Seconds, Amici's Kitchen & Living Room, Casa Amado Tacqueria, Coco Fairfield's, Crispelli's, Dog & Pony Show Brewing, Fresh Collective Kitchen & Market, Green Lantern, Oak Park Social and Republica. Each eatery had food and drink specials local foodies could retrieve online by scanning a QR code or simply take note of signs placed around town.
The same weekend, the DDA Night Market was held on October 2nd, giving residents the opportunity to visit their regular go-tos after hours and explore new businesses along the way. Retailers stayed open late to give visitors a magical night-time shopping experience. A complimentary downtown trolley sponsored by the Berkley DDA ran throughout the event and dozens of storefronts transformed with spooky décor.
The retailers who participated included Articipate, The Artsy Umbrella, Fresh Collective Market, GateKeeper Games, …Have You Any Wool?, June & December, Peninsulas, Pinspiration Berkley, PUCK HCKY, Red Arrow Tattoo Collective, Reware Vintage, Toadvine Books, Tootie & Tallulah's, The Twisted Shamrock, Ullman's Health & Beauty and VITRINE.
Rothman said, "The restaurants and retail stores were thrilled that the community supported them by eating and shopping locally, for as many items as possible and being gracious to their staff as many are understaffed. The holidays are approaching soon, so please consider buying local to support these businesses."
STATE OF THE CITIES: The State of the Cities event, produced by CMNTv and sponsored by Beaumont Health, was held virtually on October 28, 2021. The purpose of the event is to provide an opportunity for local government entities including the City of Berkley, City of Huntington Woods, the Berkley School District, the Berkley Downtown Development Authority (DDA) and the BACC, to report out to the community about the accomplishments and issues faced over the past year as well as talk about what is up-and-coming.
The Chamber honored local businesspeople and organizations during the State of the Cities that had been especially supportive of the Berkley community. Its Best of Berkley awards are traditionally given to Chamber members who exemplify leadership, have passion for the area, and go out of their way to support businesses with a commitment to making the community shine.
Rothman added, "This past year, with the pandemic, they had to be especially creative and think outside of the box." The 2021 recipients focused largely on ensuring that the community flourished despite the Coronavirus.
THE 2021 CHAMBER HONOREES INCLUDED VITRINE, owned by Susan Rogal, as Business of the Year, and Robyn Cohen, owner of Sum Girls Boutique, as Businessperson of the Year.
VITRINE and Rogal have been instrumental in bringing attention to downtown Berkley businesses, especially along the Coolidge Corridor, where VITRINE is located.
"VITRINE is always coming up with new ways to promote Berkley, and Susan personally recruits businesses to participate in the downtown shopping events," Nicolai said. "Susan is so willing to help new businesses on Coolidge succeed by offering them advice and connecting them with people who can help."
"In particular, they were instrumental in growing this year's Berkley Street Art Fest, using their summer marketing dollars usually allocated to promoting their business," Nicolai said. "And their staff personally, on their own, promoted the event."
The second honoree, Robyn Coden, "is a champion for downtown Berkley and its businesses," Nicolai said. "At least once a month, she has an event that brings different vendors and businesses to town to promote at her store. She also consistently donates, both monetarily and of her time, to the community, civic groups, and Berkley Schools."
Coden regularly employs students from Berkley High School and Anderson Middle School to work in the store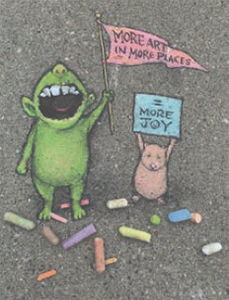 and creates cross-promotional opportunities with other businesses. She has recruited new businesses to open their storefronts in Berkley, and through her social media presence, she is always drawing attention to these businesses.
Nicolai explained, "Both honorees are passionate about making sure everyone in downtown Berkley succeeds."
Rothman and Nicolai are especially grateful to the "wonderful writers of this annual City Guide who all do a fantastic job."
For more information on BACC activities and events, or to become a member, visit the Chamber's newly launched site: www.berkleychamber.com