By Ingrid Sjostrand
More Than Just A Bank… A Community Asset.
AFTER THE LAST TWO YEARS, WE ALL RECOGNIZE AND APPRECIATE the value of face-to-face interactions. MSU Federal Credit Union (MSUFCU) didn't need a global pandemic, though – it's been the foundation of their business for 84 years.
"There are certain transactions people feel more comfortable completing in person when they're able to meet with someone face-to-face who is an expert in that area," said Deidre Davis, MSUFCU Chief Marketing Officer. "That's the value our employees bring each and every day to every community we are in."
Maybe the importance of that value comes from their roots. MSUFCU was founded in 1937 during the Great Depression, to help their members borrow and save. It has since grown to include 22 Michigan branches and over 315,000 members worldwide. The Berkley branch, located at 1833 Coolidge Hwy, opened in November 2019 and is one of their dualbranded locations with Oakland University Credit Union, a trade name of MSUFCU.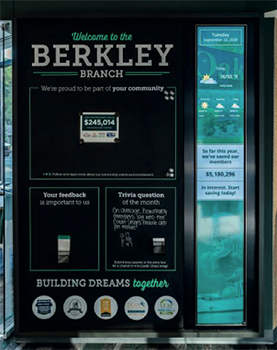 "Our selection of Berkley as a credit union location was part of our plan to continue our expansion in Oakland County," Davis said. "At the time, MSUFCU was serving over 16,500 members who lived within ten miles of the branch. Today, we have 19,705 members who live within ten miles of the branch, and more than 42,038 members who live in Oakland County."
AND THEY DIDN'T JUST BUILD A BRANCH IN BERKLEY. MSUFCU became actively integrated into the local community. They've sponsored many city events, including CruiseFest and the Berkley Street Art Fair, and regularly make donations to area organizations, such as the Norup International School Dance FitChallenge, Forgotten Harvest in Oak Park and Lighting the Way with Detroit Cristo Rey High School.
The COVID-19 pandemic only increased MSUFCU's commitment to the communities they serve and efforts to help local area businesses. In 2020, they introduced a "Back-toBusiness" loan program and launched #MSUFCUEatsLocal, a social media campaign, which highlighted local restaurants and rewarded residents for supporting them.
"Members and employees were encouraged to order local takeout or delivery for a chance to win two $25 gift cards to a local restaurant, one for the winner and one to pay forward to someone else," Davis said.
While sponsoring city events and supporting local businesses are essential to community growth, for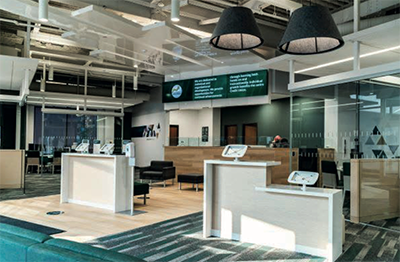 MSUFCU it all comes back to helping residents of Berkley reach their financial goals. As a credit union, they're able to offer many low- or no-fee services, low loan rates and competitive saving rates by returning their earnings to their members.
"Our mission is to help employees and members achieve their financial goals, and ultimately their dreams," Davis said. "We believe it's our responsibility to protect and improve the financial health of the communities we serve."
MSUFCU ALSO OFFERS A VARIETY OF FINANCIAL EDUCATION RESOURCES including a podcast Wallet Watch, financial education events with topics for every age, and how-to videos on their products and services.
"Berkley is a vibrant and active community that we are honored to be a part of, and we look forward to future partnerships and supporting the success of community members," Davis said.
Membership isn't limited to Michigan State University or Oakland University students and faculty, there are a variety of ways to become an MSUFCU member. To learn more, visit msufcu.org/whocanjoin.
MSUFCU | 1833 Coolidge Hwy, Berkley MI 48072
(800) 678-4968
Katie Searl, katie.searl@msufcu.org
Danielle Deneau, ddeneau@msufcu.org
Jeff Skeans, Jeff.skeans@msufcu.org