Pride Is Back: Come Out & Celebrate Saturday June 2nd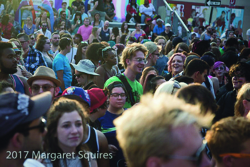 By Sara E. Teller
FERNDALE'S PRIDE FESTIVAL WILL TAKE PLACE ON SATURDAY, JUNE 2ND, beginning with an open ceremony at 1:00 PM The much-anticipated annual event, which debuted in 2011, typically draws around 15,000 to 20,000 attendees each year, according to estimates from public officials, explains Event Chair, Julia Music. This year the event is expected to grow, with more events, activities, and performances than ever before. 2018 will also mark the first year Pride will have a named sponsor to present it – The Candle Wick Shoppe.
"There will be a wedding at 12:30 PM, then the opening ceremony will officially kick off the event," Music said, adding, "There will be around 158 street vendors in total this year. So, we've grown substantially." This is a significant increase from last year's total of 100 vendors. "There will be seven food vendors in addition to the area bars and restaurants that support Pride," Music said. "I encourage all attendees to visit Pride-sponsored spots."
Sober Space, which debuted at Pride last year, is expected to return and be available specifically to those in sobriety. It will be set up immediately following the opening festivities. This is a space designed for the sober community to come together in celebration and get to know one another, as well as an area for the newly sober to come and meet others practicing this lifestyle. The Children's Area, sponsored by Blue Care Network and Blue Cross, Blue Shield of Southeast Michigan, will also be back with crafting activities for participating kids.
"This year, there will be really beautiful masks the kids can make with ribbons and beads. They have some pre-fab parts, but they'll get to decorate them.
There will also be a 40-foot rock wall and other activities that we're still finalizing," Music explained. She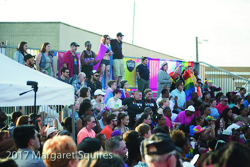 added, "We will have games and activities in Sober Space from 1 PM to 8 PM the day of Pride, and Affirmations is always available as a so-ber space. They will have activities available five days leading up to Pride, including the Pride Prom," at which attendees will be able to dance and enjoy refreshments.
There will be two drag queen shows outside of Rosie O'Grady's, and for the first time, an event will take place outside of Axle's Livernois Tap celebrating its one-year birthday. Also new this year will be an asexual balloon launch, followed by the traditional rainbow-colored launch. "We will be moving the dance stage to Planavon," Music said. "And, there will be entertainment there from 1:15 PM on-ward."
Numerous fundraising opportunities will take place leading up to Pride, including those at Zeke's BBQ, Dino's Brunch, Rosie O'Grady's and other local area restaurants and businesses. Participants will be able to support Pride by purchasing meals, raffle tickets, and attending other activities. There will be meetings for volunteers 7-8:00 PM at the Kulick Center, 1201 Livernois, Ferndale MI 48220, on April 25, May 9 and May 23. Music said contracts for Pride vendors are set to go out this week, so a final list is still forthcoming. More information regarding The Candle Wick Shoppe Presents Ferndale Pride 2018 event can be found at www.ferndalepride.com.