Ferndale Friends Event Previews – June 2018
FRI JUNE 1 | 5-8 PM | FERNDALE LOWER ELEMENTARY
Ferndale Elementary June Fair
THIS ANNUAL EVENT IS OUR BIGGEST PTA FUNDRAISER of the year and takes place at Ferndale Lower Elementary from 5-8 PM. It's fun for the whole family and community and will feature musical entertainment, games, prizes, raffles, food, and much more! Our theme this year is "Classic Carnival", and there are a few new surprises in store, as well as time-honored traditions the community knows and loves. We would love to see you there! Please contact this year's event organizer, Allison Alexander, at 248-234-0459 with questions, or if you would like to be involved as a volunteer. If you are interested in or have questions about a corporate sponsorship, please email Mindy Domke at mindydomke@hotmail.com. We can't wait to see you there!
FRI JUNE 1 | ROYAL OAK FARMERS MARKET
Cocktail Confidential
COCKTAIL CULTURE IS FLOURISHING and The Cocktail Confidential is your chance to sample modern twists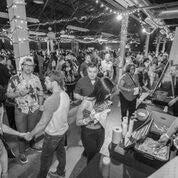 on classic drinks, plus all new creations – complete with a look into each recipe's inception and unique ingredients. Innovative new recipes with homemade ingredients and complex layers of flavors mixed up by industry leaders and hometown mixologists. Ultimate Fun Productions, The Social Connection and Real Detroit Events have partnered together to produce an event featuring dozens of spirits featured in classic and innovative craft libations prepared by some of Detroit's best mixologists. Guests of The Cocktail Confidential will receive a commemorative glass for tasting, drink sample tickets, keepsake photo, and live entertainment.
SUN JUNE 3 | 1-5 PM | HUNTINGTON WOODS LIBRARY
Huntington Woods Home Tour
THE 26TH ANNUAL HUNTINGTON WOODS HOME TOUR is an open house tour of five beautiful homes, featuring a variety of architectural styles which reflect the diversity and character of our city. All proceeds raised from this event are redistributed to local charities supporting education, women and children's causes, such as Berkley High School scholar-ships, the Huntington Woods 4th of July Parade, Berkley Youth Assistance program, Norup Food Pantry and other great organizations. Sunday, June 3, 2018, 1:00 – 5:00 PM. Ticket prices: $20 advanced $25 at the door (16 years and older). Huntington Woods Library 26415 Scotia Rd, Huntington Woods MI www.hwwl.org.
SAT JUNE 2 | 10 AM – 4 PM | PLEASANT RIDGE CITY HALL
Pleasant Ridge Home & Garden Tour
THE 14TH ANNUAL HOME & GARDEN TOUR OF HISTORICAL PLEASANT RIDGE, hosted by the Pleasant Ridge Historical Commission allows the public a special inside look at the different and characteristically historic properties of the city, and a chance to meet new people and obtain ideas on decorating, designing and gardening. Saturday, June 2, 2018 from 10 AM until 4 PM rain or shine. Tickets are $20 in advance or $25 on event day and can be purchased at cityofpleasantridge.org, City Hall or by calling 248-541-2901 or on the day of the event at the welcome tent. On the day of the event, patrons are asked to pick up their wristband(s) and tour booklets and start the tour directly behind Pleasant Ridge City Hall, located at 23925 Woodward Avenue, Pleasant Ridge, Michigan 48069
FRI JUNE 8 | ROYAL OAK FARMERS MARKET
Burger Bash Detroit
BURGER & BREWS BASH WILL HAVE SAMPLES of Michigan's best burgers and brews all under one roof, held at the Royal Oak Farmers Market on Friday, June 8. We're not entirely sure if there is anything more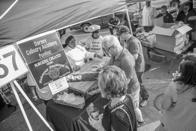 "American" than a party centered around burgers and beer, but given the time of year, nothing could be more appropriate. The event begins at 7:30 PM and runs until 10:30 PM. Both VIP and GA tickets include live entertainment and unlimited samples of burgers, sides & sweets. Additionally, each guest will have the opportunity to cast their vote for Best All-Around Burger, Most Unique Burger, Most Flavorful Burger and Best Dessert. A panel of favorite local chefs and food critics will award two very special vendors the titles of Best All-Around Burger and Best Sweet. Winners will gain automatic entry into the auspicious World Food Championships in Orange Beach, Alabama.
SAT JUNE 2 | 10 AM – NOON | FERNDALE LIBRARY
Rainbow Run
THE SIXTH ANNUAL "RAINBOW RUN" celebrates diversity, anti-bullying and acceptance. On Saturday, June 2 at 10:00 PM, participants will take to the streets of Ferndale and be covered in a rainbow of colors by the finish line. Contact the Ferndale Chamber of Commerce at info@ferndalechamber.com.
SAT-SUN JUNE 2-3 | PALMER PARK
Palmer Park Art Fair
DETROIT'S PALMER PARK ART FAIR IS BOTH one of the oldest and one of the newest art fairs in the area. It takes place in Palmer Park, between McNichols and Seven Mile along Woodward in Detroit. One of the oldest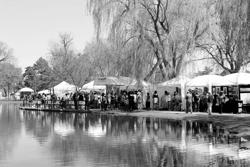 because it was originally started in the early 1970s in the era of "clothes line" art fairs. Before the days of the pop up tents, artists would string lines between trees and hang their work.
Now it's one of the newest art fairs, returning just five years ago. Amazingly, some of the original artists still participate. One comes all the way from Belgium. Each year the committee selects a poster design and commissions a quality edition of 100 copies available for sale at the show. The 2015 poster was selected as the best in the country by Sunshine Artist Magazine, and the 2016 poster was a runner-up. This year, the limited edition signed print displays an amazing piece of glass by the artist Berry Davis.
This eclectic fair features an intimate setting that many of the attendees appreciate, along the edge of Lake Francis and up to the newly restored Log Cabin. The booths are casually placed to take advantage of the natural beauty in the park.  While there is a good selection of less expensive art, the high-end originals is where this show really stands out.
This year, the Fair moves to the first weekend in June. The community comes together to make this a fabulous event. This year the Detroit Institute of Arts returns with some hands-on art activities. The Symphony will present a live simulcast concert, and other surprises are planned. A few of the area's best food trucks participate annually, and a beer tent helps to relax and en-joy a day out at the park.
Palmer Park is only one mile South of Ferndale on Woodward. Continue past Seven Mile and take the next right turn, and you will see the art fair and the parking lots. The show runs Saturday June 2, 10-7 and Sunday June 3, 11-5. Parking and admission are free. More information about the show is at PalmerParkArtFair.com. Park information is at PeopleForPalmerPark.org.
SAT-SUN JUNE 9-10 | DOWNTOWN ROYAL OAK
The Art of Fire: Clay • Glass • Metal
THIS YEAR THE ROYAL OAK CLAY, GLASS & METAL SHOW is is transforming into The Art of Fire: Clay • Glass • Metal. The new name elaborates on the concept that all of the art at the show has been created from minerals and flame. This year the show is June 9-10, on Washington Street in Downtown Royal Oak. Long-time attendees will see some major differences including much larger demonstration areas featuring larger scale work in glass blowing, raku-firing and more. Each demo area will be set up for seating and have a sound system so that the artists can explain their process. There will also be numerous places where people will be invited to get their hands dirty trying out these three mediums. The show still features over 100 juried artists showing an incredible diversity of styles and visions within the theme. About half of the artists will be new to the show this year. The show is produced by the Royal Oak Chamber of Commerce, and they are partnering with the DIA, Pewabic Pottery and Oakland Community College as well as some additional organizations to assure that festival goers will get a diverse view of what is possible when you mix minerals with heat. More information is available at ClayGlassandMetal.com.
SAT JUNE 9 | HAZEL PARK
Walk In The Park
PUB CRAWL
SPONSORED BY VALENTINE DISTILLERY, the Hazel Park "Walk in the park pub crawl" is the result of the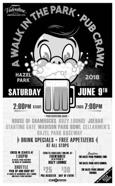 creative genius of Hazel Park resident, Sue Burrows who has planned a fundraising pub crawl benefiting local nonprofits. The proceeds will assist the Hazel Park Promise Zone, the Hazel Park Arts Council and Hazel Park Library Friends. The ticket price includes a free koozie, a lanyard map, shuttle, as well as free appetizers and discounts on adult beverages at each location. The Walk in the Park Pub Crawl takes place Saturday June 9th from 1 PM till 7 PM, and check-in is available at either House of Shamrocks or Kozy Lounge. Ticket price is only $25 in advance, $30 day of. Come out, bring your friends, enjoy some beverages, a nice walking tour of the city of Hazel Park, all for a good cause (or three).
FRI-SUN JUNE 15-17 | DOWNTOWN FERNDALE
Garlic & Music Fest
GarlicAndMusicFestival.com
TEMPT EVERY SENSE AT GARLIC & MUSIC FESTIVAL – a weekend of tastes, scents, sights & sounds. Enjoy deliciously garlicky food, live music, cold beer & summer cocktails, and plenty of family fun, all centrally located in downtown Ferndale. In addition to all the garlic, guests can expect a diverse range of food and adult beverages, three days of non-stop musical entertainment across two stages, fine art & craft vendors, more.
6/12 – 7/17 – 8/7 | FERNDALE LIBRARY
Ferndale Library Summer Concert Series
THE FERNDALE LIBRARY'S SUMMER CONCERT SERIES has always strived to expose library visitors to music that is new and exciting in a setting that is both lively and thoughtful. FADL's biggest music event features three free, family-friendly concerts spread across the season. The dates this year are June 12, July 17, and August 7; each of these performances are free and begin at 6:30pm and each of the dates will be on a Tuesday evening. We will host each concert outdoors in our courtyard if the weather permits.
June 12: Bichini Bia Congo bring a high-energy display of Congolese drums and dance.
July 17: Ferndale-based producer/songwriter/guitarist Nadir Omowale will bring some invigorating stone-cold funk.
August 7: The exquisite strings and vocalists of Musique Noire will perform some soulful/classy jazz.
Last year's l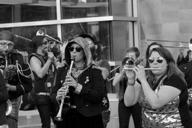 ineup attracted a record-high number of music-loving attendees to the library's long-running Summer Concert Series, and we think this year's artists will definitely top that. This series of monthly performances is an ideal way for local music fans and families to spend a summer evening. Funds raised by our bi-annual bake sales, bolstered by the support of the Friends of the Ferndale Library, consistently help us produce a fun and exciting three-part series of monthly weeknight concerts featuring top tier talents from around the region.
SAT JUNE 3 | 2-4 PM | FERNDALE LIBRARY
Ferndale Library Summer Reading Series
THE FERNDALE LIBRARY HAS BEEN REGISTERING ITS HIGHEST RATES ever for young readers who sign up each year to participate in the annual Summer Reading series. The theme for this year's literacy-boosting

initiative is "Libraries Rock," proven by a six-week span of activities, programs and fun events for kids and families. Summer Reading programming at your public library can assure that young minds are raring to go when September comes around. This year's kickoff party will be an Ice Cream Social at the library, on Saturday, June 23, from 2-4pm, with magician Cameron Zvara. Kids who sign up can collect prizes throughout the summer. Meanwhile, there will be storytimes throughout the summer, new Sensory Saturdays for the youngest readers and special summer programs like 'Live Animals' with Science Alive, 'Rock & Roll Fashion & Album Artwork' with the College of Creative Studies, a puppet show with Alex Thomas & Friends, and more! facebook.com/ferndalekids/
SAT-SUN JUNE 23-24 | ST MARY'S ORCHARD LAKE
Fine Art Fine Wine Fair
THE FINE ART FINE WINE FAIR returns to St. Mary's Orchard Lake this June 23-24, featuring almost 100 fine juried artists on the lake under tall trees at the corner of Orchard Lake Road and Commerce Road. This year will feature international wine-tasting in an amazing sculpture garden. This is a very high-end event with artists from all over the USA participating, featuring pottery, paintings, photography, jewelry, drawings, ceramics, mixed media and fiber arts. For details see FineArtFineWineFair.com. And new this year is the Grosse Pointe Art Fair on May 19-20 at the Grosse Pointe Yacht Club which has the 30th year of the Great Lakes Boating Festival at the same time. The Grosse Pointe Art Fair and the Grosse Pointe Boating Festival are both free admission with free parking and shuttles. For more information see GrossePointeArtFair.com.
JUNE 17 | FERNDALE HIGH SCHOOL AUDITORIUM
Ferndale Community Concert Band
THE FERNDALE COMMUNITY CONCERT BAND want to thanks our patrons, adver-tisers and donors for your continued support. The FCCB will close out our third concert season on Sunday, June 17, 2018, with Salute to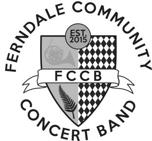 our Fathers Concert, held on Father's Day. This concert is one of our most popular concerts to attend. Immediately following the concert our Annual Ice Cream Social will be held to show our appreciation to all those who attend our concerts. The Band will perform as guest musicians on Sunday, June 24 at 3:00 PM on Belle Isle as part of the newly established Music on Belle Isle Group (MOBIG). Please join us. The 2018-2019 concert season runs from September through June. The FCCB performs five concerts per season in October, December, February, April, and June. The mission of the Ferndale Community Concert Band is to be a high-caliber, adult band made up of volunteer musicians dedicated to providing high-quality musical performances. www.fcconcertband.org.
DATE & LOCATION TO BE DETERMINED
Art Of The Cocktail
THE FERNDALE DOWNTOWN DEVELOPMENT AUTHORITY'S signature fundraising event, The Art of the Cocktail, returns a fun-filled 5th year. Featuring ten of the district's talented bartenders and their creative blending skills, attendees will be the judge of each cocktail creation, crafted from identical ingredients supplied to each bartender. Guests can watch the creative genius at work, taste the results and vote for their favorite to designate Downtown Ferndale's Cocktail of the Year. The evening also includes a silent auction, appetizers and many more fun details to be announced. Limited quantity tickets available, via the Ferndale DDA or PayPal. All proceeds help the DDA continue its efforts to raise funds for public art in Downtown Ferndale. www.downtownferndale.com.