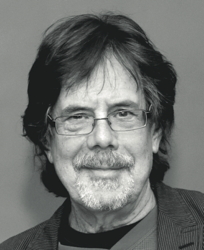 By Peter Were
ON THE MEDIAN STRIP, WHERE NINE MILE ROAD CROSSES WOODWARD, there stands a replica of The Crow's Nest, a high platform on which a vigilant traffic cop stood a hundred years ago, duty-ready to control the

even-then heavy volume of cars. He was replaced in 1924, when electric traffic lights were installed and the road widened.
The Crow's Nest presence speaks to the early realization of the deadly potential of these machines that are such an important part of our lives. Incredible safety improvements have been installed in the last 100 years, but getting safely from one spot to a destination can still be challenging.
Between cell phones usage (even hands-free), texting, tuning the radio, smoking, eating, farding (look it up), talking to other people in the car, different levels of impairment – and now the greatest distraction, the in-dash screen that looks like the controls of a jetliner – it's amazing that our roads aren't more like amusement park bumper car rides than they are. Add speed and one-ton plus vehicles and it's no wonder our cars are so lethal.
SUPPOSEDLY, THESE DANGERS WILL ALL DISAPPEAR when the controls are taken away from us fallible humans and navigation becomes an automated process by an artificial intelligence that does only what it's designed to do — drive!
Oops! Not so infallible.
Seems like HAL screwed up a little in March of this year, when Elaine Herzberg became the first pedestrian killed by a self-driving car after being hit by an Uber test vehicle in Tempe, Arizona. In 2016, a Tesla test driver was killed in the first fatality involving a self-driving car while watching a Harry Potter movie at the time of the crash.
These incidents echo the early deadly history of internal combustion-engine-driven vehicles. In 1896, Bridget Driscoll became the first auto fatality when she was struck by an Anglo-French Motor Car traveling at four miles-per-hour, as it was giving demonstration rides at London's Crystal Palace. And, in 1899, Englishman Edwin Sewell was the first driver fatality when he was thrown from his vehicle and killed.
From those early beginnings, the slaughter on the roads commenced with a fury. According to the Association for Safe International Road Travel, today, 1.3 million people a year die in crashes world-wide. An additional 20-50 million are injured. Accidents, they report, cost the world a half trillion dollars a year.
What is the total number of deaths since poor Bridget got hit at the Crystal Palace? It's hard to find a figure, but one can assume it's in the tens of millions. That and the other lethal invention—the gun—has produced such a pile of corpses that one can almost view the two machines as population control! Plus, the auto figures do not factor in deaths resulting from pollution created from refining and burning petroleum products.
JUST AS WE TOLERATE THE SLAUGHTER CREATED BY GUNS, so do we with our cars. Just as many people love their guns, so do others of us express affection for what we drive. Queen sang, "I'm in love with my car; gotta' feel for my automobile." The murderous nature of guns is known to all. It's their express purpose. Cars are supposed to take us from one place to another without racking up a huge toll in human lives and property damage. However, the blood and destruction autos create is, in a sense, a public secret. Everyone is aware of it. It's like living in an earthquake zone.
Most of us know someone who has been either killed or badly injured in an automobile accident. We have to pay thousands of dollars to insure our-selves against the death and damage we anticipate, so those destructive and deadly incidents aren't really accidents at all. U.S. insurance companies know that close to 37,000 people a year will die in car crashes, hundreds of thousands will be critically injured, and billions in property damage will occur. They expect this and plan accordingly in terms of insurance rates charged and the payouts which will be required.
THE SAME IS TRUE WITH GUNS. We know there will be about 35,000 U.S. gun deaths in a given year, with 100,000 wounded. As mass shootings become the norm, schools, businesses, arenas, and concert halls make preparations for the next one.
The Ferndale Superintendent of Schools, Dania H. Bazzi, describes in her public talks the contingency plans the system has in place in the case of an active shooter situation. This is prudent given the proliferation of weapons and a culture of rage which combine to assure that these incidents will continue. It's not a matter of if, but where and when.
How do we combat the toll these machines exact from us? Unfortunately, it's not clear whether solutions exist. The toothpaste is out of the tube. We can't get it back in. Our whole culture has the expectation and necessity of unlimited, rapid mobility. And, you know what the gun people say about their guns and their "cold, dead hands."
We've done everything possible to make driving safer and still the death and injury toll is horrendous. We'll probably look back on the period before self-driving cars were perfected as madness. Can you imagine trying to patent a machine today that creates a toll of death, injury, and property damage as it exists? "This is a great little machine, but it will kill and injure 125,000 people a year and cause billions of dollars in property damage." Patent denied!
Guns? They offer only marginal utility as far as protection, but you can't convince a gun owner of that no matter what the overwhelming statistics show. The Michigan counties with the highest percentage of concealed weapons permits are smaller, rural ones where residents brag about not having to lock their doors, so guns are more often a masculine totem or a hedge against the fear induced by watching the wrong cable news network, than actually providing protection.
In fact, if a gun-toting suburbanite really wanted to safeguard his family, rather than carrying a pistol with which he's more apt to shoot himself or others rather than defend his loved ones, he would equip his passengers with NASCAR regulation helmets and flame-retardant suits.
SELF-DRIVING CARS – ONCE PERFECTED – MAY HELP, as would mass transit. Guns? There are 300 million of them out there including ten million AR-15s. While only a third of the population are gun owners, something like weapon confiscation isn't a reality. Maybe we should all be issued Kevlar bullet-proof vests. Perhaps with those, self-driving cars, and NASCAR equipment, we'd be a little safer.
Sorry to joke about what produces so much tragedy, but this may be a classic case of laughing to keep from crying.
Peter Werbe is a member of Fifth Estate magazine's editorial collective www.FifthEstate.org.