Find Your Soundtrack at Found Sound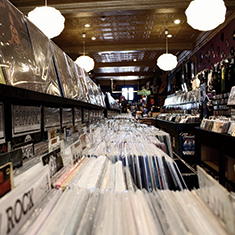 By Jill Hurst
"I WANT EVERYBODY TO HAVE A SHELF OF THEIR FAVORITE RECORDS," says Raymond Hayosh, co-owner and manager of Found Sound.
Chances are you'll find some of them at this gem of a record store in downtown Ferndale. And I'm pretty sure your first visit won't be your last.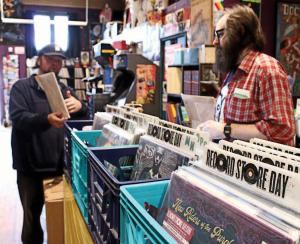 I dropped in on three consecutive Mondays and it wasn't until my last visit that I found the binders full of patches and stickers and the shelf full of free mix cassettes. I have a cassette deck, how about you? Rumor has it kids come in looking for 8-tracks these days. Eight-tracks!
Found Sound has been a fixture in Ferndale for eleven years. Hayosh knew he wanted to be in the music business at an early age. He worked at many Detroit area record stores including Harmony House and Tower Records. "Some people are built for retail."
Ray was at Record Time in Roseville when he met Dean Yeotis, a Flint-based attorney who was a regular customer at the store. In 2011, as Record Time was closing its doors, customer Yeotis told about-to-be-unemployed Hayosh he'd always wanted to open a record store and Found Sound was born.
Ray found the space on 9 Mile, previously occupied by a vintage store called Mother Fletcher's. You can still see the faded name on the sign. Dr. Howard Crane of Crane Optical owns the building and rented them the space right next door to his optical clinic.
THERE WERE A LOT OF LONG HOURS SPENT GETTING THE STORE SET UP. The music-filled space and knowledgeable staff quickly found a loyal customer base. My husband Tony says Found Sound is like "your best friend's older brother's room with cool records and a great stereo." Once you're in there, you kinda' want to hang out.
Luckily the staff — Hayosh, Richard Henning, Laura Klein and Terence Cover — are smart, laid back and welcoming. They understand the emotional importance of finding the music you care about and walking out of the store with a piece of your history or taking a chance on something new that could become a part of your play list going forward.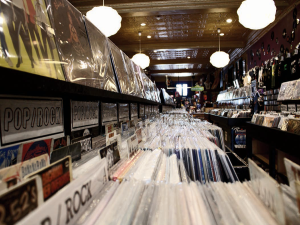 During the pandemic, Found Sound was able to keep things going with online sales and appointment shopping at the store. Their business continued to grow steadily because long hours at home led to a lot of new hobbies, and starting or expanding a record collection was one of them. Ray: "It's a cool hobby, and triggers the serotonin."
The stores are open again. Time to step outside, see people, pick out some piece of merchandise and pay for it in person. No matter how fraught and scary the world seems, music has the power to lift us up and calm us down. Visit Found Sound in Ferndale to find your soundtrack.
234 West 9 Mile Road, Ferndale | 248-565-8775
Open Monday-Saturday 11AM till 8PM, Sunday Noon till 5PM.
foundsoundvinyl@gmail.com