Clowning Around with Rose Carver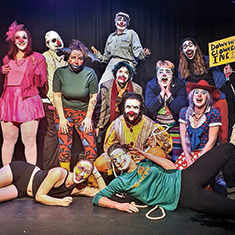 By Sara Teller
ROSE CARVER HAS A UNIQUE PASSION FOR BEING A CLOWN. But there's no clowning around when it comes to honing her craft.
She believes it's all about being both a "story- teller and a journalist, taking in the world…and producing something that speaks to the flaws of humanity."
For instance, Carver explained, "We laugh at the clown when the clown falls down, but really, we are laughing at ourselves. To me, the clown represents uncertainty, and this is my theory as to why people sometimes fear the clown. Fear of uncertainty is a fear of death, and this, actually, really excites me about the clown. It dances on the line of duality and laughs at the things that can make us cry, and vice-versa. I find the whole art style incredibly inspiring."
Self-taught to a great extent, Carver is also a student of some of the most well-loved clowns in recent history. She explained, "For the past six years, I have been studying under the close tutelage of the Detroit native 'anarchist' clown Jango Edwards. He's an absolute madman genius and extremely prolific." Born 'Stanley Ted Edwards' in Detroit,  Jango spent most of his career in Europe, entertaining the masses with his counterculture, politically-oriented style.
"I never knew I wanted to be a clown, but Jango always saw something in me," Carver said. "He encouraged me to come to master classes and courses he was teaching. I always declined, because I just couldn't imagine where it fit in with my life at the time."
HOWEVER, THAT ALL CHANGED 2017. "I was having a difficult period in my life," she remembered, "And I decided to give this clown thing a try."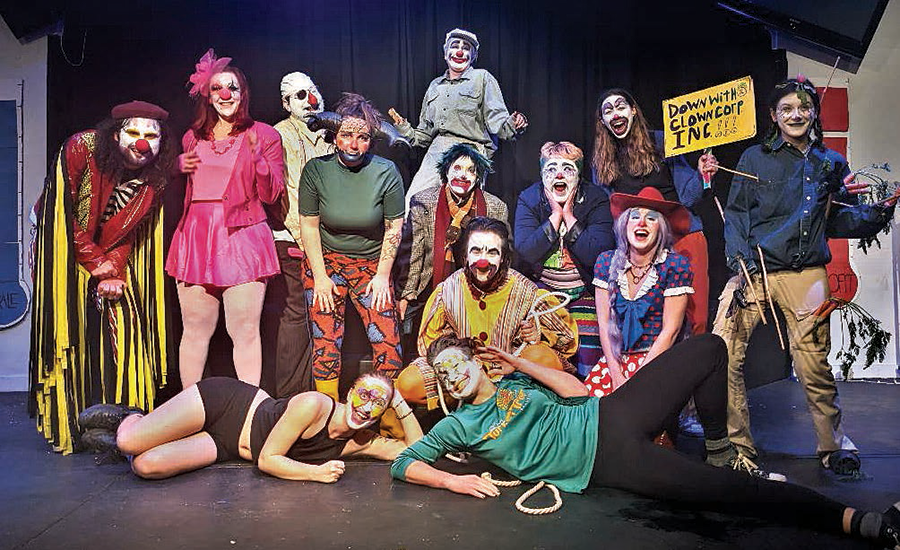 Deciding to start her newfound career in France, Carver studied at the Moulin Jaune under the direction of Russian clown, Slava Polunin, as well as Cirque du Soleil's David Shiner, and many other brilliant entertainers. Then, returning to Michigan, she worked again with Jango, who had since relocated to Barcelona, to create a workshop and multi-session course called Fool School Clown Class as part of his Nouveau Clown Institute.
"[Jango] is 72-years-old and was recently diagnosed with stage-four pancreatic cancer, so he's trying to continue his legacy in his home city," Carver explained. "I visited him in Barcelona; he visited me in Detroit. And we've developed a six-session workshop together… I'm very excited to share what I've learned."
Their creation centers around making the art of the clown accessible to more people, and participants will get the opportunity to design their own unique character. Carver said that she "belongs to the methodology" that everyone has the capacity to access their inner clown, and that the art is about "breaking down barriers within yourself in order to siphon the humongous power of our innate playfulness." Having participants embrace this is "a vulnerable yet empowering experience."
CARVER IS ALSO STARTING A NEW VENTURE PERFORMING SKITS AT PARTIES as well as throwing immersive parties, specific to any party's theme, and she's working on a documentary about Jango helping her start the school. She is a teaching artist at the non-profit, Michigan Stage as well, in its Playlabs. Playlabs is an after-school program for elementary through high school youth.
Her ultimate goal is to create a clown family in the area. "I hope to foster an environment where, eventually, we can invite clown teachers and performers from all over the world," she said.
Aside from these pursuits, Carver added, "I clown around in my punk rock clown collective called BURN MARALAGO," when performing. "We do punk performance art shows around Detroit, and the Metro area, that are never the exact same. We have different personas that we embody and stories that we tell."
A resident of Ferndale for the past six years, Carver can't imagine calling anywhere else home, explaining, "As a queer person, it has been an extremely welcoming community for me, and as a group of clowns, we have also been embraced. We have filmed a few clown music videos around town, including at DYE Salon."
WHEN SHE ISN'T PERFORMING OR TEACHING, Carver participates in other passions that ultimately help her become a better clown.
"I practice martial arts at MKG Detroit in Ferndale," she shared. "Kurt's school actually helps my clown art because it allows me to get into my physicality. It's a wonderful place."
Of her craft, Carver summed it up by saying, "Clowning is so beautiful. It changed my life…I feel lucky to share it with my community."
Carver's workshops and classes are available at Planet Ant in Hamtramck. To request a party appearance, visit http://both.video, or for musical bookings, check out Instagram @burnmaralago.