Parks & Recreation Department : Enriching Our Community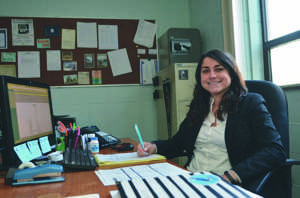 By Malissa Martin
Photos by Bernie Laframboise
HAZEL PARK IS A SMALL CITY WITH A BIG HEART located in the far southeastern corner of Oakland County. Many residents call it the "Gateway to Oakland County." The Hazel Park Parks and Recreation Center is designed for its community members to engage in outside activities and fellowship with neighbors.
Within Hazel Park's 2.866-miles, the city has several parks and other amenities for the community including:
● Green Acres Park (adjacent to Recreation Center)
● A BMX Course at Fuller Park (on Melville between Woodward Heights & Tucker)
● Felker Park (on Felker between Easterling & Battelle)
● Tuski Park (on Tucker between Vassar & Cayuga)
● Madge Park (on E. Madge between Russell & Hughes)
● Karam Park (on Couzens between 10 Mile Rd. & Woodward Heights)
● Maxlow Park (on W. Maxlow between West End & Ford)
● Scout Park (on E. Otis & Russell)
● Sutar-Sutarek Park (on Caledonia between E. Granet & E. Meyers)
● The Dog Park (on Couzens between E. Mapledale & E. Garfield)
● The Community Garden (on Merrill between E. Elza & E. Milton)
Many of the parks have sheds, picnic tables, grills, playgrounds, and bath-rooms. Although residents use all the parks, a few have become favorites through the years. One favorite is the dog park, which opened in late 2014 and has features for canines of all sizes. Small dogs and large dogs have separate, enclosed areas for safe playing. There are also picnic tables, extra parking, and waste stations for easy clean up.
Green Acres Park is another favorite, and is also the largest in the city. It is bordered by Ferndale on the west side, I-75 on the east, and Woodward Heights on the south. It works as a destination park and as an integral part of the neighborhood. It is also home to the city's Recreation Center and Department offices. Recreation Director Sareen Papakhian leads a team of 15 part-time employees.
The Recreation Center houses several events throughout the year, and one local favorite event is the annual Memorial Weekend Festival. It's a five-day celebration with a carnival, music, bingo, concessions, and a Memorial Day Parade. Other recurring events are kids camp, Easter egg hunt, lunch with Santa, and a tree-lighting ceremony to bring in the holidays.
They also rent three rooms for private use. The pavilions at Green Acres Park and Scout Park can also be rented for private use from May through October.
Socializing with fellow community members is what makes Hazel Park special. The parks and recreation center provide leisure areas and outdoor activities that families can enjoy. The Hazel Park Parks and Recreation Department wants to enrich the lives of its residents by providing spaces for them to congregate. Papakhian says residents deserve great parks, and she's happy to assist in providing it for them.