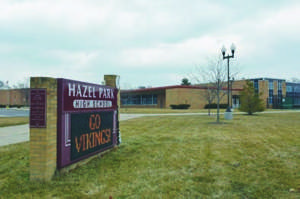 By Sara E. Teller
Photos by Bernie Laframboise
HAZEL PARK'S SCHOOL DISTRICT, WHICH IS CURRENTLY COMPRISED OF 16 BUILDINGS to accommodate students pre-school through 12th grade, is committed to providing a top-notch learning environment for its diverse student population. The average student-to-teacher ratio is 18-to-one, and the district includes a minority population of 27 per cent. Eighty-four per cent of students are expected to graduate from the district's high school each year.
The mission statement of the District states: "The Hazel Park School District, in collaboration with all stakeholders, prepares and supports students for the future through innovation and technology." There are many core values and concepts school officials abide by to ensure this mission is achieved. A notable commitment to learning includes the district's decision to provide each and every student with a laptop or iPad through its One-to-One Program, meaning one student to one device. Nearly 4,000 Chromebooks and iPads have been distributed to students grades K-12. In addition, each student is given a Google account with unlimited storage. The district believes this program helps to enable the students to learn at their own pace. It also aids in getting families involved in the learning process.
Hazel Park's classrooms are equipped with interactive projectors, high speed Internet access, and a new video distribution system as well as new audio systems. The district is focused on "creating a college-going culture, starting as early as kindergarten." The faculty and staff work closely with students' support networks to provide families with the tools they need to ensure students are successful. Hazel Park has also developed special programs to help students who are struggling with reading and math, and free tutoring is offered for all students at every grade level. The school district is dedicated to providing a caring, healthy, safe and respectful environment for all students, and continually supports the social, emotional, physical, and academic needs of each child. Student achievement is the core of every decision made by the school's leadership team. All students are given the ability to learn and all students, staff and families are actively engaged in learning.
Hazel Park Schools prides itself on ensuring all stakeholders are provided with high quality, researched-based curriculum which is aligned with all required state standards. Its high school, which offers a variety of programs and initiatives, including advanced placement opportunities for schools to give them a head start toward achieving college credit, earned a bronze model this year in the U.S. News & World Report Best High Schools ranking. As far as extracurricular activities, Hazel Park offers 60 after-school activities and competitive sports programs at all levels, in which each student plays for free.
A Brief History
Hazel Park's school district was established in 1884. In 1882, John W. Benjamin, Inspector of the Royal Oak school district, petitioned the State of Michigan to develop a new district in Hazel Park, and his wish became a reality two years later. The first school in the city was situated on the southwestern corner of Nine Mile Road and John R Road. Twenty five children attended.
It wouldn't be until the Ford Motor Company of Highland Park expanded, and people became more interested in settling in the area, that the District would begin to expand. In the 1920s, new schools opened, offering music, drawing, penmanship and physiology, among many other subjects. An orchestra and girls' glee club were also organized. And, the first class of Hazel Park High School graduated in the 1930s.
Wilfred Webb, a longstanding public servant for Hazel Park, was one of the foundations of the Hazel Park schools. Mr. Webb was a State Representative, an educator and Superintendent of Hazel Park Schools. Webb's name appears on a Hazel Park elementary school, and the library is dedicated in his memory. He served Hazel Park Schools for 35 years, starting as a teacher and then working his way up to principal of the junior high school, high school counselor and, ultimately, Superintendent.
Mr. Webb also helped found the Hazel Park Youth Assistance program in 1953, a collaborative effort between the school district and the courts to "keep kids in the classroom and out of the courtroom." The program was so successful that it became a model, as Oakland County now works with all communities in the county on Youth Assistance programs. In 1985, he was inducted into the Michigan Education Hall of Fame. Mr. Webb was a pillar of the community and one the school district's greatest assets.
At the turn of the century, in the early 2000s, it became evident that many of the existing buildings would need to be replaced or remodeled. Voters approved a$56 million-dollar bond in 2002 to serve this purpose. With the funding, a new junior high was built to replace Beecher Junior High, and a new elementary building was constructed in place of United Oaks Elementary School. Webb Elementary School was remodeled, and students from other locations were moved into this facility. The number of elementary schools was reduced overall from eight to six, and two junior high schools were combined into one.
The renovations provided a welcomed change. However, the efforts were short-lived. When Michigan's economy took a turn for the worse and entered in the recession, student numbers declined. Funding was reduced, and several elementary schools, namely Ford, LongFellow, and Roosevelt preschool, closed in 2007. This led to a more recent plan to redevelop school policies, increase funding and focus on new initiatives, such as a Community Engagement Team, which caused enrollment to increase by over 100 students.
The Road Ahead
The Hazel Park student body continues to excel despite its challenges. Some recent student achievements include an art student receiving a National Gold Key Award at Carnegie Hall and several Hazel Park High School students showcasing their artwork at Children's Hospital. A varsity girls' soccer player made it onto an all regional team and a color guard student won the state title. Hazel Park's robotics team competed nationally and the Hazel Park band played at a Detroit Pistons game.
This year, the Hazel Park Board of Education and the Hazel Park Education Association approved the restoration of certain benefits to teachers, as well as additional training and a longer school year. Five more classroom days were added, with the current school year ending on June 16, 2017. The start time for school was also modified to better accommodate parents who drop their children off in the morning.
The agreement worked toward reestablishing the salaries formerly offered to teachers, with an approved two-percent increase, and the goal of the District is to begin moving out of debt overall by the year 2020. It also helped the District to reopen media centers and add social workers at its elementary schools to address behavioral concerns. The District began participating in Project Lead the Way, which will deepen students' knowledge of basic computer science and engineering concepts — it received a $20,000 grant to help with the implementation of this program.
Superintendent Amy Kruppe is confident the recent changes will make for a bright future. "We are extremely optimistic for the future of Hazel Park Schools. We have fantastic teachers, our enrollment is increasing, we have an outstanding administrative team and Board of Education. As we work together to increase opportunities for our students such as Project Lead the Way, our Chrysler Program, or new Literacy Programs, we know that our students will be graduating ready to enter into society as complete, productive citizens of Michigan. Our partnership with the City, The Promise Zone and our families make it impossible to not be successful. We are excited about what is yet to come for our students of Hazel Park."