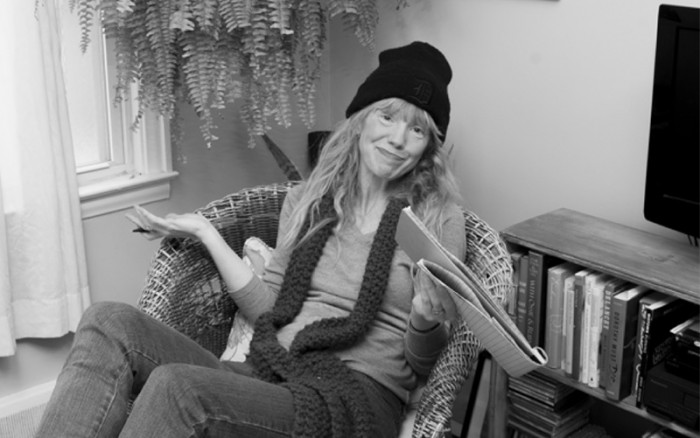 by Daivd Wesley and Jack Lilly
At the beginning of his famous comedy piece, Sataland Diaries, David Sedaris recalls how he first came to New York, expecting to step right off the bus and into a gig writing for soap operas. He didn't, of course, and ended up working as an elf in Macy's Christmas display.
It turns out Sedaris was doing it work. Jill Lorie Hurst, a Ferndale resident for the past year (and writer for Ferndale Friends) did have a gig writing soap operas, achieving the rank of co-head writer for Guiding Light. But she didn't just step off a bus and into soap stardom…she did it the hard way.
"I grew up watching them." Jill recalls. "My mother was a fan, and girls tend to follow their mothers."
Originally from the east side of Detroit, she studied theater at Wayne State, then moved to New York City. Once there, she worked as a waitress for ten years, living day-to-day. Jill describes a carefree life of walking to work, then afterwards walking over to see plays on Broadway.
One day, one of her regular customers asked if she wanted to have a tour of the studio where her husband worked, filming commercials. Jill was nonplussed until her customer mentioned that the studio was also where they filmed Guiding Light.
"My eyes lit up then!" Jill says. On her tour, she met some actors and came away with a great impression. Later, she accepted a part-time receptionist job at the studio. "I was still waitressing, breakfast and lunch, then answering phones at the studio in the late afternoon." Eventually, there was an opening for writer's assistant. She did that for five years. Then, things started to snowball.
"It was a series of very supportive people, gently pushing me to the next step." She recalls. She started writing scripts with a partner. From there, she became a script editor, then a breakdown writer. She learned on the job, bootstrapping from one task to the next. She spent a year as a producer. At last, one day she found herself as co-head writer of Guiding Light.
"Nothing magical." Jill says. "I just showed up. I loved being there."
Unfortunately, she couldn't spend too long at the pinnacle. Guiding Light was canceled in 2009 after a 57-year run on television. Her co-creators hit the ground writing, working for other soaps, but Jill was exhausted. "We'd been working seven days a week, for forever." Jill wanted a break. She jumped into other projects, gathering old colleagues and actors from the show to work on pitching new properties, and…
"We failed miserably." She laughs. Jill found other work, including a gig working for Ricky Lauren, wife of Ralph, for three years. But all things change, and real life sometimes intrudes. Four years after Guiding Light ended, she and her husband (who she'd met at the studio) had hit the wall financially. "We left NYC because we were broke and I wasn't quite sure what the next step should be." Jill says.
So how did they decide on Ferndale? "We didn't! It found us. When my mom's best friends offered us one of their Ferndale rentals that had just been vacated, we grabbed it."
Asked what aspected of Ferndale attract her the most, Jill says, "First of all, it's walkable. I don't drive, and it has such direct access to Detroit. We have old friends who live right down the street on Woodward. We love the restaurants, the fact that there are two bookstores, the piped-in music downtown, the front porches, the wind chimes, and the terrific people we've met, most of whom seem proud and happy to live here. I love that!"
How does she feel about Ferndale's future with so much happening inside the city? "I hope it continues to be a town that values small business and diversity. I hope it holds onto its community of artists and tradespeople. Ferndale reminds me of working on Guiding Light; it's character driven, collaborative, and all about community."
Welcome home, Jill. We hope you stay with us for a long time!
If some happened with our heartiness, we believe there is a solution to any maladies in a medicament. What medicines do patients purchase online? Viagra which is used to treat impotence and other states coupled to erectile dysfunction. Learn more about "sildenafil". What folk talk about "viagra stories"? The most vital aspect you should look for is "sildenafil citrate". Such problems commonly signal other problems: low libido or erectile disfunction can be the symptom a strong soundness problem such as heart trouble. Causes of sexual dysfunction turn on injury to the penis. Chronic disease, several medicaments, and a condition called Peyronie's disease can also cause sexual dysfunction. Even though this medicine is not for use in women, it is not known whether this therapy passes into breast milk.