Living Life Abundantly: On My Toes With Jan Whinham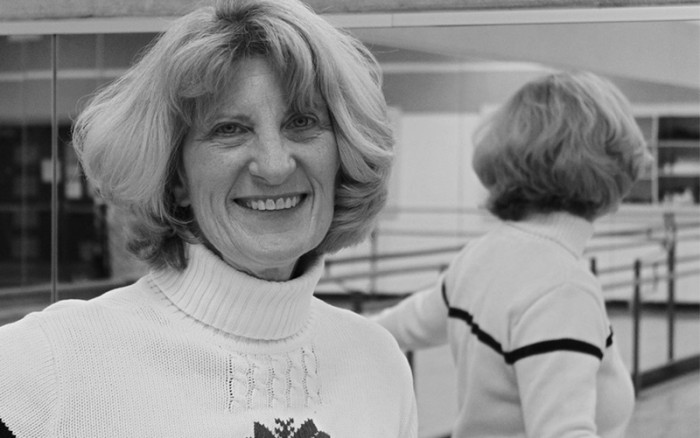 By Jill Lorie Hurst | Photos by Jeff Lilly
(This is the first in a continuing series of profiles featuring the teachers, staff, and administra- tors of the Ferndale school dis- trict. If you know an exceptional educator you think we should feature, please contact Fern- dale Friends and let us know!)
—-
A joyful and committed teacher can change the lives of his or her students for the better. When I met Jan Whinham in her Ferndale High School classroom on a snowy Monday morning, I recognized a teacher with the same sense of commitment to her students.
She was hired in 1986, part time, to teach dance and special education. She earned her undergraduate degree at Western Michigan University and a Master's in Learning Disabilities at Eastern. "I wanted to be a dance therapist". Paus- es, considers, smiles. "I am one." She was quick to give genuine praise to the school system – "Ferndale does really well in the fine arts."
Her work is anything but part time now. She teaches high school, middle school, elementa- ry, and works with CASA (Center for Advanced Studies of the Arts). Classes include ballet, jazz, con- temporary, and some ballroom styles, including salsa and swing. The students also learn to choreograph, and shows sometimes include audience participation.
Jan, like many modern teachers, takes work home with her. She's learned to choreograph new work at the kitchen table. She uses a little CD player and keeps the volume down so that her family doesn't get sick of hearing the same song repeated. She is collaborative, looking to CASA alumni for help with choreography to make sure there is enough variety in the numbers performed.
When a show calls for tap, they tap. Preparing for 2013's production of "Thoroughly Modern Millie" required five-hour rehearsals every Sunday. Jan talked about digging up a ton of old tap shoes to try and fit everyone; budgets, after all, are limited. Pat at Lynch's House of Sequins made the shoes performance worthy.
Given the number of shows she oversees every year – three for the middle school class- es, two for high school and two (plus a showcase) for CASA, it's a good thing she's a saver. There are bins and boxes in a corner of the classroom filled with costumes from shows past. Jan pulls from the "archives" to get most of what she needs for each show – she al- ters, adjusts, and fixes so that each student will have the appropriate costume for the current production. "Luckily, I have a wash machine here". And an assistant, I ask? Her eyes twinkle. "No. I wash the costumes."
Jan believes dance helps students dig deeper, and be well rounded. Memorizing patterns might help with alge- bra. They choreograph dances to poems — no music, just the connection between the movement and the words. Dance can also help with social skills. "Kids have to get along in dance class. They can't block each other out." There's a sense of something "beyond myself, for the good of the group."
Just then, the group starts to file in. Jan shifts focus to the people who matter most, her students. They are safe in this class, safe to make mistakes, fall on their faces, create something wonderful. I envy them their time with Jan Whinham.
"Good morning." says Jan to the kids. "It's going to be a good day."
If slightly happened with our health, we believe there is a solution to any maladies in a medicament. What medicines do patients purchase online? Viagra which is used to treat impotence and other states coupled to erectile disfunction. Learn more about "sildenafil". What folk talk about "viagra stories"? The most substantial aspect you should look for is "sildenafil citrate". Such problems commonly signal other problems: low libido or erectile disfunction can be the symptom a strong soundness problem such as heart trouble. Causes of sexual malfunction turn on injury to the penis. Chronic disease, several medicaments, and a condition called Peyronie's disease can also cause sexual dysfunction. Even though this physic is not for use in women, it is not known whether this curing passes into breast milk.