Local Duo High Arrow's Halloween Masquerade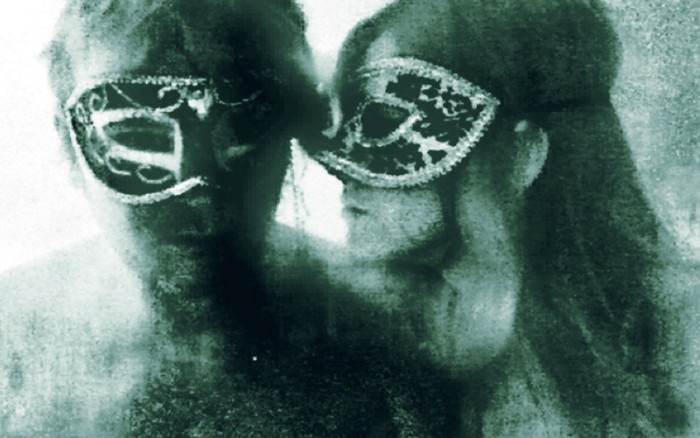 Story by jeff milo | photos courtesy of high arrow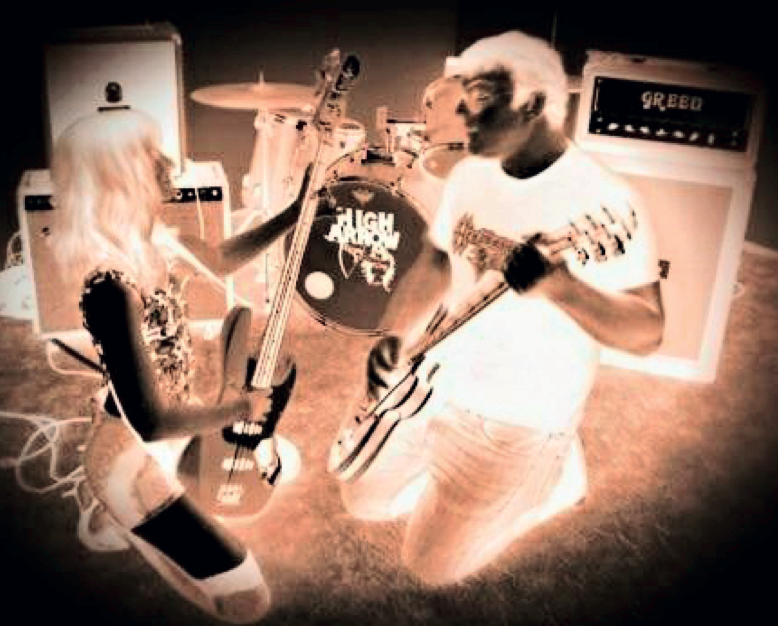 HALLOWEEN AND ROCK 'N' ROLL go hand- and-hand…or should we say claw-and- claw?
High Arrow is a high energy psych-rock trio forged in Detroit back in early 2013, and they're coming back home this month to throw us a sensational masquerade party.
High Arrow's lead singer and bassist Tracy Olane Thomson and lead guitarist Adam Thomson recently relocated to west Arizona, but their most formative experiences (including all of their studio work) have been here in Ferndale and Detroit. Cloak & Whisper is the name of their masquerade party on October 23.
As of now, they're set on returning to Michigan as much as possible (meanwhile, setting up a footprint over in Las Vegas). High Arrow's rock is a vigorous storm of psychedelia, with soulful, soaring vocals, wickedly whipped guitar riffs and intricate drum patterns stirring up furious thunderclouds. Suffice to say, you can anticipate quite an exertion for their homecoming Halloween party.
Cloak & Whisper pays homage to iconic filmmaker Stanley Kubrick's final work Eyes Wide Shut. The Thomsons have curated a variety show featuring a blend of bands and performance artists. There will be a theatrical skit featuring all the artists on the lineup along with custom theme music composed by High Arrow, along with local songwriter/producer Jon Berz (from Woodshed Studio) and songwriter Eugene Strobe (of Cosmic Light Shapes). Strobe's band, along with Berz punk duo (Counter Elites) are performing, along with a dance performance by Charley Crystal and her Kittens.

"We both love Halloween," said Tracy. "It's creative, fun, dark, glitzy, sugar-fueled, and as adults, we still haven't grown out of it. We still look forward to attending theme parties like Theater Bizarre (in Detroit.) Bringing Halloween themes into a rock 'n' roll show can make for an excellent complement and a treat for the senses."
Growing up in metro Detroit, Tracy was the "fine arts kid" through school, eventually attending undergrad at the College for Creative Studies in Detroit and then the University of Michigan. She got into poetry in the early 2000's, along with art exhibitions which combined art, music, and dance. "In terms of music," said Tracy, "I specifically pull toward psychedelic, acid rock. As a kid I can remember playing The Doors on my Fisher Price record player and being confused, yet attracted to that experimental style."
Adam Thomson, meanwhile, grew up in St. Clair Shores, having started on guitar when he was ten- years-old. "I always loved playing music live and riding the energy waves between the music and the audience," Adam said. For years, he had collaborated with a slew of other rock bands, but he always wanted to form a group of his own. "High Arrow became the right opportunity for me to lead."
"When (Adam) wanted to form his own band," Tracy said, "I energetically volunteered to write poetic lyrics. He taught me how to play bass and the rest is history. (High Arrow) was the chance for us to work together as a married couple, take our music and our backgrounds in art and merge those into something unique."
The band is essentially a trio, with the Thomsons having collaborated with a handful of drummers over the years. Their first two records, a frenetic batch of bluesy psyche tunes on their 2013 self- titled debut along with a dynamic psych-rock odyssey called Venus Is Rising, were recorded in downtown Detroit at producer Jim Diamond's Ghetto Recorders studio. Last summer, they released Hot Love, an exhilarating blend of cerebral and atmospheric rock trips and punk- tempo soul rock ripped right from the seminal sounds of 70's sludge.
Hot Love was mastered by Jim Diamond and recorded over at Woodshed Studios in Ferndale. They recall how Berz, a Ferndale local, encouraged them to "push further into the creative abyss."
"The motor city is our foundation," said Tracy, "(Metro Detroit) is our roots and our family. We will never forget where we grew up and first got started. We plan to visit annually, stay connected with our musician community and return there to play shows."
The first opportunity to see High Arrow in a homecoming performance is Cloak & Dagger at PJ's Lager House on Oct. 23. High Arrow's first show ever was here in Ferndale at the Loving Touch back in May, 2013. "We'd whipped ourselves for months," Tracy recalls, "rehearsing these poetry/experimental songs in Scott (Boyink)'s basement and couldn't wait to finally see if it did anything to the audience. No matter how good you can possibly get a song sounding in practice, playing it live is a whole other beast. We saw responses within the first couple songs. We were playing on the floor and the audience kept coming closer, closer as we played on…" Two years after that, both Adam and Tracy look back upon their first two years around the Ferndale scene with reverence. "At the end of our recording journey, four drummers participated in our madness. They include Charlie McCutcheon, Mark Tabor, Scott Boyink and Adam, too."
At the end of the day, High Arrow aimed for a unique and exciting variety show. "But combining it with Halloween takes the experience to a whole new level," Tracy said. "We're really excited, and we know this show will be a lot of fun."
High Arrow perform Friday, October 23 at PJ's Lager House
at 9 pm / Ages 21+ / $7
Featuring The Counter Elites, Charley Crystal and Cosmic Light Shapes
1254 Michigan Ave., Detroit / pjslagerhouse.com
More info: higharrow.bandcamp.com/
If slightly happened with our heartiness, we believe there is a solution to any maladies in a medicament. What medicines do patients purchase online? Viagra which is used to treat impotency and other states connected to erectile dysfunction. Learn more about "sildenafil". What men talk about "viagra stories"? The most substantial aspect you must look for is "sildenafil citrate". Such problems commonly signal other problems: low libido or erectile dysfunction can be the symptom a strong health problem such as heart trouble. Causes of sexual dysfunction include injury to the penis. Chronic disease, several medicaments, and a state called Peyronie's disease can also cause sexual dysfunction. Even though this medicine is not for use in women, it is not known whether this medication passes into breast milk.