Steve Gamburd: On an Ever-Evolving Creative Mission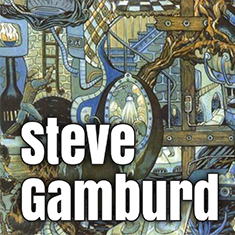 STEVE GAMBURD IS AN IMPRESSIVE AND ACCOMPLISHED LOCAL ARTIST/MUSICIAN. His career path and achievements have covered a broad range over the years: Art exhibition; picture framing; landscaping, gardening and beautification; murals; house painting; restoration; art curating; watercolor and drawing instruction; event coordination and design, and venue booking and management.
Gamburd's popularity and obvious charisma most likely come from a combination of his overall enthusiasm, talent, upbeat energy, and his outgoing nature: "I am very thankful for my experiences, and I also appreciate the work that others put in. I am always looking for inspiration, and I have always figured out a way to integrate my art into my life. It's part of my spirit!"
In Gamburd's early days of art, he greatly enjoyed comic books – especially the superhero characters – and particularly those with independent or adult themes. Then he began creating his own comics, which became an ongoing pursuit. In his college days, he found the art of abstraction and expressionists highly influential. Gamburd's continual inspiration has stemmed from working with life themes over the years, such as the figure, nature, still life, or sketching random people/settings.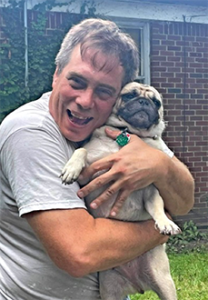 Regarding music, he was influenced by quite a few experimental sounds, but, "I did not consider myself to be a musician until I realized that music is also art. I had no idea when I was younger that I would ever play the drums!" At around age 28, Gamburd discovered his new love of the drums. He wrote a number of songs over a period of five years, with a new-wave, indie-rock quartet called The Nerve. From then on, Gamburd has gigged and recorded studio albums with a number of bands, of various genres. These have included: Polar Opposite (folk-rock); Black Lodge (postpunk); Bastion (indie-pop/rock); Steffie & The Dirty Virgins (glam-rock); New Centaur (jazz-rock), Superbomb (grunge & space-rock); Abul On Fire (psych-rock) and 8th Chakra (sludge-punk). His current band, Origami Phase, is shoegaze/dream pop. Gamburd commented, "I've had the fortune of playing with great musicians over the years. These bandmates played a major role in my development as a drummer and songwriter."
BY WAY OF EDUCATION, Gamburd majored in studio art at MSU in 1993, illustration at LCC from '94-'95, liberal arts at OCC in '96, and then dropped out of college to focus on art exclusively. In 2011, Gamburd returned to OCC for an Associates in Liberal Arts. In 1994,  Jim Ferguson became a huge influence on Gamburd's passion for watercolor: "I took his watercolor classes until I could no longer receive credit from them." Watercolor subsequently became a 'true love' for Gamburd, and one that he knew would endure for a lifetime: "This is the most awesome media. Instead of seeing it as the stereotypical 'watered-down' medium, I see it as being explosive and bold, with various ways to approach it. There are so many levels that I am still trying to figure out!"
Gamburd mentioned the importance of setting goals and completing them! On this subject, he is busy writing a comprehensive, full-color watercolor manual, where the final goal is a 125-page book. Drawing from some previous teaching experience, he is well on the way into lesson plans which form a 'step by step' guide on how a beginner can complete a watercolor painting.
Gamburd has an ongoing exhibition at the Dovetail Cafe in Warren (29200 Hoover Rd.) until the end of February 2022. This show is named "The Poster Show" and it features over 100 event posters created over the last two decades by Gamburd and his friend, Steven Czapiewski. His band Origami Phase performs at Bowlero in Royal Oak on Thursday December 30th, at 9:00 P.M.
I HAD TO ASK: "HOW DO YOU STAY SO ORGANIZED?" Gamburd's response, "Someone has to make it all happen – make the calls and follow up with contacts. It all starts with a big plan or idea, then people just want to get involved." The Phoenix Cafe was a classic example of his skills in show-casing diverse talent. "I love providing shows of different kinds, where we are all on the same page, and where a passion for creativity is the driving force. Hosting as a venue really opened up my interests a lot. It opened my mind to other genres of music. I have to look into things as I am not easily pleased!"
Gamburd feels the Phoenix years were like an open canvas of possibilities. Pianist Hans Barbe and the late steampunk creator Michael Wiggins opened a space that was a place for growing, healing and community. Gamburd was gallery coordinator and created special events, including fundraisers and art exhibits from 2009-2012. Then he went on to renovate the space, with the help of the existing Phoenix family, and became co-owner/general manager for the venue from 2013-2017. Gamburd developed music festivals at the Phoenix and abroad with co-owner Ben Frank, plus he curated themed art shows with Czapiewski. He also hosted Lewandowski's "See What Stacey Started" figure-drawing class. (This non-instructed class and art community continued to gather after the closing of the venue).
Over these years, many good networking relationships formed between bands, which led to a number of collaborations. However, at this point, Gamburd described having less time to be a visual artist as it is a hugely time-consuming venture. Even though it had multiple positive outcomes, and was a powerful way for people to connect, Gamburd added that the Phoenix Cafe was "not profitable."
Once the venue closed its doors in December of 2017, Gamburd was able to gig with his bands, present a long-awaited solo art show based on his 'dream' art, and shift into more gardening/house painting jobs. Now – following a busy season of those pursuits – he is excited to focus on comic book illustration, and more watercolor lessons.