The Oak Park School District: Committed to Excellence & Equity for All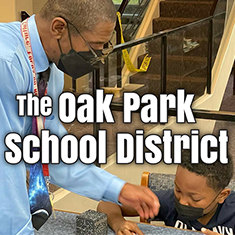 By Brandon Jiles
Photos ©2021 by Bennie White
THE Oak Park School District's nearly 3,800 students are served at Einstein, Key, and Pepper elementary schools (grades PreK-5), the Oak Park Preparatory Academy (grades 6-8), Oak Park High School (grades 9-12), NOVA (grades 3-12) the Oak Park Alternative Education Center (ages 16-19 years old) and My Virtual Academy of Oak Park (grades 5-12) in Oak Park, MI in Oakland County located in a suburban community near Detroit with approximately 30,000 residents. Our District consists of over 450 staff members, including 250 teachers and 11 building administrators.
Our School District boasts an abundance of educational and co/extra-curricular programs to meet the needs of a vast array of learners from Pre-K through twelfth grade. We encourage students to challenge themselves academically, explore comprehensive course offerings and take risks to discover their gifts.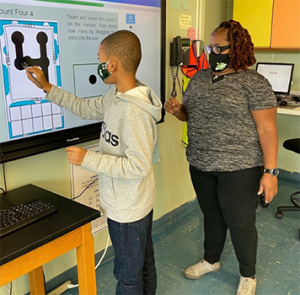 We are dedicated to providing an intellectually challenging educational experience in safe, nurturing school environments that thrive on cultivating and empowering students to be their authentic selves. In addition, our academic and co/extra-curricular opportunities provide agency and shape self-identity, which are critical components to the adolescent development process.
The Oak Park Advantage is a holistic approach to education that not only prepares students academically and fosters a sense of belonging but also creates long-lasting connections to the Oak Park community. While attending Oak Park Schools, students develop a confidence that is woven throughout their post-secondary, professional, and social-emotional well-being years after they graduate.
"We take pride in our commitment to fostering a diverse teaching staff that is inclusive of everyone it's integral to our culture as we aim to empower our students to bring their best self, unique perspectives, and talents to the classroom every day." Brandon Jiles, Communications Coordinator
Commitment to student growth and emphasis on athletics and the arts are just a handful of the many Oak Park advantages. The Wade McCree Incentive Scholarship Program offers four-year scholarships to attend Oakland University for Oak Park High School students who graduate with a 3.0 GPA and score at least a 1060 on the SAT.
OUR COMPREHENSIVE EDUCATIONAL AND ENRICHMENT PROGRAMS allow us to distinctively meet the needs of all learners in Oak Park. In addition to the major academic areas, courses are offered in art, music, physical education, computer science, foreign language, bilingual education, alternative education, advanced placement, co-op, work-study, special education and college prep, advance placement courses at the Center for Advanced Studies and Arts (CASA). Special facilities include the state-of-the-art Hoffman planetarium, TV studio, multi-lingual studies, and computer labs.
Despite the COVID 19 pandemic, Oak Park Schools had an award-winning 2020-21. Oak Park High School teacher Owen Bondono was named the 2020-2021 Michigan Teacher of the Year (MTOY). Bondono will be entering his seventh year of teaching English language arts in the fall. Before teaching, he worked as a paraprofessional in the classroom for four years. Bondono's selection as the 2020-21 MTOY began with the nomination of more than 400 teachers during the fall of 2020.
"Ultimately, teaching is an expression of my love of humanity. My way of making my mark on the world is making the next generation better. I know that growing the next generation of humanity is a community effort, so I will create that community wherever I find it." Owen Bondono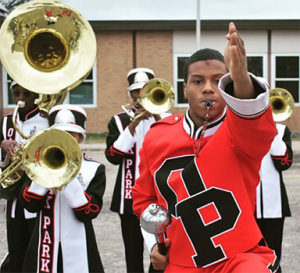 IN ADDITION TO OUR EDUCATIONAL PROGRAMS, a wide variety of extracurricular activities keeps students involved after school as well, we have a robotics team, National Honor Society, Wayne State C2 Pipeline, and also a new partnership with the City of Oak Park Recreation Department offering hip hop dance classes and gaming competitions in the newly remodeled Knight Café.
According to Mlive.com, the Oak Park High School's athletic department is one of the top 50 athletic programs in the state. Our girl's Track & Field program has become a perennial power-winning MHSAA Division 1 State Championships six out of last seven years, also garnering three national titles in 2021. The Oak Park football program has 13 players currently competing on the NCAA Division 1-FBS level, which is ranked fourth best in the State of Michigan.