Tiffany Pugmire: Witnessing Art at City Hall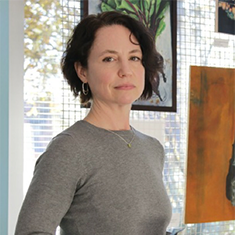 Photo ©2021 by Bennie White
FOR TIFFANY PUGMIRE, HER ARTWORK IS HER MEDIATION, her cathartic release. For others, Pugmire's artwork invokes joy, cheer, inspiration and more.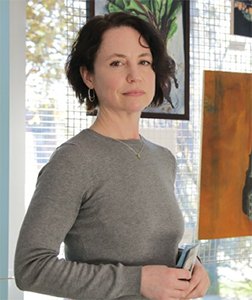 "WHEN CREATING,I AM CONSISTENTLY sifting my way through transitions and emotion; thus the extra play time with this medium lends to the remedy or healing process," Pugmire said of her work. "For me, there is a magnetic sensation when looking at the reflection of light, and the contrast of the hidden colors in shadows. It keeps me interested in a subject as I attempt to capture this quality in my efforts."
Pugmire gained local fame last Spring when she put her talent to work through sidewalk art. In exchange for chalk to perform her skills, Pugmire would take requests of what individuals wanted displayed on their sidewalk. Mayor Marian McClellan requested Vincent Van Gogh's "Sunflowers," and others requested birthday messages, recreations of other well-known art pieces and more.
While, the rain has since washed away the sidewalk art that brought smiles to Oak Park residents in the height of the COVID pandemic, Pugmire's artwork can now be viewed in City Hall. This artwork won't be found on the floors of City Hall, though; rather her oil paintings are displayed on canvas throughout the art gallery near the main entrance.
PUGMIRE'S ARTWORK DISPLAY IN CITY HALL IS PART OF Oak Park's Public Art Exhibition Program, which is administered through the City's Arts & Cultural Diversity Committee. Her artwork can be viewed now through the end of December.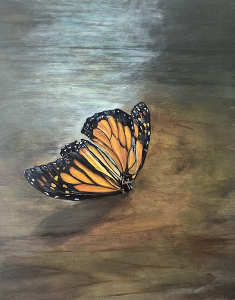 The use of light and shadow in Pugmire's paintings is quick to catch a viewer's eye. The way in which she brings life to a simple bowl of eggs or a cabbage on a string is something only someone with true, raw talent can accomplish. Pair Pugmire's inherent artistry with her training and still life art becomes anything but.
WHEN PUGMIRE IS NOT DELVING IN HER ARTISTIC SIDE she can also be found teaching yoga, practicing Reiki and working for the Oak Park Public Safety Department's Records Bureau. She is a woman of many talents, and the City of Oak Park is thrilled to serve as a conduit between her artwork and the public.
For the Park's Public Art Exhibition Program administered by the Arts & Cultural Diversity Program, local artists are encouraged to apply on a rolling basis. The Committee regularly seeks two-dimensional artwork for the lobby of City Hall for the duration of a quarterly exhibition period, and seeks art that represents the diversity of our community. Varied artistic styles and mediums are welcomed. All artists are encouraged to apply; however priority is given to Oak Park resident artists. Artwork should reflect positively on our community and must be suitable for public display.