City of Oak Park Public Library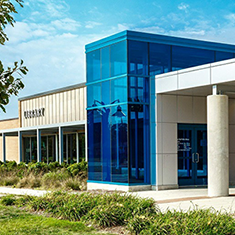 By Sara E. Teller
Photos ©2021 by Bennie White
A DEDICATED STAFF THAT ENJOYS PROVIDING PUBLIC SERVICE
THE FRIENDS OF THE OAK PARK LIBRARY (FOPL) WAS FOUNDED IN THE MID-1950S, just prior to the opening of the Library itself in June 1958.
The purpose of the group is to provide support for the Library by offering a broader understanding of what it offers, as well as soliciting a wider use of it services. In its earliest days, FOPL volunteers went door-to-door asking residents to join or donate funds and materials to help establish the facility that patrons enjoy today.
In 2012, the Oak Park Public Library (OPPL) underwent a remodel and expanded its space, offering residents an even wider selection of products and services in a larger space. The Library currently houses nearly 75,000 books and other materials, and provides the community with enrichment programs including classes, seminars, presentations, and other efforts to promote literacy and reading. It also offers a wide range of technology services, including courses designed to teach web-based skills. The diverse selection of materials available at OPPL represents that of Oak Park's community-at-large, according to Library Director Kimberly Schaaf.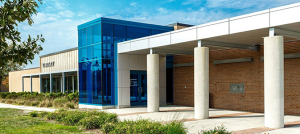 "The Oak Park Public Library [serves] an amazingly diverse community, and our material collections reflect that," she said. "We have everything from urban fiction to a Russian language collection. Our setting also makes us unique, as we are located adjacent to a beautiful neighborhood park and our community recreation center."
Adapting with the times, OPPL now offers patrons quick and simple ways to access the Internet on the go, which is particularly important to residents who are in need of free services that support their busy lives.
"The Library recently started circulating Internet hotspots so people can access the Internet at home or on the go," said Schaaf. This allows the Library to continue partnering with residents during a time at which many individuals would rather be at home.
She added, "In addition to these hotspots, we also subscribe to Libby, giving residents access to thousands of downloadable e-books and audiobooks." Patrons looking to attain continuing education credits (CEUs) can access Universal Class through Libby, which offers over 500 courses.
"We also recently purchased a variety of children's picture books that read out loud to kids," Schaaf said, speaking to the library's commitment to offering products and services to all populations. She added, "The Library offers notary service, test proctoring, technology assistance, remote printing, resume review, and study rooms. We have a computer lab and regular events, including author talks, concerts, book clubs, and school readiness" options.
THE OAK PARK PUBLIC LIBRARY IS AN INTEGRAL PART of the community, Schaaf says, because "the goal of all the services and materials we offer is to impact our patrons' lives in a positive way. Whether it's helping a person scan a document, find their next favorite book, providing study space, providing access to online resources, or a place for their child to get ready for school, we are here to help people."
As far as COVID-19 is concerned, while it has negatively impacted the library's budget, Schaaf prefers to look at the positives. "We are currently operating in a fairly normal capacity with our normal services being offered," she explained. "COVID-19 did impact our budget in a negative way. [Our overall] revenue has been reduced by COVID due to the many restrictions that were in place last year." But, she added, "despite the loss of revenue, the Library has and will continue to offer the same level of support, service, and materials."
FOPL continues to raise funds and attain other support for OPPL and is actively looking for volunteers for educational programs, physical improvements, and to encourage the overall enjoyment of reading. The group now has provided more than $50,000 to maintain operation of the library.
Schaaf said, "The Oak Park Public Library is blessed to have an amazing Friends of the Library organization who supports events, equipment, and material purchases. If anyone is interested in helping the Library, becoming a Friend of the Library member is a great way to do that. In addition, we are always looking for community partners and ways we work together with other organizations to accomplish common goals."
FOPL meets the second Thursday of each month at 7:00 P.M. in Room 4 of the community center. Anyone hoping to join should download a copy of the membership application online, fill it out, and drop it off at the Library during regular business hours. There are also numerous upcoming and ongoing events in which residents can get involved.
FROM DECEMBER 1, 2021, TO JANUARY 5, 2022, THOSE WHO ARE A PART OF THE OPPL BOOK CLUB will read A Promised Land by former U.S. President Barack Obama, the first of two volumes, and meet to discuss their experiences. Meetings take place from the safety of readers' homes via a video call on first Wednesday of every month at 6:00 P.M. The Promised Land will include in-depth discussions during a minimum of two sessions.

Patrons can also look forward to Storytime with Mr. Stuart, an ongoing, fun reading program for toddlers through age 6 that occurs on Wednesdays from 10:15 A.M. to 11:00 A.M.
The Library is partnering with local businesses in Oak Park and the surrounding communities and encourages residents to shop at Kroger, which donates a percentage of its profits to FOPL. Residents can also shop online at smile.amazon.com and the company will donate a very small percentage of any Amazon Smile purchase to a charitable organization. Library patrons can select FOPL to support the library at no additional cost.
In general, the OPPL is a small library which fits perfectly with the close-knit feel of Oak Park. Schaaf says, "Readers should know that although we are a small library, we have a very dedicated staff that enjoys providing public service. We look forward to welcoming new members."
For more information regarding the Friends of the Oak Park Library or the Oak Park Public Library itself, visit OPPL's page on the City of Oak Park's website at www.oakparkmi.gov/departments/library/index.php, stop by in person, or call 248.691.7480.