…Nor Any Drop to Drink. From Ferndale to Flint: Reaching Out to Help Flint in its Time of Need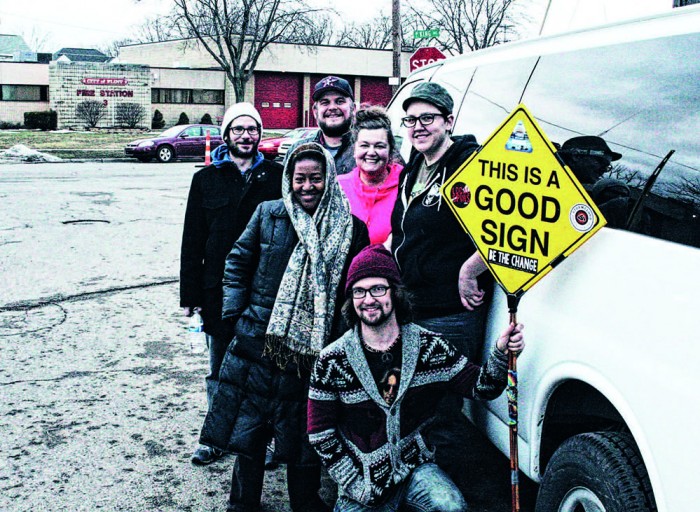 Story and photos by Kevin Alan Lamb
ON JANUARY 16, PRESIDENT BARACK OBAMA declared a state of emergency in Flint, where close to 100,000 citizens are unable to drink their tap water because it's laced with poisonous lead. As a result, $5 million in federal aid has been immediately allocated in an effort to reduce the public health crisis. Yet time continues to tick, and the damage continues to mount.
Officials elected to serve and protect the best interest of our state's residents denied the water's danger until last Fall, when a local pediatrician documented high lead levels in Flint childrens' blood. Lead poisoning is a serious condition, sometimes causing severe mental and physical impairment, and even death. Young children and their growing bodies are most vulnerable to lead poisoning; the damage it causes cannot be reversed.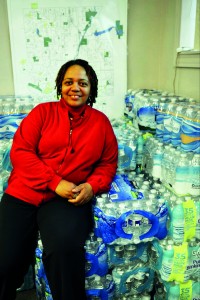 Last September officials also dismissed reports made by Virginia Tech civil engineering professor Marc Edwards, revealing that the city's water contained high levels of lead. Edwards then filed Freedom of Information Act requests which exposed the state's knowledge of citizens' exposure to high lead levels.
In early October, Dr. Mona Hanna- Attisha, director of the pediatric residency program at the Hurley Medical Center in Flint, reported that the number of children with high amounts of lead in their blood had doubled. "This poisoning of an entire population was entirely preventable," Hanna- Attisha told HuffPost.
While there is nothing left to deny, Flint citizens continue to suffer as a result of this colossal governmental scandal. Residents are expected to pay for poisoned water, at an inflated rate! Many of these residents are low-income seniors and families struggling with low-paying jobs. If residents aren't able to get help with clearing their unpaid bills, they will be without water and the bottled water donations won't last long.
"I've lived here in Flint my whole life, and this situation has only made the news because of the way they handled things. But this has been going on for a few years now, and I'm really upset that I still have to pay an exorbitant water bill and I can't use my water. That's really frustrating, and thank God I have a car… what if I didn't have a car? I couldn't get to the water. They have a number you can call, but it's a recording, and who knows how long it will be before they can get to delivering any water?" Ms. Josh, 38, said.
Metro Community Development has established a 'Flint Water Shut-Off Fund' to assist residents who have received water shut-off notices. Their mission is to serve as a leader and catalyst to expand and enhance quality housing and community development initiatives for underserved people and communities in Flint and Genesee County.
Unlike the Highland Park water crisis, this story has made your newsfeed; you may have changed your profile picture, and you likely have been inspired by the immediate and extraordinary relief response by everyone other than our local government, but has that inspiration moved you to action? Have you explored the efforts being made in your community, and contributed? Have you considered what life would be like if you were unknowingly drinking poisoned water, yet still expected to make payment or else be denied the right to running water in your home? Have you looked into your child's eyes and felt the devastation of discovering that your government may have sentenced him or her to brain damage, nerve damage, and developmental delay?
"My hope is that each of us in Ferndale thinks about our long-term commitment. All hands on decks. Let Ferndale be an allegory – there are so many issues and it can be overwhelming, but we're trying to illustrate that this is terrible – collective culpability. A result of a failed government system. But we can ask ourselves, 'What do we want the basic quality of life in Michigan to look like? Can we have conversations about what is happening, and do something about it? Even if it's hard…" Liz Lamoste said, who organized From Ferndale to Flint, which seeks to collect and deliver donated water. It's a community-wide effort to ensure the people of Flint have both an immediate and prolonged source of relief, support, and compassion.
"I connected with Bobby Jackson, and the Mission of Hope who have been doing emergency waterwork since February, 2014. I asked what they needed, and organized with the intent to have an impact."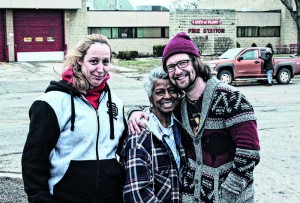 "They needed more storage, we got it. We visited Flint, and want to scale this effort and inspire other cities to do the same. Individuals are very capable of having an impact, especially when combined with others. People often feel powerless, but once a community is assembled, and brings attention to a cause, there is a call for accountability," Lamoste said.
Given gifts to encourage and empower others, it is in these desperate times we must share the blessing of our Ferndale community with our Flint friends to the north. Let us continue to lead by example and pave the path for other communities to follow.
"The people of Ferndale are amazing. We will maintain our relationship with Flint because don't know what the government help will look like. We are asking for recurring financial and water contributions, and for people's continued attention."
Despite the initial roar for relief made here in Ferndale, Lamoste has some plausible concerns moving forward. "It's hard to maintain passion long-term. And time, staying current in a rapidly evolving situation can be difficult, understanding what's happening in Flint and how we can help."
Few avenues offer a more accurate glimpse into the current state of affairs than presence. The presence of six concerned men and women who traveled as far as Indianapolis, and near as Ferndale, intent on fighting this injustice from the trenches, shoulder to shoulder, and heart to heart with those victimized by bureaucratic indecency. People like Courtney Brooks, who likely would prefer to remain unnamed, because in his words, "It's about them, not us."
Brooks and his friends drove 309 miles with over 8,000 bottles of water to see the look in people's eyes who needed it; to thank the good citizens of Flint who made it a priority to ensure people like us could help; and to remind that each and every one of us is part of the most beautiful and unique community in the world.
"I'm speechless, and I'm trying not to cry. I've been feeling an overwhelming amount of love," Carma Lewis said, Community Program Director at the Neighborhood Engagement Hub.
The Neighborhood Engagement Hub exists to strengthen and restore communities by providing these communities and neighborhoods with a strong shared source for information, education, facilitation, project development, advocacy, supportive equipment and materials.
"I'm hoping this effort enables us to focus on other issues that deserve attention just as badly as Flint does, like Detroit public schools," Lamoste said.
From Indy to Ferndale, and Ferndale to Flint. "Making new friends, that's what's happening," said Lewis.
How to help:
Flint Water Shut-Off Fund: http://www.metrocommunity.org/
On Facebook: From Ferndale to Flint
Use hashtag #fromferndaletoflint
For inquiries on how you can help,
contact Liz Lamoste at Elizabeth.lamoste@gmail.com
If slightly happened with our health, we believe there is a solution to any maladies in a medicament. What medicines do patients purchase online? Viagra which is used to treat impotency and other states coupled to erectile disfunction. Learn more about "sildenafil". What people talk about "viagra stories"? The most vital aspect you should look for is "sildenafil citrate". Such problems commonly signal other problems: low libido or erectile disfunction can be the symptom a strong health problem such as soul trouble. Causes of sexual dysfunction switch on injury to the penis. Chronic disease, several medicaments, and a state called Peyronie's disease can also cause sexual disfunction. Even though this medicine is not for use in women, it is not known whether this treatment passes into breast milk.