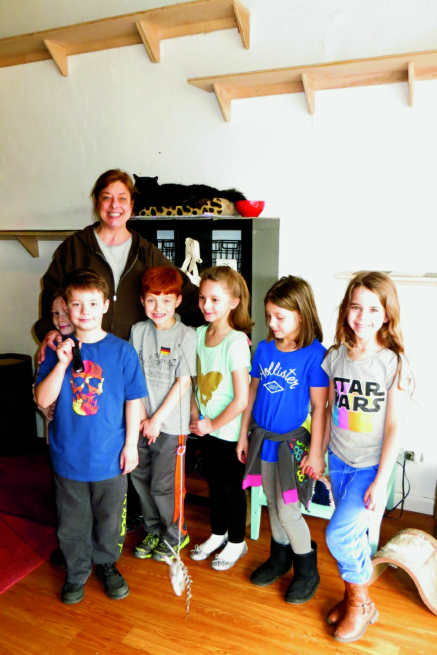 STUDENTS OF Kennedy Elementary recently took on The Great Kindness Challenge. The students were provided with a list of 50 suggestions of wonderful ways to be kind, such as, calling your grandma or grandpa, making a new friend, or saying good morning to five people.
Mrs. Trolinger's second grade class decided that they would be kind by giving back to the community and supporting 2 local Ferndale businesses. On Saturday, January 30, Mrs. Trolinger and seven students from her second grade class made a visit to the Ferndale Catfe' Lounge. They brought donations collected in the classroom, including cat beds, food and cat toys.
The students were greeted by Deanne Iovan, chief pooper scooper at the Catfe' Lounge, and volunteer Julie Brennan. The Catfe' Lounge is full of nooks and crannies for the cats to play and hide in. There is even a catwalk along the walls near the ceiling where the cats can go to get a better view of things. The students learned to be quiet and calm in the cats' environment and, while many of the cats seemed to enjoy the attention, a couple fled to the catwalk.
Mrs. Trolinger, who has been teaching at Kennedy for ten years, and in the Ferndale district for almost 20, would like to keep this going all year round. She may schedule another visit to the Catfe' near the end of the school year.
The Catfe' is located at 821 Livernois. Visits are on a donation basis.
If some happened with our health, we believe there is a solution to any maladies in a cure. What medicines do patients purchase online? Viagra which is used to treat impotency and other states coupled to erectile malfunction. Learn more about "sildenafil". What humanity talk about "viagra stories"? The most essential aspect you must look for is "sildenafil citrate". Such problems commonly signal other problems: low libido or erectile disfunction can be the symptom a strong soundness problem such as heart trouble. Causes of sexual malfunction switch on injury to the penis. Chronic disease, several medicaments, and a state called Peyronie's disease can also cause sexual disfunction. Even though this medicine is not for use in women, it is not known whether this treatment passes into breast milk.