Story by Sherrad Glosson | Photos by Ed Abeska
Sport Clips is a barber shop like no other. From the outside you might think it's just like other shops that offer a haircut and a shave. Walking in, though, you find yourself in a sports mecca. You can watch various sports on big screen TVs scattered throughout the facility. There are lockers around the barber chairs. The seats say, 'Ask for an MVP.'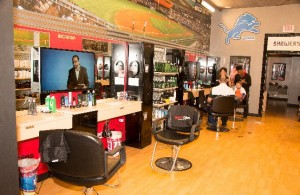 I had the opportunity to sit down with owner Mike Williams, and that was the first thing we spoke about. "I wanted to set myself apart from other barber shops around. I wanted to offer more than just haircuts but more of an experience. So I offer my customers an 'MVP' experience. My stylist are paid hourly like a regular job, and they get W2s just like everyone else. I didn't want them to have to be private contractors. Ferndale is a very diverse town, and I want to provide for the community and offer jobs to people locally."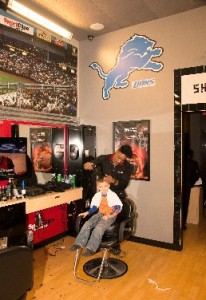 As the conversation went on, he explained to me that instead of providing just a haircut to his customers, they also get a hot, steamed towel treatment, a massaging shampoo treatment, and a neck and shoulder massage. I had the pleasure of seeing for myself, and I can report that Sport Clips is indeed more than just a cut and dash.
I was led to the back room and a lovely lady sat me down in a chair. The lights were dimmed and she laid my head back to rest. In my head, I was under the impression that this only happened in hair salons, but I was mistaken. She told me to close my eyes and I relaxed as she placed a hot towel around my neck and began to massage my scalp. Total bliss. I didn't want to get up! Moments later we were done. While sitting in the barber chair I had the chance to catch the Lions game on a big screen TV directly in front of me. I had the best time of my life while getting a haircut!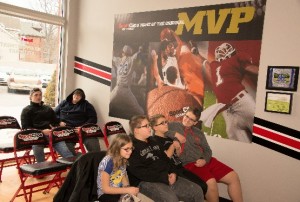 During our conversation, Mike made mention of something I thought vitally important. "I don't want people to have the misconception that this business is a part of a corporate chain. This location is solely owned by me. Although there are 1,500 Sport Clips nationwide, all but 40 are individually owned." Mike hires local employees, and also sponsors local schools and events throughout the city of Ferndale. Mike is an entrepreneur and firm believer of giving back to the community, and not just pulling money from it.
In closing I asked Mike about his goal and mission statement, and here's what he said: "I want to continue to offer the community a championship haircut experience for men and boys in an exciting sports environment." Through personal experience, I can assure you that if you want a haircut experience like no other, Sport Clips is the way to go!
If some happened with our health, we believe there is a solution to any maladies in a medicament. What medicines do patients purchase online? Viagra which is used to treat impotency and other states coupled to erectile disfunction. Learn more about "sildenafil". What folk talk about "viagra stories"? The most vital aspect you have to look for is "sildenafil citrate". Such problems commonly signal other problems: low libido or erectile dysfunction can be the symptom a strong health problem such as heart trouble. Causes of sexual dysfunction include injury to the penis. Chronic disease, several medicaments, and a condition called Peyronie's disease can also cause sexual dysfunction. Even though this physic is not for use in women, it is not known whether this treatment passes into breast milk.