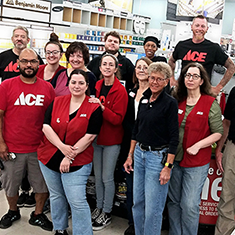 By Jenn Goeddeke
SCHEER'S ACE HARDWARE STORE WAS ESTABLISHED IN 1946 BY BROTHERS MARTIN AND PHILIP SCHEER. THE STORE OFFERS PRODUCTS RELATING TO ALL ASPECTS OF HOME IMPROVEMENT, INCLUDING PAINT AND TOOLS.
This is a store with a rich history, spanning three generations. First known as "Scheer's Trading Post," it was located in Ferndale. In 1958, the store became part of the Ace Hardware cooperative.
A decade later, they moved to Oak Park, in a larger space across the street. In 1978, the store expanded again, by purchasing the neighboring building.
The second generation of ownership began in 1986, with Carol Paul, Paul Krupkin, and Howard Scheer. Currently, it is third-generation-owned, shared equally by Paul Krupkin and Bryan Golemba. Along with their long-time manager, Deborah Novak, they have formed an impressive team!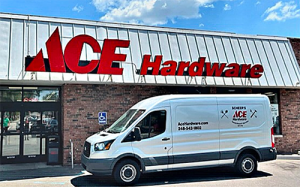 KRUPKIN HAS BEEN WORKING AT THE STORE for 50 years, (as of September 1st). He remembers working there during his high school days, then working more seriously at the store after graduating from college.
Golemba's background is in skilled trades (electrical and plumbing), then in welding and fabricating for over ten years. In 2020, just before he took over the 50 percent ownership of the store from his mom, (Carol Paul), Golemba was working as a lien coordinator with a trucking company. Golemba recalls it was a "big decision" to leave his career in the trucking industry, but certainly not one he ever regrets.
"I was riding the store's conveyor belt when I was a child, and there are pictures of me sitting on someone's lap here! I have lots of great memories, and the store is a huge point of pride for me. It's a big commitment and not simply a corporate entity. I treat my employees as family, but I am still running a business."
GOLEMBA ADDED, "WE HAVE A DIVERSE EMPLOYEE LIST, with lots of longevity – like Theresa Farnum. Several people have retired from here. A good example of someone who has grown with the company is Leslie Miles. She has been a store manager for over seven years."
Keeping the staff motivated is a big priority at the store. Golemba explained, "I try to make it so that employees come in and leave with a good attitude. Paul and I take out the trash, clean gutters, stock shelves, and mop floors. We like to think we lead by example, and we remain very hands-on."
Krupkin and Golemba also keep energy levels up by interjecting fun staff activities: "Recently, we made a semi-truck out of buckets! Additionally, pins are awarded for years of service attained. These pins become more decorative and 'blinged' as years progress, and employees look forward to receiving them.
Golemba described recently attending an Ace Convention in Chicago, with various options for buying new products. He called the store to get the staff's opinion. He added, "by consult- ing them in my decisions, the staff feels respected and needed. I both rely on them and trust them. I am not always right, so I get other input. Many of the staff live locally and under- stand the vibe of Oak Park, Ferndale, Detroit and surrounding neighborhoods."
SCHEER'S ACE ALSO GIVES A BIG SHOUT-OUT to customers, who have been extremely generous in the store's fundraising campaigns. They recently transitioned from a national charity group to serving local charities. For example, Ace raised almost $5,000 for the Detroit Food Rescue (run by Darraugh Collins) from over 10,000 "round up" store donations. Other charities the store has worked with include: 'Building Beds for Kids'; 'FernCare'; 'Mission Clinic' and 'A Girl Like Me'. …As of Sept 2021, they have raised over $24 thousand dollars for local charities!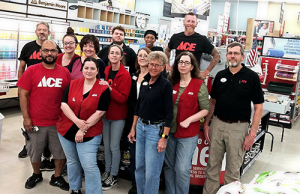 ONE OF THE THINGS THEY LOVE MOST OF ALL is when kids come into the store. Golemba enjoys giving them treats and says it brings back so many good memories of himself as a child in the store. Both Krupkin and Golemba take pride in the fact the store is clean and well taken care of; plus, they're dog-friendly! When asked about this, Golemba often jokes with customers: "just no giraffes!"
Customers are encouraged to ask questions and the staff finds it satisfying to help customers figure out what is needed. Certainly, it can be a real problem-solving task to find the correct part out of several thousand items sold in the store.
ON A FINAL NOTE STAFF SUGGESTS THAT YOU VISIT THE STORE (or their website and Facebook pages) to find many extra services. Golemba explains, "We are not trying to sell customers something they don't need. We will offer our advice on how to fix items they already have, and how to implement what we sell. Fortunately, we do have lots of knowledgeable staff on our team!
Scheer's Ace Hardware is located at: 8601 W 9 Mile Rd, Oak Park, MI 48237.
Contact # (248) 542- 1802 or visit the website: www.scheersace.com.
Email: Scheersace@comcast.net.
Opening hours: M-F, 8am-6pm; Sat, 9am-6pm; Sun, 10am-5pm.
Helpful additional services include: carpet cleaning machine rental; computerized paint-color matching; glass and screen repairs; glass & acrylic cutting; key cutting; knife & scissor sharpening; propane; postal services.