Kravings, A Modern Deli With Kosher Fare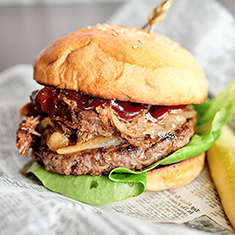 By Ryan R. Ennis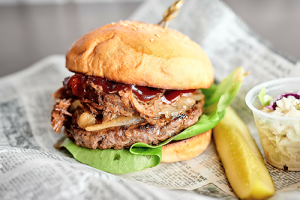 FOOD CRAVINGS CAN CROP UP AT ANY TIME. ONE AFTERNOON, YOU STRUGGLE TO FOCUS AT WORK BECAUSE YOU IMAGE THERE IS A DELICIOUS HAMBURGER PLATE WITH MOUHT-WATERING FRENCH FRIES SITTING BESIDE YOUR LAPTOP.
ON ANOTHER DAY, YOU STOP CLEANING THE KITCHEN and just stare at the refrigerator, wishing it had a small container of tasty potato salad you could grab and devour. Cravings often take hold at the most inopportune moments, when you lack the time and the ingredients to fix the desired foods.
Fortunately, if you live in Metro Detroit, there is Kravings — a deli offering signature sandwiches and many ready-to-eat side items that can appease your hunger. Some of the sandwich choices are the BLT, the BBQ beef, the Philly steak, and the Reuben. According to online reviews, many customers rave about the Chazal, a burger topped with beef bacon and served on a jalapeño bun. Some of the side dishes include soups, garlic bread, fries, and salads. Also available to order are sushi rolls, tempura rolls, and boneless wings.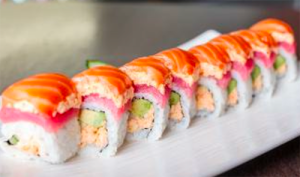 Oak Park resident Zoya Rice praises the deli to her friends, family, and coworkers. "It has a nice environment and is very clean," she tells them. When her cravings strike at work, she often breaks away at lunchtime and travels a short distance to the establishment to get her favorite — the grilled chicken sandwich.
The selections at Kravings are kosher. To be kosher, "the food must be prepared under certain restrictions (which adhere to Jewish dietary laws)," explains Sandy Singal, the general manager at the restaurant. "We pride ourselves on the fact that we can make anything that anyone else can under the highest kosher restrictions."
SINGAL'S HISTORY IN FOOD SERVICE INDUSTRY GOES BACK 23 YEARS, when he began working for Kraving's parent company Quality Kosher Catering, owned by the Kohn family. Although Quality Kosher Catering had established itself as a reputable caterer for weddings and other events within the local Jewish community, Daniel Kohn, grandson of the company's founder, decided eight years ago it was time to tap into the market of a new generation of people seeking creative cuisine. The challenge was to find an economical and convenient way to supply kosher meal options on a smaller scale.
Enlisting Singal's help, Kohn developed a plan to open a carryout business. As they embarked on their search for a suitable location, the owner of Unique Kosher Carry approached Kohn (as luck would have it) about buying his Oak Park sandwich shop. Realizing it was a great spot to achieve his dream, Kohn jumped at the opportunity. Once the purchase was made, the necessary workers were hired to give the place a more contemporary look with new walls, flooring, and furniture.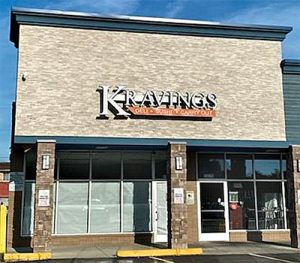 WHILE THE DELI'S MODERN APPEARANCE HAS ATTRACTED both former and new customers, people keep coming back because "our menu offerings are kosher and high quality at the same time," says Singal. "We are careful about what we buy and where we buy it from." In the present period of supply chain issues, "our chefs have learned to be creative," continues Singal. "If a particular product is out-of-stock, they figure out how to work around it." For example, "our menu may have more items with fish when beef and chicken aren't available."
With business steadily increasing, Kohn has recognized the need for adding services. If you are on a tight schedule, you can place your order in advance and also stop in to quickly buy pre-packaged foods, like roasted potatoes and rice pilaf, from the refrigerated display cases. On the occasions you would prefer to eat in, there is a dining room that comfortably seats about 25. Recently, Kohn purchased the space next door so that the site will accommodate more patrons and more tables with chairs.
As Singal will tell you, Kohn's intention to expand could not happen at a better time. "Our burgers and sushi are very popular. Unless you live in Los Angeles or New York, it's hard to find delis that have kosher sushi." Whether people require a kosher menu or not, more and more customers frequent Kravings "because they love the quality and freshness of our food."
Located at 25270 Greenfield Road, Kravings is open M-TH 11AM-9PM; FRI 9AM-3PM; SUN 4-9PM. Closed Saturdays. To view the menu or contact the staff online, visit kravingsdetroit.com. To place an order by phone or schedule a food delivery, call 248.967.1161.