Dr. Benay Dabney, DDS: Combing A Gentle Approach With Modern Technology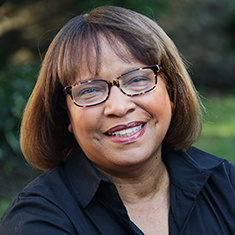 By Jenn Goeddeke
DR. BENAY DABNEY'S CAREER JOURNEY BEGAN AT NORTHWESTERN UNIVERSITY AS AN UNDERGRADUATE, MAJORING IN BIOLOGY. DABNEY WAS IN THE PROGRAM WITH OTHER SCIENCE MAJORS, PRE-MED, AND ENGINEERING STUDENTS. A UNIQUE FLAVOR.
She had an interest in clinical medicine at the time. "I always had a good relationship with my dentist, so I thought that would be a neat profession."
In 1975, Dabney applied to dental school at Ohio State University and was accepted. She came to MI in 1979 and worked for the public health system, plus taught classes at a dental school. In 1984, Dabney opened her first practice in the 8 Mile & Livernois area before moving to Oak Park in 1990. "It's a nice community with a steady flow of patients. I love it here!" Dabney mentioned enjoying improvements along the 9 Mile Road stretch, especially the addition of landscaping, artwork, and bicycles.
ORIGINALLY THE OFFICE BUILDING WAS DIVIDED BETWEEN the dental practice side and the larger medical side. The first building owner was Dr. Stanley Sarter, who had built a breezeway to an adjacent house as an expansion. Subsequently, the building was owned by Dr. Roiter, who sadly passed away.
"My space was fairly small at that time, and it confined my practice a bit, but it was adequate."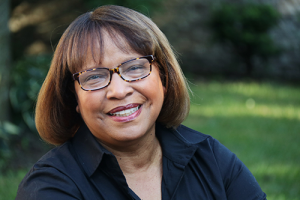 Five years ago, the building was up for sale. Dabney recalled with a smile, "Dr. Roiter's wife told me that he had wanted me to buy it. The medical tenant moved his practice out. So, I bought the building and was also able to expand my practice, to encompass the whole building plus the neighboring house. The house has been a real asset. It serves as a break room for staff, with its kitchen, plus storage space.
"I brought in a full-time dental associate, Dr. Werdlow. I have been so busy – it's a blessing!" Dabney mentioned: "One thing that happens a lot is people approach me and they tell me: 'No one here can ever retire!' Some of them have been my patients for 20 years or more."
DABNEY'S IS A FAMILY-ORIENTED PRACTICE, where they perform every procedure, such as x-rays, fillings, crowns and dentures/partials. Dabney added, "I have a gentle touch and demeanor and I can turn any nervous patient into a dedicated customer if they give us a chance! We typically get a good response once patients see how our approach is different from some other dental offices. When patients tell me of previous bad experiences, it tugs at my heart!"
The practice does have nitrous oxide available and on hand for patients who request it, but it's not a "go-to." Additionally, the office is designed to be both efficient and attractive. "We have a lot of modern equipment and computers in every room. Everything was updated when we remodeled and expanded about four years ago, so the office looks fresh and new. People feel very comfortable here."
Dabney mentioned that she particularly likes doing more complex work such as crowns and bridges. "I love all the variety of my profession."
Dabney has a dedicated team, with two hygienists. "Delrey has been with me for over 20 years and Christine for five years. They both have excellent skills. Another of my staff, Shawanna Tucker, started here while she was still in high school, at 16 or 17-years-old. She has been here ever since."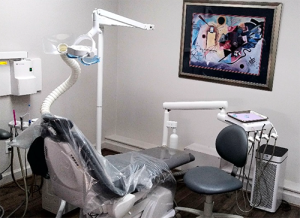 Children are always welcome to schedule a visit. Dabney added, "My two children, Danielle and Veronica, have never known another dentist or hygienist!" Dabney is a proud mom, and described her daughters' careers: "Danielle has been a film producer for 15 years. Her work mostly involves documentaries and commercials. Veronica set up her dog-walking business and is doing well with that!"
DABNEY HAS VARIOUS HOBBIES AND ACTIVITIES outside of dentistry. She is an active member of the Greater Wayne County Chapter of the Links. This organization has a "mission to promote and engage in educational, civic & intercultural activities."
Dabney also likes to help and mentor younger people in the STEM areas (Science, Technology, Engineering & Math), and work on acrylic paintings. Two of her artworks are on display at the practice. Travel is another of her favorite activities, in particular, her annual excursion to Martha's Vineyards in MA.
Dr. Benay's Dental Clinic is located at 10300 W. Nine Mile Rd in Oak Park, 48237. She can be reached at 248.543.8800 or via email: bgddds781@gmail.com. Clinic open hours are: M, T, Th, Fri, 9am-6pm; Sat, 9am-1pm; Sun, closed. Emergencies welcome.