Long-Celebrated Community Dinners Continue at Ferndale First United Methodist Church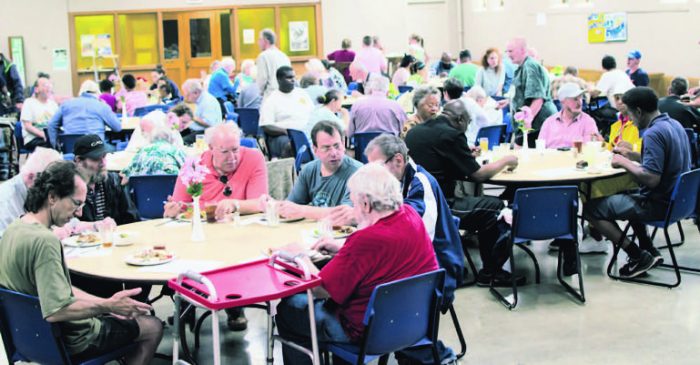 Story By: Sara E. Teller
Photos By: David McNair
THE FERNDALE FIRST UNITED METHODIST CHURCH HOSTS A "Community Dinner" the last Wednesday of every month for "anyone who wants to come," according to Mary Lenaway, a long-time member. "It's not limited to church members or the needy. Everyone is welcome."
There is often a large turnout, particularly in the winter months, and volunteers are greatly appreciated. "Typically, during the winter, between the volunteers and the people who come in, we get around 100 people," Mary explains, adding that "help and donations are always accepted and appreciated."
There is a sign-up sheet in the church's social hall for anyone willing to donate their time. Sometimes groups, and sometimes individual church members host the event, according to Mary. "We ask people to sign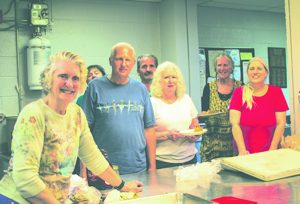 up for one month, and a core group of volunteers from the Methodist Church and Christ the Good Shepherd Catholic Church are always involved." She adds, "They come out to run the dishwasher and do various tasks, but we are always looking for new people to head up a group, do the cooking." The church is specifically looking for volunteers for meals in August and September.
The First United Methodist Church has historically spread awareness of the community dinners online in the Ferndale Forum (ferndale.freeforums.net), on its website, Facebook and other social media sites. Leaders also rely on word of mouth and on literature distributed within the church as well as posted signage and bulletins. When asked how long the church has been hosting the meals, Mary said, "it's been a while" – several years, she believes.
"Anyone that is interested in volunteering, we will find a position for them," Mary stresses. "A lot of the time cook crews need help with prep work, clean up, that kind of thing." Mary has been a member of the church for over a decade. "I raised my children through the church," she said, speaking of the many she had between her own and those she adopted as a foster parent. She is happy to be involved in the meal planning.
Christ the Good Shepherd Catholic Church teams up with First United Methodist Church – "It's kind of a church within a church, which is a bit unusual," Mary says – to host meals offered right around holidays.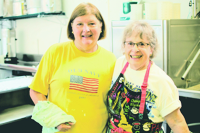 "They did Halloween last year and the 4th of July this year," Mary says. "It's a very festive atmosphere" when the Catholic church hosts, and they often have extras set up such as arcade machines for guests to enjoy.
Residents can rest assured the church will host a monthly meal without interruption. "We have not missed a month since we started," Mary says, adding that if the last Wednesday of the month falls right before a holiday, an alternate day will be selected, but, "We will not call it off."
If interested in helping with a Community Dinner, please contact Mary or Larry Lenaway at 248.229.5685. Please keep in mind, those who sign up to head a meal are responsible for purchasing all food and beverages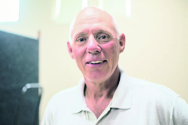 and for the general logistics involved, including seating and flow. For all other inquiries regarding upcoming church activities and how you can help, call the church office at 248.545.4467 and speak with Stacy, the church's secretary.
No reservations are required to attend the meal. "This is a great opportunity for us to break bread with our neighbors," declares the church's site. So, just show up and enjoy some tasty food and good conversation! The social hall is located in the basement of Ferndale First United Methodist Church at 22331 Woodward. The next available dates are August 30, September 27, October 25, and dinners are between 6:00 P.M. and 7:30 P.M.