Introducing Ferndale's "LEAD LEARNER" : Dr. Dania Bazzi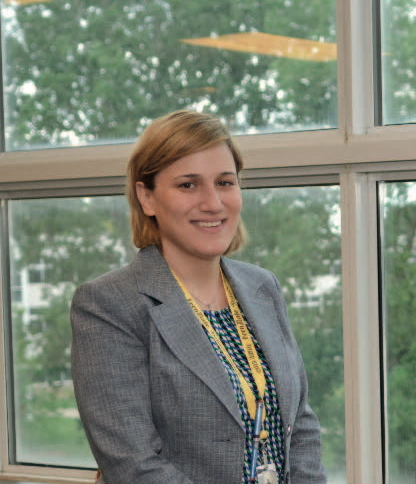 Story by Maggie Boleyn
Photos by Bernie LaFramboise
HAVE YOU MET DR. DANIA BAZZI, FERNDALE PUBLIC SCHOOLS SUPERINTENDENT YET? Dr. Bazzi accepted the position of Superintendent this past July, and embraced her new role with great enthusiasm.
"I'm excited to be part of Ferndale Schools," Bazzi said. "Everyone has been very friendly."
Ferndale Schools is a wide-ranging district, in geographic as well as socio-economic terms, serving the cities of Oak Park, Ferndale, Pleasant Ridge, and the Charter Township of Royal Oak. Over 3,000 students are enrolled each year. The district's school settings include an early childcare center, two elementary schools, a
middle school, two high schools, and one alternative/adult education program.
Dr. Bazzi said "the diverse culture and strong community" within the district played a big part in her decision to apply to Ferndale Schools. Bazzi wants everyone to feel they are a part of Ferndale Schools. "A strong school community will have benefits that extend to the entire community."
Immediately prior to coming to Ferndale Schools, Bazzi served as Superintendent, of Galesburg-Augusta Community Schools in southwest Michigan, in the Battle Creek-Kalamazoo area. Bazzi grew up in southeast Michigan, and is happy to return and be closer to family members.
The Board of Education is equally pleased with Bazzi's return to this side of the state. "We are thrilled with the selection of Dr. Dania Bazzi," said Ferndale Schools Board of Education President Jennifer LaTosch in a statement at the time of Bazzi's hire. "Dr. Bazzi has demonstrated all of the characteristics the Board was seeking in the next lead learner of Ferndale Schools. We are very excited to have her join our school family." Bazzi was chosen from a field of 49 applicants for the position.
Bazzi obtained her degrees from University of Michigan-Dearborn and Wayne State University. She brings a marvelous mix of private and public sector experience to her position. Prior to embarking on her educational career, Bazzi worked as a Project Management Consultant for Ford Motor Company. She also has solid teaching experience, having worked for five years as a high school
math teacher.
"My experience at Ford taught me about private sector skills," Bazzi said. "You might be in a cubicle, but there's no working in isolation." Bazzi obtained her master's degree in education while working at Ford. She left Ford to teach math at John Glenn High School in Westland.
Not surprisingly, Bazzi has fond memories of teachers who helped shape her life experiences and career path. Bazzi credits her high school math teacher for encouraging her to pursue a bachelor's degree in mathematics, which eventually led to her own career in education.
Dr. Bazzi described herself as "a shy student." She credits a drama teacher who also served as a debate coach in helping overcome shyness and honing good speaking skills. "She encouraged me to compete," Bazzi said. "My sister was great at debating, but I didn't think I could do this." Bazzi said her teacher "instilled confidence in me and pushed me out of my comfort zone."
Bazzi remembers her drama teacher saying, "You only think you're not capable." Bazzi said the experience had a big impact on her life, and "allowed me to try something new, and it broke my shyness." Bazzi said, had her teacher not pushed for achievement, and encouraged trying new things, she would never have known her own public speaking abilities.
Bazzi said she plans to continue the work currently being done with the School Board, staff, students, and community. Making connections with students and giving students a foundation to be successful in continuing education are also key priorities.
She is eager to establish relationships and make connections with the entire community, including staff and students. She wants all to "have access" to the Superintendent's office. Since beginning her new duties in July, Bazzi has met with the Mayor, and other officials. A public "meet and greet" held on July 26 provided residents an opportunity to ask questions in person. Dr. Bazzi said that anyone unable to attend the "meet and greet" could arrange a one-on-one meeting with her. "Send me an email, and we'll coordinate calendars," she offered.
Dr. Bazzi looks forward to September and resuming back to school routines. "School buildings are lonely without the voices of children in the hallways," she said.