Skilled Trade Is In High Demand, Especially Plumbers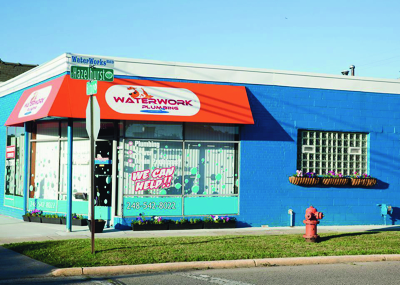 by Sara E. Teller
WATERWORK PLUMBING WAS ORIGINALLY STARTED BY OWNER DAVID GREYLEN back in 2006. He launched the company with just one truck. Since then, WaterWork has grown to include a team of 14 people who serve the entire Tri-County area.
David explains, "We go all over the place in Oakland, Wayne and Macomb. We do some commercial work, mostly residential." David said he started out doing side jobs here and there 11 years ago, working from home. He was with a company in Berkley at the time, and would work all weekend to build up a customer base. "We've been in this building on Hilton since 2012," he said. David says he's passionate about what he does.
Plumbing is a skilled trade, and tradesmen are in high demand. "Not everybody needs to go to college to get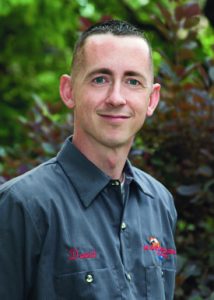 a very well-paying job." According to David, there's a shortage of plumbers coming from the next generation. Currently, there is a specific need at WaterWork for journeymen and master plumbers. "If someone walks through my door with a lot of experience, they're not leaving," David laughs.
When hiring, David looks for local tradesmen with a certain personality type, in addition to experience, etc. "You'll be going into people's homes. Can I trust that you'll represent us well? Do you have a solid understanding of the service? It's all about building relationships," he says. "On-the-job experience is your schooling, your training. Can you learn quickly?"
David says they also look for great personalities while out and about in the community. "There was a guy working at an oil-change place nearby. I talked to him and eventually agreed to give him a job. He was smart and had the personality I could send into homes." He also looks for "a hard worker, willing to hustle."
David said, "The recession did not affect me at all. Business is booming. Everyone needs plumbers, and we've been very successful. If your toilet doesn't work, you need it fixed, right?" He said the industry especially has a need for more women. He has a female plumber on his staff, Kris, and she is great with house calls. "Everyone loves her," he says.
WaterWork focuses mainly on fixes, rather than new construction, although the team has handled some remodels and additions. "I want to get in there and build long-term relationships. I have no desire to sell high-priced items once and never see someone again."
David said their trucks are always fully stocked and ready to go. Employees hand in truck inventory lists daily to ensure they have the parts they need, enabling them to respond quickly when a job needs to be done. "Homeowners do not pay for extensive drive time," David says. The team offers emergency service, too.
To inquire about employment, or for other information, call 248.327.4397
www.waterworkplumbing.com/hiring