Story By Sarah E. Teller
THE PURPOSE OF THE ONE NATION FESTIVAL IS TO SHOWCASE a variety of cultures and genres of music, and to celebrate the diversity in music,"according to Steve Gamburd, of The Phoenix in Hazel Park and the Hazel Park Arts Council, who curates the show along with Been Frank. "In a nutshell, One Nation Festival represents the open-door aspect of The Phoenix. The five-night concert represents diversity by including a number of music genres from local, regional and touring bands."
Steve and Been have an ear for quality, and they've been looking for quality of music throughout the years. "We weren't the School of Rock, but we understood which bands had both the talent and the drive and have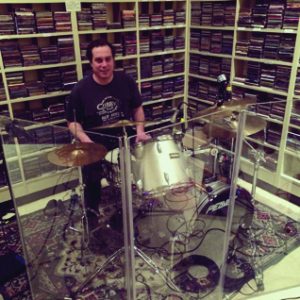 included many of these youth bands in our festival line-ups over the years." When they like what they hear, "we provide them with the show date of their choice as well as the option to network and reach out to local bands to be added. When mixed genre and multi-cultured bands that are not punk, metal, rock or hip hop contact us about whether or not their music fits here, we fit them here with an idea of how to curate the bill accordingly."
Many of the bands this year have performed in years past. "We have seen them a number of times and believe in them," Steve says. "We will keep providing these opportunities for those that love being part of our events. Exposure is the key in the music industry."
The One Nation Pre-Party will be held on Thursday, August 31, 8:00 P.M. at New Way Bar, 23130 Woodward, Ave., Ferndale, and is set to feature funk rock, hard rock, and reggae bands Off The Ledge (Lansing), Static Factory (Flint), and Speakeasy (Detroit).
The concert will be held at The Phoenix September 1st through 4th, and will include the Phoenix Gallery stage and the outside Garden Stage. The event breakdown is as follows:
Friday, Sept. 1 features classical and folk acoustic, Latin, Afro-Cuban, acoustic singer songwriter, acoustic folk rock, and indie rock.
Saturday, Sept. 2 features acoustic emo, folk and soul rock, pop punk, art pop, Bangladesh psychedelic, Industrial grunge, thrash punk and metal.

Sunday, Sept. 3 features acoustic pop, folk rock, hard rock, emo-core, theatrical punk, and alternative punk.
Monday, Sept. 4 features a mix of groove, soul, DJ, hip hop, poetry, funk rock, blues rock, experimental dance and singer songwriter pop.
"Inside and outside, we will also include a variety of art vendors, live painting, and variety acts," Steve says. "There will be a BBQ of hot dogs and hamburgers as well as complimentary side dishes – a potluck."
"The first year of One Nation was quite ambitious, and we ran it for nine days straight," Steve explains, adding, "It was a fantastic opportunity for youth bands to have their first venue concert and bring their family and friends. The second year, Dally In The Alley kept them from doing a Saturday show, but, "That was all fine and dandy since we support The Dally every year and remain closed."
By year four, Steve and Been began to push the diversity of music genre. "We began to gain interest from a number of bands and performers that wanted a new outlet," he says. One Nation represents a diversity in ages of performers as well.
This year, there will be two stages, so the festival will be larger than in years past.  There will also be an art show to view inside the gallery The Female of The Species – The Art of Steve Czapiewski. "We are very eager to get more people involved to be part of our art and music endeavors," Steve says. "It is a shared experience that all interested parties should benefit from. Please come and support the bands, but especially the bands on tour!  They need an audience and to feel welcomed in a Detroit-area festival."