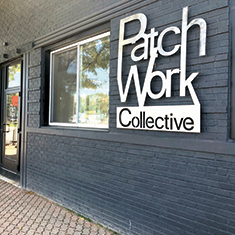 By Kevin Alan Lamb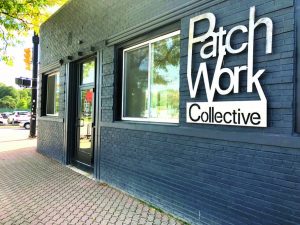 WHILE MUCH OF THE WORLD IS BETTER FAMILIAR with the comforts of working from home after 2020, I would similarly wager there is a greater appreciation for quiet, distraction-free, office space.
Founded in 2018 to be just that, Ben Long says PatchWork Collective was opened as a result of a lack of small office space in Ferndale, particularly for solo entrepreneurs and start-ups.
"The goal was to have something unique, and different from the large coworking sites like WeWork," Long says.
Located at 22007 Woodward Ave., PatchWork Collective invites you to work the way you want, offering safe and adaptable office space with private offices, conference rooms, and special event/presentation space when permitted.
"Networking groups, weddings/wedding showers, birthdays, ballroom/ tango dance events, social events, book signings, animal adoption events, retirement parties, painting classes, and art auctions" are all examples of the events held in the space thus far.
PatchWork Collective is open to its members 24/7, and otherwise by appointment only.
"Ferndale has always been very inclusive and welcoming, and has a nice community and neighborly feel. PatchWork has a diverse member population. PatchWork has been well-received by the community with several members and occasional users being Ferndale residents and/or Ferndale business workers. Additionally, PatchWork won the Ferndale New Project of the Year in 2019 at the Mayor's Business Council Award Ceremony," Long says.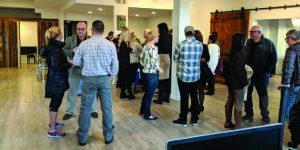 The Mayor's Business Council gave out five awards to local businesses and business people who truly represented the heart of Ferndale. Mayor Coulter introduced former PatchWork CEO, Lisa Schmidt, and told everyone how the PatchWork Collective was an idea born right here in Ferndale. He talked about how Lisa and her co-founder Long had worked with the Build Institute in Ferndale to create their business plan and develop the company from concept to concrete. He shared how PatchWork is a great space for small business owners, remote workers, and entrepreneurs to work together.
A RECENT ROLLOUT AT THE COLLECTIVE IS THEIR TABLETOP MARKETPLACE, which is a way for vendors who might usually be at festivals like Pride, or those merchants with side gigs making products like candles, to sell their products.
"We currently feature homemade candles from Ferndale's own Solas Candles, a local artist's production, Waxing Cara (homemade goods using natural ingredients from bees), and products from Bedazzled Ballroom Dress Rental. The marketplace is open Saturday and Sunday from 2:00 P.M. to 5:00 P.M., or by appointment. We're always looking for additional vendors, so contact us if anyone is interested in learning more."
Long hopes that once vaccines are fully rolled out and we are in the clear, they can get back to being a co-working, incubator space.
To inquire about renting space or about services offered, visit PatchWorkCollective.net or email info@patchworkcollective.net.