Living Modes Offering Elegance & Style Since 1953!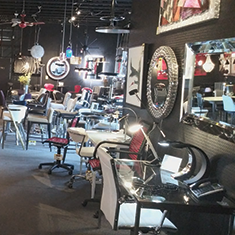 By Jenn Goeddeke
FOR NEARLY SEVEN DECADES, METRO DETROIT'S PRIMARY DESTINATION for great contemporary and mid-century modern home decor has been Living Modes. Located at 23535 Woodward in Ferndale, and owned by Richard Sherman, Living Modes has gathered an extensive clientele over the years.
Along with his high energy manager of 34 years, Rick Lakomy, Sherman prides himself on dedication to his loyal customers. Sherman and Lakomy enjoy getting to know everyone. Even though the Covid19 pandemic has hit Ferndale hard, Sherman continues to work diligently to keep up with the demand for his products and services.
We sat on a gorgeous, white leather reclining couch, next to a large and brightly-colored coffee table. I was already sold! Sherman put me at ease, with his laid-back conversational style. After chatting, Sherman took me on a tour of the entire two-level store, quite an eye-opening experience for art lovers such as myself.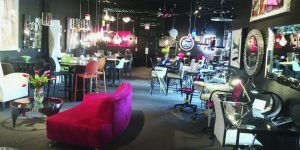 Sherman's background in horticulture and interior design clearly served him well in forming these stunning showrooms and the whole ensemble is spot-on. All items are displayed in a highly color-coordinated and integral way; it's a lively, Cirque du Soleil arrangement of furniture, art, lighting, mirrors, florals and accessories where all items are vying for attention! Sherman takes great pride in his selection of merchandise, and buys items from all over the world.
SHERMAN STARTED OUT SMALLER, WITH JUST 3000 SQUARE FEET. The store has evolved greatly over the decades. In 1953, his father, Bernard "Barney" Sherman opened the first incarnation of Living Modes, on the old James Couzens highway. Gradually over the years, Richard Sherman started to handle the nuts and bolts of the business. Then in 1995, the store moved to its current location at 23535 Woodward Ave in Ferndale
Due to the Covid19 pandemic, Sherman had to close the store for a couple of months, like most others in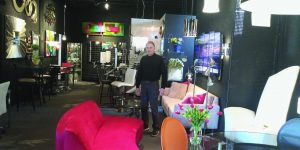 Michigan. However, he considers himself fortunate, as sales have remained strong. Teaming up with his son, Ian, Sherman retains a prominent online presence, through both FaceBook and their web site. Naturally, Sherman has been saddened by the effect of the pandemic on many of his neighbors' lives and businesses, and he is "waiting for the 'new normal' – I want to see Ferndale return to its former bustling vibrancy."
248.544.1711
www.livingmodesonline.com
www.facebook.com/livingmodes
Mon. 11:00 A.M. – 5:00 P.M.
Tues 11:00 A.M. – 6:00 P.M.
Weds-Thurs Closed
Fri 11:00 A.M. – 5:00 P.M.
Sat 11:00 A.M. – 6:00 P.M.
Sun Closed