Green Spaces… Happy Places! Vitamin N Awaits You at Local Parks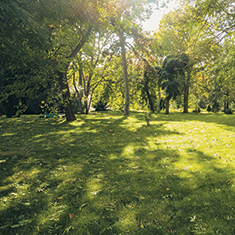 By Jessica J. Shaw
AS SPRING MAKES ITS APPEARANCE, warmer weather calls us to explore the green spaces of Metro Detroit. Thanks to local conservation efforts, the surrounding area is replete with several parks for those seeking good ol' Vitamin N.
ONE INCREASINGLY POPULAR JAPANESE MODALITY in outdoor enjoyment is Shinrin-yoku, also known as "forest bathing." As defined by the Association of Forest and Nature Therapy, forest bathing entails leaving digital devices behind and walking slowly through the forest, observing nature in its constant state-of-change.
Come join Ferndale Friends on paths near and far to enjoy the calming benefits of spending time in nature.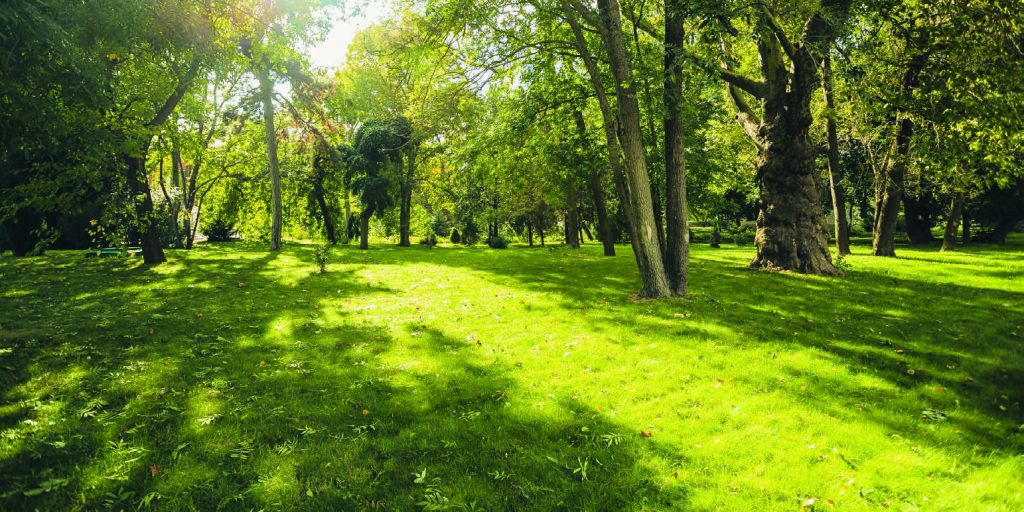 Stage Nature Area
6685 Coolidge Highway, Troy MI 48098
Start your walk by grabbing a map at the Nature Center. You'll set out to experience 1.5 miles of trails in a park known for its ample wildlife such as deer and turkey. The wooded trails and boardwalks wind through upland forest, meadows, wetlands, and a cattail marsh playing a backdrop to the Rouge River. Go for the peace and quiet. Stay for the activities such as maple-tapping scheduled through the Nature Center.
Heritage Park
24916 Farmington Road, Farmington Hills MI 48836
Step onto the winding trails at Heritage Park and experience why "Let nature be your teacher" is the motto of the park. With four and a half miles of looping trails for hiking and nature study, curious hikers will find the park's gems, including the Scout Trail where a small rumble of water cascades over rocks and the River Trail. Sweeping vistas can be enjoyed from benches throughout the park overlooking meadows and birdwatching spots.
Douglas Evans Nature Preserve
31845 Evergreen Rd, Beverly Hills MI 48025
Take a walk on the wild side at Douglas Evans. Ungroomed, rustic trails greet hikers who navigate the winding paths and invite the adventurous at heart to follow openings in the bushes to locate the riverside trail system. Sit-spots, like large fallen logs along the riverbank, make for places to pause to absorb the surroundings. Park on Evergreen Road and cross the bridge to enter this petite and untamed natural space. Be forewarned, there are no restrooms.
Red Oaks Nature Center
30300 Hales Street, Madison Heights MI 48071
You'll find a pleasant surprise tucked across the street from Meijer on 13 Mile Road where you can steal away from the hustle and bustle at this 37-acre park. Here, trails are alive with birdsong while towering trees sway in the breeze overhead. Stop by the vernal pond in the spring and summer months to observe the dynamic changes it undergoes as the seasons progress.
Tenhave Woods Nature Trail
Lexington Blvd & Marais Avenue, Royal Oak MI 48073
Forest-bathers will appreciate this vibrant natural environment as a treat for the senses nestled away from the cityscape. This fenced-in nature area affords walkways winding through 22 acres in the Quickstad Park next to Royal Oak High School's Raven Stadium. The park touts oak, beech, hickory and maple trees which are said to have stood since the early 1800s. Come Spring, several types of wildflowers, including trilliums dot the forest floor. Dragonfly Pond is a nice place to pause and is also a gathering spot for wildlife, like turtles and frogs.
Maybury State Park
20145 Beck Road, Northville MI 48167
Prepare for the grandest of adventures at this crown jewel of natural beauty. Start by locating the park map on signposts which distinguish walking trails from those meant for bikers and horseback riders. Meander under the canopy of trees through dense forest and rolling hills that give away to open meadows and the small lake. Paved walking trails are also available at this nearly thousand-acre park.