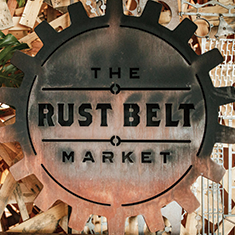 By Kevin Lamb
"HUMBLED AND LUCKY TO BE GIVEN the opportunity to give others an opportunity," Chris Best says.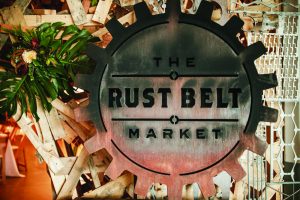 When it comes down to it, isn't that what we should all be striving for? A series of fortuitous happenings, propelled by hard work, and community support which create the space, time and mechanism to help others experience the same.
"In 2011 we set out to create an environment where everyone wins," and they've done just that at The Rust Belt Market.
"The patrons get an authentic human experience which is the antithesis of online shopping. The vendors get to practice and hone their skills turning their passion and dreams into a business they can rely on to bring in steady income. We as the owners get to increase our own business acumen including starting our own events business with a full bar and a plant shop. Practice makes more perfect and we all learn from each other while lifting each other," Best says.
It is a tremendous gift, and business model to help lift others; not so different from a community garden where space is shared, nurtured, and cultivated for a common good.
"I cherish our time at Rustbelt: the friendships we have made, and the unique shopping experience it gave our customers. It was a great way for us to expand our brands. Tiffany and Chris Best do a great job managing the market and listening to vendors. All the vendors look out for each other and the sense of community is very strong there as well. The Rust Belt Market is the best business incubator in all of the Metro Detroit area," Paul Marcial of Ink Detroit and The Great Lakes State says.
Best has a deep sense of gratitude towards the brave group of business owners who have been with them since the beginning.
"That list is: C Cooper Designs, Ida Belle Soaps, Tooth And Nail Oddities, Painted Lady Trashions, Attack Hunger and Detroit GT. They did two things that we'll never forget. They took a chance on a strange business model ten years ago when we needed a vote of confidence most. And they stuck with us through good times and bad. That kind of loyalty is rare and never forgotten. There are other shops like 248 Studio, Outer Spaceways and Speedcult that have been with us almost nine years and we have gratitude towards them as well. We have a lot of gratitude towards our shops in general."
THAT SEEMING SENSE OF ETERNAL GRATITUDE IS VIBRANTLY RECIPROCATED, coming full circle, back around from the small business owners within The Rustbelt.
"It can't be overstated how important our partnership with Rustbelt has been since our inception," says Jeremy Olstyn, Board Member and Production Director of Ferndale Radio.
"Back when we were ramping up to apply for our construction permit with the FCC, we weren't even sure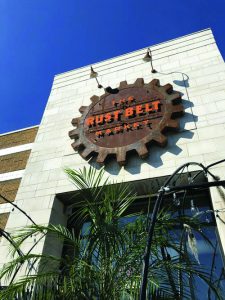 where we could house our little station. Part of my day job is running WPHS-FM (a small high school radio station in Warren) and Chris Best invited my students and I to broadcast live from the Rustbelt one weekend. So, when we were looking for a home for Ferndale Radio, Chris and Tiffany were really enthusiastic about having us onboard. From what I recall, having an in-market radio station was part of their original business plan. It's not hyperbole to say that without Chris and Tiffany, we would not be on air in Ferndale."
Making possible what might have previously been otherwise; like planting seeds in rich soil, creating an opportunity for life itself. Best credits the City government of Ferndale for their customer service orientation, taking a public/private partnership stance when approaching their small requests/needs.
"We've heard horror stories from business owners in other cities, and we feel like the city government is our ally. The community of good humans who appreciate the goods made and carried by our shops are way up on that list of gratitude as well! They have been the ones who have made the dream a reality for all of us Rust Belters. Their votes via dollars are the reason we are making it through this awful pandemic."
IT TAKES A VILLAGE TO TRANSFORM DREAMS INTO REALITIES, and each of us possess unique abilities to help another's garden grow.
"I think the idea of small shops coming together in a unique, collective space fits perfectly with our community and DIY aesthetic. The Rustbelt is one of those purely Ferndale destinations that has become synonymous with the type of business people want to support and see thrive and grow in the city. For many of the Rustbelt vendors, you're seeing people investing in their dreams through sweat and hard work every weekend; our volunteer DJs are doing the same thing in supporting Ferndale Radio," Olstyn says.
Plants need water; dreams insist sweat equity. The closer a dream aligns with another, the more magnanimous and possible it grows. Like plants, dreams must adapt to ever-changing conditions if they are to blossom.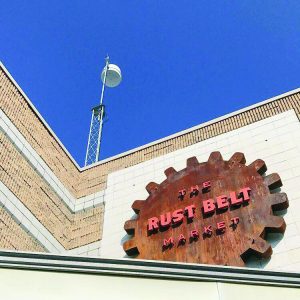 "Our events business has been shut down for one year. This has been devastating because events brought in 70 percent of our revenue and helped keep rent affordable for our retail tenants. We've had to adapt by scheduling a rent increase for our tenants to help offset this loss. Also, my business partner has been able to spend more time focused on The Plant House which is located inside The Rust Belt. She has also added an online sales cart during the shutdown. We eliminated Friday hours also as a way to cut costs and lower risk."
Nestled within the heart and foundation of Ferndale, The Rustbelt continues to evolve its offerings, preparing for recently approved City ordinances, and their 10th birthday!
"Our wonderful DDA and City Council just approved social districts! That means open adult beverages will be allowed in most of the Downtown's pedestrian walkways and parklets. We plan to take advantage of this by setting up an inviting, outdoor hangout area behind our building with an attractive tent, good lighting and plants. Follow us on social media to stay updated."