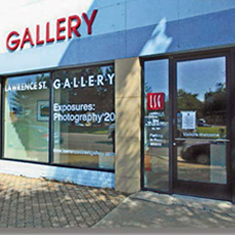 By Kevin Alan Lamb
SUMMERS WERE SPENT PLAYING BASEBALL in the front yard by day, and running through neighborhood streets, playing Capture-The-Flag by night. In those brief moments we took respite inside my childhood home for PBJ's and hydration, we could always depend on my mom busy at work painting in the kitchen (her studio), listening to Julio Iglesias. Our home was decorated with her water-color and mixed media creations, while her positive energy and creativity still tell a story today.
All those years ago, she was a member of the Lawrence Street Gallery, which first made its home in Pontiac, before finding its way to Ferndale. Little did I know then, but some 25 years later I would call Ferndale home, and be given the opportunity to write about Lawrence Street Gallery, connecting with Laura Host, its Director and my mom's old friend.
"Your mom, Kris, was always a very enthusiastic member. She was a great artist and was willing to attempt anything!" Host says.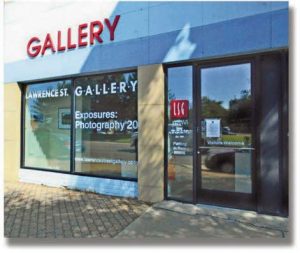 "Our first location was on Lawrence Street in the old Salvation Army building in Pontiac. The space had been an art gallery but a new owner bought the building and wanted to have it continue as a gallery. So she decided to turn it into an artist cooperative gallery. The original members set it up legally as a cooperative and Lawrence St. Gallery started in 1987."
Despite being closed from mid-March until July, Host was quick to identify a silver lining in the pandemic; citing increased foot traffic downtown as a result of people having less to do, and receiving the Oakland Together Small Business Recovery Grant.
"We received the grant in October 2020," thanks to Treasurer Dennis Montville, who is also a wood turner and wood sculptor. "We've been able to purchase air-purifying machines and hand-sanitizer machines to help our members and visitors feel safer," Host says.
Closing also prompted a needed shift in emphasis toward the Gallery's online presence. "Cindy Parsons (painter) spearheaded the project of making the Gallery capable of having virtual exhibits online."
WHILE SHE WASN'T LOOKING FORWARD TO COMING BACK, HOST QUICKLY REALIZED how much she missed it. "What could be better than sipping coffee while looking at art?"
Open the first Friday of every month, ten people are allowed in the gallery at a time. Even after being in Ferndale for 18 years, they are exploring ways to better let neighbors know they are there.
"We joined the Chamber of Commerce and have tried to create events that get people into the gallery, like Meet-the-Artist Sundays. We stress that we have a brand-new exhibit at the gallery every month."
Grateful for this serendipitous entanglement of past and present, I asked Host to paint us a picture of the gallery's early days.

"The space had high ceilings, beautiful tall windows and wood floors. Downtown Pontiac was waking up after a time of empty buildings and the City offered buildings for very little, hoping to have the new owners refurbish the buildings and downtown. We were the first gallery in the 1987 version of downtown Pontiac, and the last one to leave in 2003.
Finding a spot on Woodward Ave. in Ferndale seemed like a great idea. We kept the name Lawrence Street Gallery as we had been known as a place for artists to display their work, and we wanted to keep a connection to all the history of the gallery."
Artists are their best customers, and Host is grateful that people are learning more about the community, that they might not have had time for in the past.
"We have affordable, original, all-media art by area artists. Those who love buying art can always find something at the gallery, and those who are just starting out buying artwork for their homes can find amazing art, at affordable prices. We even donated a percentage of sales for a couple of months when we reopened last July to the Renaissance Vineyard Food Pantry in Ferndale."