Valentine Distilling: A Cut Above the Rest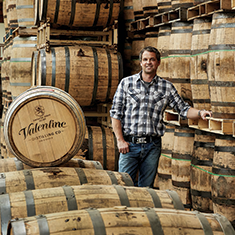 By Rose Carver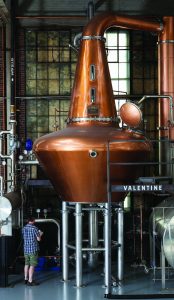 RIFINO VALENTINE WAS INSPIRED TO START HIS VALENTINE DISTILLING COMPANY in direct rebellion of the manufacturing standards by big alcohol companies. Coming from a background on Wall Street, he saw big players making big moves in what he considered to be the wrong direction.
IT ALL STARTED WITH THE DIRTY MARTINI. Valentine would frequent different swanky bars to enjoy this beloved drink after a long day at work. He would try vodkas with labels that said "handcrafted" but, upon further inspection, proved to be just another mass-produced liquor.
"Put simply, profits became the chief goal instead of the quality of the product," Valentine explained. This prompted him to create a business model that focused on quality.
Valentine Distilling is located in 965 Wanda Street in Ferndale, just down the street from their cocktail bar, on 161 Vester Avenue. Valentine claims the small cocktail bar serves the "best stuff in the world." You can find this "stuff" all over the Midwest, as it is distributed in 12 states, spanning the Northeast and Mid-Atlantic.
These spirits are award-winning, and have won best-vodka-in-the-world two years in a row. Their gin has also been named the best-American gin, and their cask gin has won a world's-best award as well. That doesn't begin to cover all of the awards won over the years.
Which one is Rifino's favorite? He says choosing a favorite liquor is like choosing a favorite kid.
"IN THE FALL MONTHS I ENJOY OUR BARREL-AGED GIN OR OUR BOURBON. In the spring and summer time, I go for our White Blossom vodka," he says, boasting the quality of their flavored vodkas. "Nothing is better than sitting on a sunny patio with a White Blossom cocktail."
Like many businesses in the area, Valentine has been hit really hard by the pandemic. Forty-five percent of
their distribution is to bars and restaurants, and the shutdown has been devastating. "It's been horrible, a really tough year," Valentine said. "We are still trying to build back our business, but we are going to be okay." Early on in the pandemic, the distillery also made a Valentine brand hand-sanitizing liquid. A sincere thanks goes to the customers who bought those and their "to-go" cocktails last year, as he says it helped them out a lot.
The City of Ferndale also gets a special Valentine thank you, as they allowed the cocktail lounge to expand their patio seating to a couple street parking spots when indoor seating was restricted. The lounge is now back to 50 percent occupancy, and outdoor seating is also available.
ANOTHER WAY THAT VALENTINE DISTILLING goes above and beyond for their customers and community is their commitment to what they call their "Clean Green Initiative." The business is in their third year of a ten-year sustainability initiative, which includes making their 20,000 square feet manufacturing facility completely sustainable. They installed a system that will allow them to reuse up to 98 percent of their water. Being from a Great Lakes state, Valentine says they take their water usage seriously. Their green initiative has also allowed for the installation of LED lighting in the facility, and an ambient temperature chilling system that uses much less energy.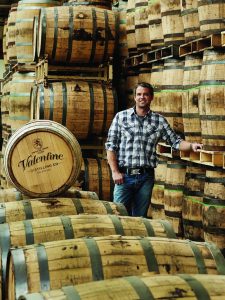 "Large liquor companies are making billions of dollars off of Michigan consumers," Valentine said. "We want to influence customers to demand more from those companies to be responsible when it comes to energy efficiency." Valentine claims that because these larger liquor companies have no tie to the region in which they sell their product, they don't make decisions that are responsible for the community.
Get the good stuff from Valentine Distilling, and support regional manufacturing companies who have your best interests in mind. It's good to know what goes on behind the scenes, and their product speaks for itself.