RE-TREE: Pioneers with a Passion for Saving Trees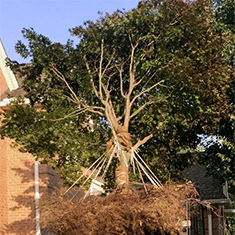 By Kerry Lark
RE-TREE CONNECTS AND UNITES TREE-LOVERS ACROSS THE COUNTRY, offering them three options for mature trees: relocation, buying, or selling. RE-TREE has already saved many mature trees from becoming a pile of woodchips!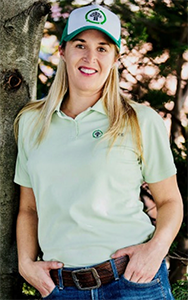 DENNISE VIDOSH IS THE FOUNDER AND CEO OF RETREE, A WOMAN-OWNED SMALL BUSINESS DEDICATED TO SAVING AND RE-PURPOSING OUR MATURE TREES. Her love for trees is literally in her family bloodline, going back to the days she spent as a child working with her father, Donn Vidosh Sr., a legendary pioneer in Michigan's landscape construction industry.
It was her passion for trees that ultimately led Vidosh to create RE-TREE. Based in Pontiac, RETREE's imaginative digital marketplace and educational platform makes it easy for commercial and residential property owners to save mature trees from being needlessly destroyed and create value for themselves rather than waste.
Trees are the longest living organisms on earth, with some able to live over 5,000 years. Talk about longevity! However, unlike most living organisms, trees aren't able to get up and move if the need arises. In many urban areas, some trees will eventually outgrow their allotted space. Unfortunately, most people are unaware that they don't have to destroy a tree trapped in this predicament. RE-TREE now gives their previously-doomed tree a chance to move, survive and thrive.
Mature trees are irreplaceable, and provide plentiful ecological and sentimental value to people, communities and the earth.
A single mature tree can absorb about 50 pounds of carbon dioxide per year and release enough oxygen back into the air to support two human beings.
Trees reduce air pollution, prevent contaminated stormwater runoff from reaching our rivers/lakes and save homeowners substantial heating/cooling costs.
Trees enhance our well-being by reducing stress hormones such as adrenaline and cortisol. This lowers blood pressure and improves our moods and attitudes.
The Japanese understand the many health benefits given to them by spending time in their mature forests. They actually bathe their mind and bodies in a form of ecotherapy called "shinrin-yoku," which literally translates to "forest bath"!
Mature trees provide a shady, comfortable home and food source for many life forms.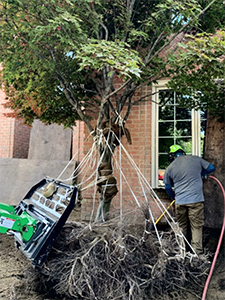 When you transplant a tree, in most cases it will suffer what is known as "transplant shock." Unfortunately, the bigger (and older) the tree is, the greater the shock. Therefore, minimizing this stressful shock is of paramount importance. The key element is to preserve as many roots as possible.
RE-TREE has developed a pioneering method to preserve the root mass on a mature tree about to be relocated. Instead of using the traditional mechanical equipment to cut through the soil and remove a tree, RETREE uses an innovative tool called an AirSpade which uses compressed air to carefully expose the all-important root system. This method allows RETREE to preserve and then capture much more of the fragile roots.
Vidosh and RE-TREE care about saving mature trees and preserving their value. She sums it up with a quote from a Senegalese forester; "In the end we will conserve only what we love, we will love only what we understand, and we will understand only what we are taught."
(517) 545-5067
RE-TREE.ORG