The Berkley School District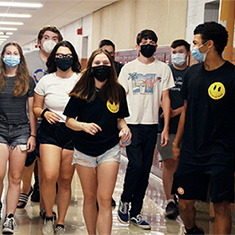 By Sara E. Teller
THE BERKLEY SCHOOL DISTRICT IS KNOWN FOR PREPARING STUDENTS FOR SUCCESS from early elementary to beyond high school. The District is highly-ranked in the State of Michigan as well as nationwide, and there are plenty of diverse opportunities for students to excel both academically and in extracurricular activities.
"In the Berkley School District, students are prepared to be creative, curious, confident, well-rounded critical thinkers," said Jessica Stilger, Director of Communications. "They are kind and caring and have a global perspective while understanding their communities." She added that the District "is known for [presenting] pathways for students to achieve their individual best, whatever that looks like for each student."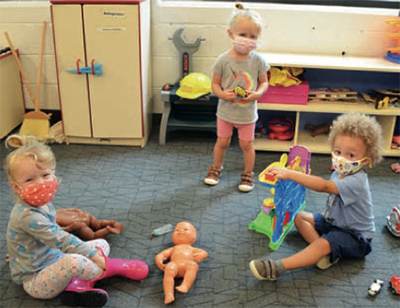 One of the main reasons Berkley has one of the top districts has to do with the tremendous support from residents. Since its inception in 1840, the District has enjoyed support from everyone, including businesses and families without children attending school. Stilger said, "Berkley's students enjoy the multitude of experiences and successes because of the overwhelming community support, the fantastic work of their great teachers and administrators, and the rich and vibrant environments that families create. The incredible successes Berkley students experience are possible, in part, because of the support provided at every level."
STUDENT OPPORTUNITIES
IN ELEMENTARY SCHOOL, STUDENTS ARE ENCOURAGED to think critically and reach their full potential through out-of-the-box courses in the Cultures of Thinking & Reading program as well as writing workshop models designed to enhance literacy skills and increase comprehension in all subjects.
There are a number of Advanced Placement (AP) courses available in higher grades – 26, in fact. These allow students to extend their knowledge beyond a traditional curriculum. Students also have an opportunity to take classes at the Oakland Schools Technical Centers as well as the Center for Creative Studies & the Arts (CASA). These partnerships allow for additional career exploration that is invaluable post-graduation.
"Classes like zoology, forensics, Encore! show choir, creative writing, film studies, history of the Holocaust, marketing, African-American literature, computer programming and more challenge and engage students," Stilger explained. "Students can explore robotics, foreign languages, student newspaper opportunities and various music options in middle school. In addition, many middle school students complete high school credits while attending Norup and Anderson."
Berkley offers a plethora of sports, including softball, baseball, football, basketball, track and field, cross-country, wrestling, swimming, volleyball, golf and tennis. Students can also join clubs like the yearbook team, Gay/Straight Alliance (GSA), Black Perspectives Club, Dungeons & Dragons, gaming club, robotics, and art and drama. The high school, specifically, offers soccer, cheerleading, hockey, figure skating, dance and rugby. Stilger explained, "At the high school level, students are able to join over 50 clubs of varying interests, like Distributive Education Clubs of America (DECA), GSA, drama club, future teachers and more."
DISTRICT AWARDS
BERKLEY HAS ACHIEVED MANY AWARDS, including being named Best Community for Music Education for the last ten years by the NAMM Foundation (2012-2021). The District is also among the top 25 school districts in Michigan, according to the 2022 Niche rankings, and Berkley High School was named Best High School by the U.S. News & World Report in 2021, as well as being among the top six percent of high schools in the nation.
In recent years, students have been named All-State and Academic All-State for swimming, baseball, tennis, volleyball, and soccer. Twenty student athletes signed with colleges and universities in the 2020-2021 academic year. The Berkley High School (BHS) Orchestra was one of three high school orchestras nationwide invited to play at Carnegie Hall in 2019 for the World Stride Music Festival. "This was the second trip to Carnegie Hall in four years," explained Stilger.
The BHS Drama Department produced a musical in Spring 2021 and performed outside to ensure the show would go on despite the Coronavirus pandemic. BHS was also the first school in the state to adopt Sources of Strength, a peer-led wellness program.
"The Berkey School District is incredibly proud of all of its students and the paths they are forging for themselves," said Stilger, adding, "Families are encouraged to join their school's support groups to stay involved with their child's school and education."
In fact, each school has its own Parent Teacher Association parents can join to have a say in the opportunities offered. Choir, Orchestra, and Instrumental Booster groups support grades 6 through 12, and the Athletic Boosters support high school athletics. The Berkley Education Foundation helps all students in all buildings through teacher innovation grants, student scholarships, elementary enrichment programs, and sending students in eighth grade on college tours.
2021 INITIATIVES
THE BERKLEY COMMUNITY PASSED A SINKING FUND INITIATIVE IN 2018 that was meant to expand upon a 2015 bond initiative to provide funding for school roofing and concrete replacement projects, technology infrastructure improvements, energy and security developments, technology device purchases and more. Most recently, the District has focused this funding on building an addition at Anderson Middle School for a multipurpose and cafeteria space. Construction is slated to be completed soon.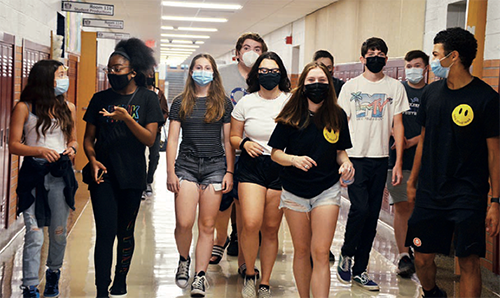 A draft of a new strategic plan is also ready for community feedback. The plan will guide the District's work for the next three to five years, setting stretch goals for the District as a whole and creating a plan for the administrative team to report on to the Board of Education. "The words inspire, empower, lead, will guide the team through this process," Stilger explained.
Berkley is continuing to ensure that diversity is at the center of its commitment to students and families. Stilger said, "The School District is committed to keeping diversity, equity and inclusion at the forefront of its goals by creating an environment where all staff, students and community members feel a sense of belonging. Many diversity, equity and inclusion goals and strategies are embedded in the new strategic plan proposal." This focus ensures that the District's core values of lifting up, encouraging, and supporting each and every child is upheld.
"All are welcome in the Berkley schools no matter the color of their skin, who they love, how they identify, if or how they worship, their family income, where they live, what they look like, their abilities or what language they speak," Stilger said.
Berkley also has a new superintendent, Scott Francis, who was the District's Director of Teaching, Learning & Technology for four years prior to moving into his most current position in May 2021. Francis was also the principal of Pattengill Elementary from 2014 to 2017.
"Superintendent Francis will spend the first months of his new position building relationships with staff, families, and community members," Stilger said. "The goal of the conversations and work will be centered around what is best for students and staff, and how the community – along with Superintendent Francis can create a shared vision for the future of Berkley Schools."
For more information on the Berkley School District, please contact the administrative office at 248-837-8000 or visit www.berkleyschools.org