Best Friends Early Childhood Education Center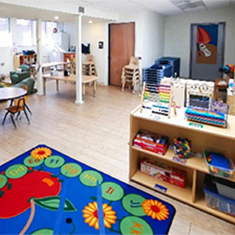 By Jenn Goeddeke
Creating the Essential Learning Curve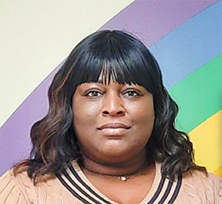 MEETING TORI WEBSTER IS THE DEFINITIVE BREATH OF FRESH AIR! She is the founder and Director of Best Friends Early Childhood Education Center, located in Oak Park (8430 W. 9 Mile). Webster's strong, positive attitude and her enthusiasm and dedication become quite apparent after conversing.
She is achieving her goals on a daily basis: Keeping high standards in teaching young children, and nurturing them too. Webster maintains a five-star quality rating through the Michigan Department of Education, the first daycare in Oakland County to achieve this rating. She consistently sticks to the 'quality over quantity' approach and takes pride in the small group settings. Ages throughout the several classrooms span from infants to preschool children.
Webster attended school to attain a degree in early childhood education. She then purchased a home specifically to start a daycare; to build on the expanding curriculum and to gain all necessary behind-the-scenes expertise over a 13-year timeframe. Her ultimate goal was to start a daycare in a commercial building, which has been keeping her busy now at the Oak Park location since 2017.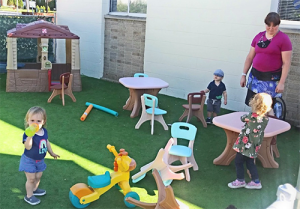 The main reward, Webster explained, is to see each successful stage of development for a child as they progress in the program. The classrooms build on each other, with the end result being a thorough preparation for kindergarten.
One example of a teaching focus is building literacy through phonemic awareness. This basically means introducing the alphabet in relation to the sound of each letter, not simply by its name. This leads to blending the sounds, creating word recognition.
Lesson plans are not set in stone either. Webster clarified that there might be a need to pivot from anything previously planned-out. Staff listen out for cues, then build on what the children are focusing on. For example, a strong interest in the cooking play area could result in an early math-and-fractions class using fruit!
ALL TEACHERS AT BEST FRIENDS CHILD CARE maintain detailed, daily developmental assessments which then get compiled into reports. Educational software helps in this process. Any developmental delays can be noted in real time, and addressed quickly. One way Webster can help parents is to make recommendations for specialists, so that the child is not held back in his or her education.
Children can truly make some lasting social bonds. They track each other through the years. Some of these bonds can last a lifetime. Webster's tagline for the daycare is: "Building early childhood foundations that last a lifetime." She mentioned how extremely rewarding it is to receive many thank you's over the years from parents for doing a good job or resolving a particular situation.
Webster pointed out that staffing has been the most challenging aspect of running the daycare. She has set high standards for the teachers: All have degrees in childhood development or are progressing towards their teaching qualifications. Webster frequently assists staff in furthering their educational goals, at various different levels. "I strive to keep them with me, but also want them to be prepped for life." she added with a smile.
The longevity of staff employment and continuing a family-type environment are important factors. With the hiring process, and all other major decisions, Webster considers these to be a group decision among the daycare staff: "It's our decision, not my decision!" Trust is a huge aspect, so adding on can be difficult.
The Covid19 pandemic has certainly affected the hiring process, but Webster keeps forging ahead in a determined manner. Best Friends has managed the situation by putting safety first, and following strict guidelines. All of the classrooms are self-contained with their own furnace and A/C unit, plus teachers maintain a single classroom.
Additionally, there is an air purification system in place for each room, including high-quality furnace filters. Therefore, if someone becomes sick, that classroom shuts down and not the whole facility. Webster emphasized that the children have adjusted well to wearing masks and the other Covid 19 safety protocol. They are, of course, already seeing masks in their everyday lives and they are typically thriving and happy. Occasionally, staff have to pull down their mask to show a smile or articulate something. But overall, the children have learned to accurately read inflection and body language cues.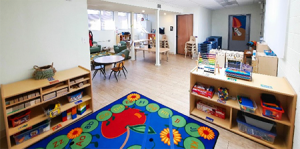 WEBSTER SAID SHE WOULD LIKE TO EXPAND AT SOME POINT. Until then, she is focused on her current location and providing the structure children need to prepare for primary school. For important resources to those looking for a daycare, Webster mentioned two key web sites: www.GreatStartToQuality.org and www.michigan.gov/LARA (an acronym for 'Licensing And Regulatory Affairs'). Both of these sites allow parents to make an "apples-to-apples" comparison with daycares in the area. They provide key details on hugely important matters such as safety, licensing, staff and administration management along with expert personal observations.
Finally, Webster wanted us to give a special 'shout out' to all her devoted staff, especially to Kelly Westwood (employed for nine years) and Lauren Reagan (employed for three years). They have all been troopers through the pandemic and loyal, supportive employees through the various ups-and-downs!
Best Friends Early Childhood Education Center is located at: 8430 W.9 Mile, Oak Park, MI 48237.
They can be reached at: 248.629.7065.
Daycare hours: Mon thru Fri, 7:00 A.M.-6:00 P.M.
Closed on weekends.
Visit their web site at: www.bestfriendsearlychildhood.com