Definitely Different: Proving that Anything is Possible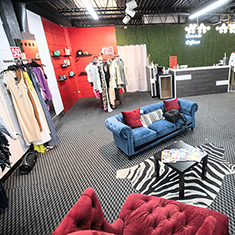 By Mary Meldrum
Photos ©2021 by David McNair
DEFINITELY DIFFERENT HAS BEEN SERVING QUALITY FASHION FOR 28 YEARS. Imani Daniels took over the store after her mom passed in December of 2017. The interesting clothing and accessories they carry give her store a unique flavor. It's the type of clothing you aren't likely to find at any of the big box stores or even some of the smaller boutiques.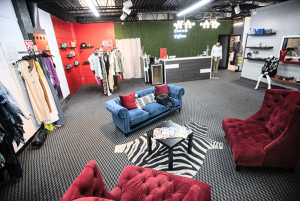 "I try to find unique and interesting pieces. A lot of it is custom, one-of-a-kind," Imani explains.
She enjoys a lot of return customers looking for clothes for certain events like concerts, weddings, and showers. Right now, she feels the interest is shifting to a dressier style. People are starting to go out again and looking for more formal wear and unique pieces.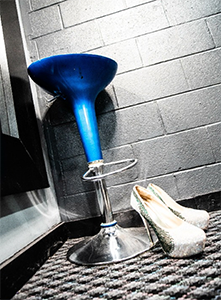 With regard to her inventory, much of it is custom-made and unique. Other items are available in a wide variety of sizes. To acquire inventory, they go to California, Chicago, Las Vegas, Atlanta, New York, and trade shows. The Magic Show trade show is an especially valuable event to see what is coming out for the next season and get some fill-in pieces for the current season. Over 1,000 manufacturers attend the trade shows. Often she takes an employee or family member on the trips.
WHEN ASKED WHAT IS HER BIGGEST STANDOUT QUALITY at the Definitely Different store, Imani conveys, "I am big on customer service and customer appreciation. The customer always comes first. A lot of my customers want something that nobody else will have. I try to find those pieces for them."
As you walk into her shop, you will be greeted by a sales associate. Some people want specific attention and want you to show them things. Some want to just browse.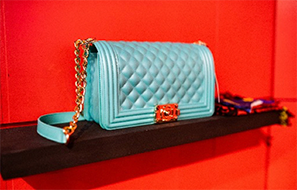 "We have a variety of different clothing, dresses, jackets, funky hats, and purses. We have gloves and scarves. We carry all sizes, small to 3X. We can also do alterations for customers. Looking for things that they have seen online and they might want to have something made. We can offer to make it as well. I have a couple of seamstresses who make pieces, stylish clothing. I have two other tailors who make more clean-cut pieces."
New customers will appreciate the vibe and layout of the store and the wall emblazoned, "Dare to be Different."
Imani grew up in Oak Park, where her store is located. She went to school at Hazel Park High School and Detroit Public Schools. She attended Central Michigan University and earned a bachelors in neuroscience and a masters in health administration. She is now attending the University of Detroit Mercy and is in the process of achieving a second bachelors degree in nursing.

Imani jumped in to keep the business running following the death of her mother but still wants to become a nurse. "I need to get hands-on experience, but I do know I want to combine entrepreneurship with nursing and merge the two together."
After losing approximately 100 pounds, she believes that you can do anything that is in your mindset. "Anything is possible if you work toward your goals."
Definitely Different
22011 Coolidge Hwy, Oak Park, MI 48237 | (248) 584-2299