Revel Bar opens in Rust Belt Market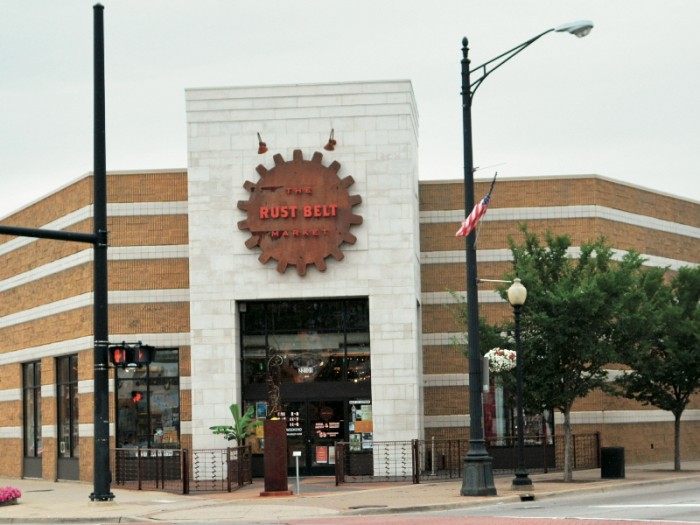 Revel isn't just any bar. It's as unique as Rust Belt Market where it is located, and as dynamic as the couple who own both. Revel Bar & Events has been in the works for a few years now. When Chris and Tiffany Best opened Rust Belt Market in 2011, they were soon receiving requests to hold events, weddings, shows and concerts there, but they had no liquor license. No problem. Event promoters brought their own alcohol. Still, many opportunities were slipping through their fingers, along with an avenue to generate more needed revenue without raising rents. "We do not like to raise the rent on our tenants, and have not done so since 2011," said Chris.
After some serious negotiations that carried on for months, the Bests were able to secure a liquor license, and initiate another milestone in the evolution of Rust Belt Market
Revel, whose grand opening was July 15, offers Michigan craft beers, signature cocktails, wine and, specialty coffee from White Pine Coffee, a micro-roaster in Lake Orion, MI. Besides a sublime beverage selection and fun ambiance, there is also food to be enjoyed at Revel. It has a licensed kitchen, a food truck. Chef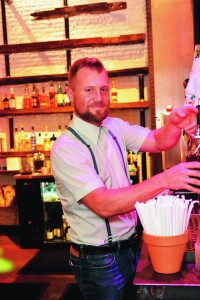 consultations are underway, exploring various food options. Revel has a prominent post-industrial theme, and the bar lies adjacent to the entry and event stage, which offers a clear view of the market. The focal point of Revel is the seven-foot terrarium that features carnivorous plants and poison-dart frogs; something unusual and interesting when you want a diversion from people-watching. When asked how they came up with this concept, Chris replied that their basic business philosophy has always been to "Do something cool and interesting, and then figure out a way to make it possible and profitable."
The concept of Rust Belt, along with Revel Bar & Events, is something of a new twist on an old community model that included a central meeting place or village green, where people could gather to shop and attend concerts, shows and other events throughout the year.
Owning and managing a bar, is something of a brave new world for the Bests, as neither has done so before. But then, neither of them shy away from a challenge. Chris credits the wonderful sense of community between fellow entrepreneurs in Ferndale and neighboring towns that helped this novice to the bar and restaurant business make prudent purchasing and operational decisions for Revel. Paul Fradeneck of Mabel Gray in Hazel Park, Brad of White Pine Coffee in Lake Orion, and Sandy from The Oakland in Ferndale are just a few fellow entrepreneurs toward whom Chris expressed his gratitude. "Their advice helped me get things off on the right track," he says. "For example, Brad and his staff are complete coffee nerds, and they have trained Revel staff to be proper baristas."
The wildly popular Rust Belt Market is testament to the Bests' true entrepreneurial spirit; and there is every reason to believe that Revel will follow suit. As a side note, Tiffany Best also owns the lifestyle shop, "Lady Lazarus," within the Rust Belt Market. The shop's name is a metaphor for renewal, reinvention, and well…rising from the dead, like Lazarus. A poignant metaphor that could be applied to the revival of Ferndale's downtown from years past.
Located inside Rust Belt Market at 22801 Woodward Avenue, Ferndale, MI, 48220; Revel is open 10 hours a day, five days a week. Hours will be posted on a sandwich board at 9 Mile and Woodward. To learn more, go to the web site at www.revelbarandevents.com.
If something happened with our soundness, we believe there is a solution to any maladies in a preparation. What medicines do patients purchase online? Viagra which is used to treat impotence and other states connected to erectile dysfunction. Learn more about "sildenafil". What people talk about "viagra stories"? The most essential aspect you should look for is "sildenafil citrate". Such problems commonly signal other problems: low libido or erectile dysfunction can be the symptom a strong soundness problem such as core trouble. Causes of sexual dysfunction include injury to the penis. Chronic disease, several medicaments, and a condition called Peyronie's disease can also cause sexual disfunction. Even though this medicine is not for use in women, it is not known whether this medication passes into breast milk.