B. Nektar Comes to the aid of the Orlando victims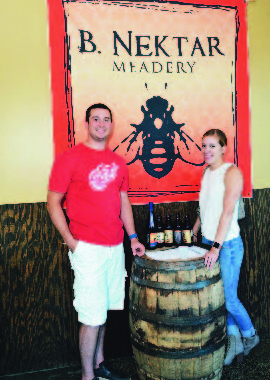 Story By David Wesley
Photos By Bernie Laframboise
In a novel from 1902, Joseph Conrad wrote, "The two main ingredients of the terroristic personality are vanity and laziness." Through the scenes we see exploited by the news from tragedies such as the one in Orlando, the public can manage to untangle the villains, dismiss them as crazy, and rush to help he victims in any way possible. Neither news nor hearsay can prevent the sane majority from doing what is humanistic in the wake of public horrors as the shooting at the Pulse nightclub in Orlando proved.
Incidents like Orlando are becoming more common in the Western world, especially across pockets in Europe, because of a phenomenon the French call "anomic terrorism," terrorism bred from alienation over one's displacement across countries, cultures and religions (and more). And because of shortcomings and handicaps in their personality, as Conrad stated, it brings about a quick and easy impulse to make a violent legacy and raging headlines.
Despite this new type of terrorism, the reaction against it has been nothing short of phenomenal. Globally, people are coming together in ways digitally and physically to support the victims and uphold the new majority mentality of equality and fairness.
No matter how charity or help is done or received, it's intimate and helpful. Naturally the city of Ferndale,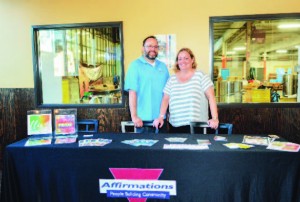 being the LGBTQ Mecca of the Mid-West, has raised lots of money to the victims of the Orlando shooting. At their brewery and tap room on the fringes of the city, B. Nektar held a charity drive on July 19th, where 50% of the sales in their taproom went to the Pulse Victims Fund.
The B. Nektar family stands behind the victims and their families in Orlando with heavy hearts. Through the wide bright windows of their spacious taproom, people were gathered in lines buying B Nektar's notable brews like Zombie Killer and The Dude's Rug, many glasses and many colors inside. The bartenders were happily busy handling money and beer, while the owner, Brad and wife Kerri, chatted with customers. Everyone was socializing comfortably and the event had a natural, uplifting energy because of its intent.
B. Nektar invited their friends from the Hero-or-Villain Van food truck to bring their food to sell. Their tips were donated to the Pulse Victims Fund, as well. Workers and regulars from Affirmations swirled about, while the people from BrewPass were selling Brew Passports (five dollars from the sale of each book was donated back). Placed before a beaming window, a black canvas with rainbow letters read, "Give-O-Mead-Er," with the hashtag WeAreOrlando at the bottom. Between the top and bottom there were envelopes that held donations in increments of $250. By the time I left the Give-O-Mead-Er had reached $1000 in donations. Over $2,000 was raised in all.
Ferndale has a right to be proud yet again, but instead it seems Ferndale's pride is channeled into warmth and inclusiveness towards everyone. B. Nektar had a wonderful idea to bring people out for a good time while doing some impactful charity work. In fact, I know of no other city besides Ferndale that has held a charity event like this, inside a microbrewery, and used the profits for Orlando. The event was as good as the idea, and everyone who stayed around and drank beer and ate food made donations that will make lives deservedly better.
I found the couple piñatas on the wall amusing, and the LGTBQ decorations touching. The spirit of Ferndale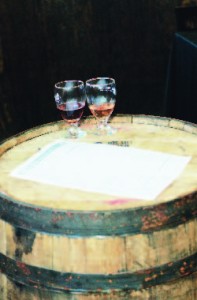 was an actual living thing inside B. Nektar that evening. The crowd grew bigger and the laughter and the chatter got louder. It was not a somber event despite the tragedy it was for; instead, a sociable positivity held the air together for the evening. People only started to walk home after the dusk thinned around 9:00 P.M..
Hopefully, other businesses in the city will join in and host events like this for other charities near and far. B. Nektar opened its doors in 2008 to Ferndale, and since then the city and the business have had a wonderful love affair that only gets better. Guided by geeky imagination, influenced by sub-pop culture and never satisfied with the status quo, B. Nektar always aims to bring a modern twist on mead as well as diversify craft mead, cider and beer. The people of Ferndale think they're doing a fine job, and many more glasses are raised to their efforts and success.
Find more information on B.Nektar on their website; bnektar.com
If something happened with our health, we believe there is a solution to any maladies in a cure. What medicines do patients purchase online? Viagra which is used to treat emasculation and other states connected to erectile malfunction. Learn more about "sildenafil". What humanity talk about "viagra stories"? The most substantial aspect you must look for is "sildenafil citrate". Such problems commonly signal other problems: low libido or erectile disfunction can be the symptom a strong soundness problem such as soul trouble. Causes of sexual dysfunction include injury to the penis. Chronic disease, several medicaments, and a condition called Peyronie's disease can also cause sexual disfunction. Even though this medicine is not for use in women, it is not known whether this curing passes into breast milk.