A Moment of Serendipity With Mike Rott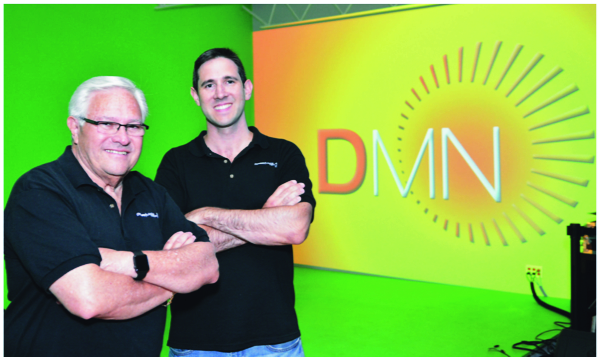 Story by Sherrad Glosson
Photos by Bernie Laframboise
Mike Rott, (Director/Producer) began his career in commercial real estate. At that time it seemed as though that was the be-all and end-all career. But when the market took a crash, Mike knew that he had to switch careers at least till things got back on track with the real estate market. Mike has always had a love for computers and, as fate would have it, he started working part-time at Apple as a salesperson until he figured things out. Working up from one position to another, he was promoted to a full-time lead creative position with a team of nearly 30 people, and that's when he said everything started to take shape and take off. "I wanted to get good at it so I could teach it. So, I forced myself to learn everything," said Mike. He witnessed people coming in, asking for various audio and video productions and he knew he had to make sure he was ahead of the game. So he began self-teaching himself how to do the things people requested. He started a business making short films and freelance websites for big-time executives under his company name, Dynasty Media Network, a company Mike opened in Ferndale back in 2013.
I was thinking about Birmingham, Royal Oak, or even somewhere in the Detroit area but there is something about the city of Ferndale. They even held a ribbon-cutting ceremony for me," said Mike matter-of-factly with a big smile on his face.
One day, Mike received a phone call from his dad, Sheldon Rott (co-producer/music director) who worked with the Tuskegee Airmen in the '60s. Rott had previously met Lieutenant Col. Alexander Jefferson (from Detroit), after hearing him speak one evening. He told Jefferson about his son opening a film studio, and suggested documenting some untold stories.
When Col. Anderson told his story, Mike and his father were deeply moved and Mike realized that it was a great subject for a movie. Col. Jefferson had doubts about his story eventually reaching the world but, with faith and persistence, the movie titled "The Luft Gangster: Memoirs of a Second-Class Hero" was born.
"The Luft Gangster" is the story about Col. Jefferson's courageous times fighting in World War II with the Tuskegee Airmen. Not only was this a period of segregation, Jefferson was also shot out of the air and held captive by the Nazis. Col. Jefferson, now 94, is one of the few Tuskegee Airmen fighter pilots still alive today. Imagine what it must have been like to put everything you have into fighting a war for America, only to have to fight a war of your own when that was over.
In February, 2016, Black History Month, "The Luft Gangster: Memories of a Second-Class Hero," premiered on American screens and, with great response, it was held over for a second month. Over the past few years, the movie has gained recognition and accolades from all over the world. One specific award for which Mike is truly proud is the award he received at the Los Angeles International Underground Film Festival. Mike never thought the film would become as big as it is currently.
Mike is still working hard, and shared some goals that he has in mind. "I want this film to be shown in schools everywhere! Kids nowadays need to hear some real in-depth information from the actual source."
Still in pursuit of his dreams, Rott is working to start a non-profit to create educational films for schools. In addition, Dynasty Media Network will be offering individual apple training, helping those with technical issues on their computers and help them understand any software they use.
The Luft Gangster; LuftGangsterMovie.com
Dynasty Media Network; dynastymedianetwork.com
If slightly happened with our heartiness, we believe there is a solution to any maladies in a medicament. What medicines do patients purchase online? Viagra which is used to treat impotency and other states connected to erectile dysfunction. Learn more about "sildenafil". What people talk about "viagra stories"? The most vital aspect you should look for is "sildenafil citrate". Such problems commonly signal other problems: low libido or erectile dysfunction can be the symptom a strong heartiness problem such as soul trouble. Causes of sexual malfunction switch on injury to the penis. Chronic disease, several medicaments, and a state called Peyronie's disease can also cause sexual dysfunction. Even though this medicine is not for use in women, it is not known whether this treatment passes into breast milk.