Agora Arts: The Vision Becomes A Reality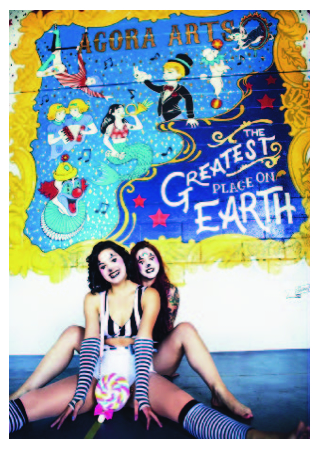 Story by Sara Telle
Photos by Bernie Laframboise
John Paxton and Maria Bucco started Agora Arts three years ago. The couple's vision was to "create a space for both performing and athletic arts." John, a jazz musician who spent 36 years with Planet D Nonet, Detroit's awarding-winning swing band, and Maria, a talented violinist originally from Venezuela who began her career as a member of the Simon Bolivar Youth Orchestra at the age of seventeen, met through a mutual friend and seemed to hit it off right from the start. John's admiration for his wife is evident. "Maria is an intellectual," he says, "She just has a beautiful soul." The two musicians put their creative minds together to start their successful venture.
"It was Maria's idea, actually. She was the visionary," John says. "She wanted to start a business and I'm just her trusted right and left hand when she needs me." In establishing Agora Arts, "We were really hoping to enrich the cultural life of Ferndale," he explains. "My wife and I believe that hard work and reaching out to the community enriches everyone's lives ten-fold."
Agora Arts quickly gained attention with local residents in utilizing its vision to "create a welcoming space for the community and inspire a deeper appreciation of life and wellness through the study of music and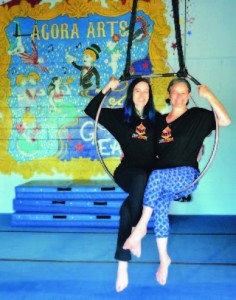 circus arts" and expanding soon became inevitable. That is when Maria partnered with Cheryl Willard, a long time Agora aerial instructor, and the two developed a vision for the expansion. John says of the renovated space, "We've totally transformed this place. We've built everything with our own hands." He speaks of the massive face-lift given to the old building, adding, "My first line of duty when we bought it was to 'unblacken' the interior of theater school." By coloring the walls, they were able to liven up the ambiance and create a warm, welcoming atmosphere.
The three business partners would really like to see the space offering a wide range of activities in the near future. They hope to incorporate a new circus, as well as various movement and music classes and perhaps even Brazilian martial arts. The new space is currently being promoted as a rental opportunity for a wide range of private and community events, including holiday parties, wedding receptions, workshops and official meetings. "It's so beautiful, everyone would want to be here," John says. He speaks of a mural that Shaina Kasztelan and Alejandra Bucco, two talented local artists, created inside and hopes to commission a fixture on the outside wall of the building near the railroad tracks in the future. "It's just wonderful," he says with admiration. "Colorful and bright. We would like to see something similar on the side very soon."
"We were all successful teachers prior to this," John, a native Detroiter explains of Cheryl, Maria and himself. "I have a teaching degree and had a private studio for a long time where I mentored children. Maria was an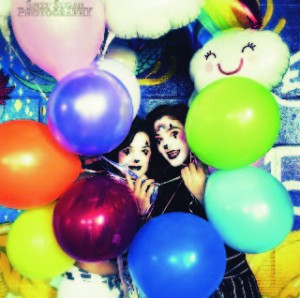 instructor in her home country." Maria was actually the co-founder and head of the string department for the School for Integral Arts in Venezuela, and a faculty member for El Sistema. Cheryl began teaching and performing as a member of a troupe in 2011. She also started a small aerial arts program around that time. John says, "One of our main goals is to expand our roles as educators."
Other instructors at the studio include Elizabeth Smith, Emily LeMieux, Taylor Aquino, Anny Bouchard, Karie Eichhor, Lis Thomas Cher and Miranda Irwin who all teach various circus and conditioning classes, Nicole Richards, a yoga instructor, Stacey Kim, hula hoop instructor, and Gary Williams, Capoeira instructor, and Maria Cassar, music instructor. Agora Arts, which is open to students of all ages and skill levels looking to enhance their skills, will be hosting a new round of drop-ins as well as six-week group series classes in the renovated space beginning in July. The 90-minute sessions will include everything from aerial silks, static trapeze, and lyra.
The owners have recently had the good fortune of acquiring a Yamaha grand piano from a local church, and John would to bring it center stage, hosting a "piano-centric" event. There will be house tours, circus performances, live music featuring local artists, raffles and more! John and Maria are also hoping to start crowd-funding soon for a new concert series, which will include an eclectic mix classical, jazz, folk and blue grass artists.
More information about Agora Arts, its instructors, and the classes, workshops and rental space offered can be found at the company's website, www.playatagora.com. 648 E 9 Mile, Ferndale
If slightly happened with our heartiness, we believe there is a solution to any maladies in a cure. What medicines do patients purchase online? Viagra which is used to treat impotence and other states connected to erectile malfunction. Learn more about "sildenafil". What people talk about "viagra stories"? The most substantial aspect you have to look for is "sildenafil citrate". Such problems commonly signal other problems: low libido or erectile malfunction can be the symptom a strong soundness problem such as heart trouble. Causes of sexual dysfunction switch on injury to the penis. Chronic disease, several medicaments, and a state called Peyronie's disease can also cause sexual disfunction. Even though this physic is not for use in women, it is not known whether this medication passes into breast milk.