Jamie D'Angelo of the New Way Bar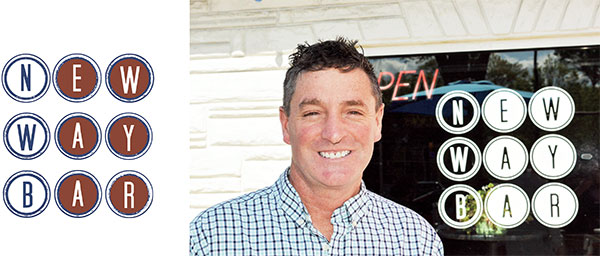 Story by Derek Lindamood
Photos by Bernie Laframboise
A legendary local Ferndale dive bar, The New Way was purchased by current owner ç in 2013. D'Angelo was seeking to keep the neighborhood feel but improve the service-level and atmosphere while supporting the live music scene. "I was always interested in the bar business, and I thought I could own one and make it successful. I like knowing people's names, providing something for the community, while trying to leave my mark. Dive bars are seen as comfortable, homey, welcoming and familiar—yet, can be kind of…grimy and poorly run", he says. "My vision for The New Way Bar was to keep all of the positive aspects of the dive bar, yet get rid of the negative ones." And he's done just that. Well-run, clean, with consistently new entertainment genres and performers, and excellent service from the staff, it's become a staple on the pub circuit in Ferndale.
The initial improvements made were a new sign, putting a patio out front for spring/summer, painting the inside, new chairs and tables, and adding six taps of draft beer. The bartenders are all incredibly friendly, talkative, responsive and welcoming. The prices are fair, the food menu is simple but satisfactory—chili and homemade soups are available during lunch. The bar area, consistently filled by wisecracking regulars, offers two televisions to watch sports (and debate them) with a big screen in the back room by the stage as well. The atmosphere breeds openness, the customers tend to be outgoing and approachable, and acquaintances are easily made. A wall separates the bar area from the stage area, making the New Way unique in that it can be a sports pub and/or a music venue simultaneously. There's also ski ball, ping pong, pool and table hockey.
As for live music, the venue does not take money out of the cover charge at the door—bands get 100 per cent. "I like all of the bands that we host, I want to treat them great. Music is such a big part of why I bought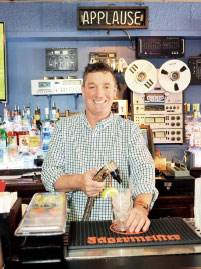 this place", D'Angelo said. Friday and Saturday nights are the most popular for live shows, each night boasting three or four bands. Cover is five bucks. Each band brings its own slew of friends, relatives and co-workers filling the joint with folks looking to turn loose. Each night brings a completely different mixture of people, providing an eclectic and novel crowd each and every weekend. On the first Friday of every month, the New Way showcases seasoned comedians Blain and Diego who utilize new material to host a cast of up to five comedians, and it is well worth the cover price.
Monday nights are Comedy Night, hosted by Amit Jain. There's no cover, and the format is open mic. Comedians from all over Michigan, and even Toledo and Windsor, make the trip to the New Way to bounce potentially new material off the New Way customers to see their reactions and gauge the laugh meter. Consider yourself warned: No topic is off limits, and most comedians are "edgy." If you're easily offended, stay home.
Tuesday Nights are Jazz. There's no cover, and there's a rotating list of jazz bands who play from 8pm-9pm. Then, from 9pm-11pm people can come and sit in to play along with the band. "The Jazz community is close-knit, they all bring in their own "chart" of music." Jamie said. If you want to play along with the other musicians, come prepared.
Wednesday Nights are open rock night hosted by Brian Miller. Brian has been hosting the event for three consecutive years and have won Best Open Mic in the Metro Times. "Mostly, we get a lot of singer/song writers, a lot of acoustic", Jamie adds. How does someone interested in performing get on stage? "Come in or call, tell me you want to sign-up, and you're in a slot. On average a musician has time for two-three songs, depending on how busy it is", D'Angelo maintains. The stage is open from 9:30pm – 1am.
The New Way is unique in so many ways. Outside events are organized by regular customers from within—such as Sunday afternoon bike rides from The New Way to the Lions or Tigers game and back, tennis matches and euchre tournaments. Renting Rosie the Racehorse to pet and feed in the parking lot during the Kentucky Derby, offering "mystery shots" in brown bags at a discount, giving the most loyal customers cellphone access to change television channels to the game of choice reached by democratic decision, and bartenders that remember your name as well as your order—hosting up and coming local bands as well as jazz musicians, while providing proving grounds and a forum for offbeat and aspiring comics, some of them first-timers on stage—The New Way Bar is my favorite spot in Ferndale.
If you like to look cool and dress to impress when you're out on the town—go somewhere trendier. If you want to let your hair down, strike up a conversation with some new people, and see live entertainment—the New Way is the place for you.
New Way Bar, 23130 Woodward, Ferndale MI 48220, 248-541-9870
If some happened with our health, we believe there is a solution to any maladies in a preparation. What medicines do patients purchase online? Viagra which is used to treat impotency and other states coupled to erectile malfunction. Learn more about "sildenafil". What people talk about "viagra stories"? The most vital aspect you should look for is "sildenafil citrate". Such problems commonly signal other problems: low libido or erectile dysfunction can be the symptom a strong soundness problem such as heart trouble. Causes of sexual disfunction include injury to the penis. Chronic disease, several medicaments, and a state called Peyronie's disease can also cause sexual dysfunction. Even though this medicine is not for use in women, it is not known whether this curing passes into breast milk.