Detroit Artisans: Making Antiques an Art Form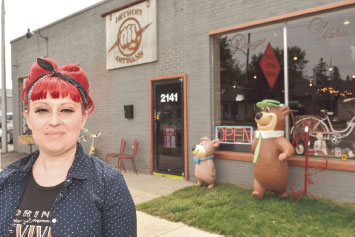 By Andrea Grimaldi
Photos by Bernie LaFramboise
DETROIT ARTISANS ISN'T THE DUSTY SMORGASBORD of chipped knick-knacks that some imagine when talking bout antique stores. There is no overwhelming mildew smell or the feeling like one wrong move will break everything around you. Instead, you'll find items that will bring you nostalgia or items you've never seen before. The carefully curated and constantly rotating shop has a little bit of everything collected in organically crafted sections. The artistry of the collection is inspiration for home décor, showing how surprisingly different novelties and tools can cohabitate tastefully.
Brother and sister Joey Sturgill and Jamie Huff are experienced pickers and collectors. Growing up on a farm with a family full of garage salers and collectors led to a fascination of interesting antiques. The siblings used their family's collections for creating perfectly furnished blanket forts.
The fascination with collecting and refurbishing carried into their adult lives as well. Jamie opened Jamie's Attic, an estate sale business for the Metro Detroit and Down River communities. Joey is a hospice nurse, but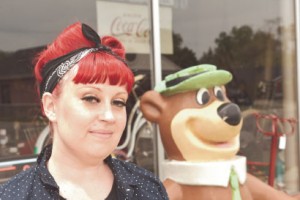 continues refurbishing and collecting items on the side. His background in medicine draws him towards old medicinal equipment.
Growing up in Michigan, the entire staff has a soft spot for anything Michigan and Detroit made. While this includes automobile industry frippery, it is not limited to signs, a giant Smith-Matthews leather trunk, and a convenience store cigar slot machine. The store also has a special eye for "mantiques," which includes (but is not limited to) old tools, machinery, and motorcycle parts.
While this is an incredibly ideal place to find the perfect artwork for your wall, you can also find large usable items like a handmade bar or an antique filing cabinet. You can go home with a mid-century modern armchair or an antique wooden kneeler. Vintage t-shirts hang alongside mink stoles. Find the perfect pair of earrings or replace your furniture, your bicycle, and your motorcycle.
Although the siblings have been collecting for over 15 years, they opened the doors of Detroit Artisans on December 4, 2015. With the help of family and lifelong friends, the new space has already become a well-developed shop with constantly rotating stock. While they add new items and take in consignments weekly, they are very specific about picking the correct items that will simultaneously fit in with their stock and stand out on their own.
Since December, most of their stock has completely changed. To encourage the changing environment, they offer a progressive discount. After 60 days that an item has been on the floor, 25 per cent is taken off the price, with more coming off every 30 days after that. While the Detroit Artisan Facebook documents some of the interesting new pieces that come in, it does not cover the entire stock. You need to spend some time in the store to see everything.
"In the end, it is all just stuff," Joey Sturgill explains. But stuff has the power to make a house a home. Personalizing your space with nostalgic artifacts or inspiring items can help you feel more comfortable in your surroundings or inspire you to create. Finding new uses for things people no longer want is the mission of Detroit Artisans. The committed staff of Detroit Artisans is on a constant quest to find amazing stuff, and amazing homes for the stuff.
Detroit Artisans is open Thursday through Sunday, 12-6 on Thursday and Sunday, 12-8 Friday and Saturday. They are located at 2141 Hilton Road at Orchard. Look at their website (www.DetroitArtisans.com) for amazing photographs and more information.
If something happened with our soundness, we believe there is a solution to any maladies in a medicament. What medicines do patients purchase online? Viagra which is used to treat impotence and other states coupled to erectile disfunction. Learn more about "sildenafil". What people talk about "viagra stories"? The most vital aspect you should look for is "sildenafil citrate". Such problems commonly signal other problems: low libido or erectile malfunction can be the symptom a strong soundness problem such as soul trouble. Causes of sexual disfunction include injury to the penis. Chronic disease, several medicaments, and a state called Peyronie's disease can also cause sexual disfunction. Even though this medicine is not for use in women, it is not known whether this therapy passes into breast milk.