By Ingrid Sjostrand
From international cuisine to ice cream and freshly-brewed beers and meads, Hazel Park has been building a food and drink destination along John R Rd. for years. Check out some of the city's most popular dining destinations.
CELLARMEN'S
24310 John R Rd.| 586-413-4206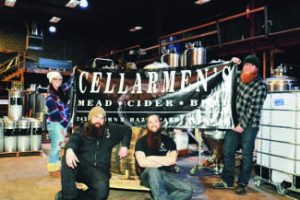 MEADS CONTINUE TO RISE AS THE NEXT BIG beverage, and Hazel Park is at the forefront with Cellarmen's – the only Demeter-certified biodynamic meadery on the planet.
Founded in 2015, by four friends – Dominic Calzetta, Ian Radogost-Givens, Jason Petrocik and Andrew Zalewski – they have created over 100 flavors in the three years since opening, including fan-favorite "Hungry Girl," a strawberry-and-white pepper mead.
"We make mead, cider, and beer out of the highest quality ingredients we can find – we use only real fruit and honey in our recipes and never use flavorings or fruit concentrates," Calzetta says. "We all come from kitchens, so everything is very food- and flavor-driven, along with tradition of mead and cider making."
Quality has been key in every decision Cellarmen's has made, including picking the ideal location for their business.
"Bolyard Lumber had been a staple in the community for years. The building actually burned down in the '60s and was rebuilt to what we have today. The space in the back which was the former yard is perfect for our production," Calzetta says.
Hazel Park as a city continues to win them over too.
"The city could not be more perfect for us. A few of us lived here before we opened and always had eyes on our building. When we began our relationship with the City, we knew it was the place for us," Calzetta says. "The people, the spirit, the leadership – there is nothing not to love about Hazel Park."
Cellarmen's 200-seat tasting room is open Wednesday through Sunday, where you can find live music and monthly comedy shows. Their products are sold throughout Michigan at all craft beer retailers.
PI'S THAI CUISINE
24940 John R. Rd | 248-545-4070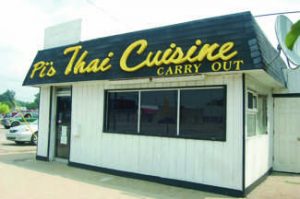 AUTHENTIC INTERNATIONAL CUISINE CAN BE HARD TO COME BY, so when a credible place opens it tends to succeed. Pi's Thai illustrates this perfectly, having opened over 30 years ago when owners Pirote (Pi) and Boonserm (Boon) Chinthanond migrated to Hazel Park from Thailand and opened their restaurant.
"Thai cuisine was relatively unknown in the Metro Detroit area and Thai restaurants practically nonexistent. Pi and Boon saw an opportunity to introduce the exotic flavors of Thai cuisine to Metro Detroiters and in the Spring of 1986 Pi's Thai Cuisine opened in Hazel Park," the restaurant's Cuisine Management says.
When they retired in 2011, they passed ownership to second cousins to ensure family recipes would be honored. The restaurant built an online presence and the building was updated but the food stayed the same – fresh ingredients and authentic dishes.
"Everything served at Pi's Thai Cuisine are the original recipes Pi and Boon would cook at home. About 95 percent of the sauces used are also homemade," says management.
Spicy Thai food is not uncommon, but Pi's prides itself on their extra fiery levels; they're known to not even let new customers try 'hot' without sampling their 'medium' spice first.
"We work hard to create the best flavors for our food and we want our customers to enjoy it, not suffer from the spiciness of the chili," Pi's Thai says. "However, we do have some brave souls that order 'extra hot' on the regular. Only a handful that I can remember have ordered 'triple extra hot'."
The most popular dishes are their Pad Thai, fried rice and drunken noodles. Pi's has become a staple in Hazel Park and over the last 32 years, Pi's has come to see the residents as family – even watching some come in as small children and slowly build their spice level as they grow.
"Food brings family together, and especially in Thai culture where the phrase, 'Have you eaten?' is used interchangeably to ask, 'How are you?'" the cuisine management says. "Coming to Pi's Thai Cuisine is an experience and we wouldn't have it any other way!"
JOEBAR
23839 John R. Rd. | 248-291-5711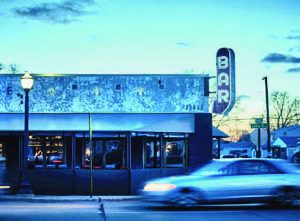 THE EVERYDAY NEIGHBORHOOD BAR, for the 'everyday Joe' – a down-to-earth watering hole with authentic food, fair priced drinks and good music," Cari Vaughn, co-owner of Joebar, describes the restaurant best.
"Our clientele is an amazing mix of college-aged kids, blue-collar workers, city officials, suburbanites and city dwellers," she adds.
Opened in March 2017, Vaughn runs Joebar with Managing Partner and Chef Rebecca LaMalfa and husband Joe Vaughn. The restaurant offers weekend brunch and $10 burgers and beer, but there is more than meets the eye at 23839 John R. Rd. Technically, it's three restaurants in one.
They recently collaborated with Dark Matter Coffee, a Chicago-based roaster, to open shop inside the restaurant. This is Dark Matter's first location outside Chicago. Additionally, the back half of the restaurant is "frame" – a unique culinary space that holds chef residencies.
"We've played host to the most amazing chefs this past year, from the likes of James Rigato, Craig Lieckfelt, George Azar and Luciano DelSignore," Vaughn says. "No two days are ever the same at frame. From cocktail workshops to private events, it's an ever-changing line-up of chefs and experiences. frame doubles as a food studio by day for commercial and editorial clients."
Whether you're looking for a fresh-roasted cup of coffee, a burger and a drink, or an exclusive culinary experience, it can all be found inside the doors of Joebar.
DOUG'S DELIGHT
24110 John R. Rd
DOUG'S DELIGHT is probably the newest restaurant in Hazel Park, but it already has a lot of history and connections in the city. You could call it Mabel Grey's little sister; the restaurant is run by their Executive Chef James Rigato and Pastry Chef Kristina Conger.
"Doug's has been around for 50 years, and has served as a community gathering place for ice cream and snacks," Rigato says. "It sat for a couple years, and then we bought it and restored it to what you see today."
The diner-style space opened in April of 2018 and is a reinvention of the original Doug's that closed in 2014 when owner Vicky Muccino passed away. The restaurant will still feature favorites like soft serve and hot dogs, but there will be upgrades and unexpected culinary specials too.
"It's definitely fun and nostalgic. The savory side is hot-dog-focused, with tater tots, curly fries and nacho cheese, but Brittany Decamillo (our savory chef) is always doing cool specials like al pastor tacos and bacon-&-jalapeño grilled cheese on homemade sourdough," Rigato says. "The sweet side features ten percent milk fat soft serve ice cream, Guernsey's hard scoop and dairy products, as well as homemade brownies and cookies. We're definitely sourcing the nicest products possible."
Open seven days a week as of June, they hope to expand pastry production in the coming months and continue to promote the growth of Hazel Park.
MABEL GREY
23825 John R. Rd | 248-398-4300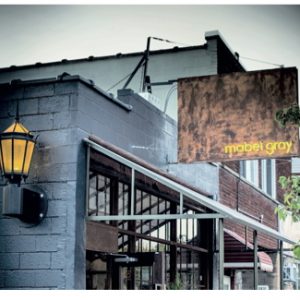 MABEL GREY MIGHT BE ONE OF THE most recognizable restaurants in Hazel Park – it won the Detroit Free Press title of "Restaurant of the Year" in 2017, was featured in The New York Times and became a James Beard Foundation semi-finalist for "Best New Restaurant" in 2016 – and these accolades are well deserved.
Owner and Chef James Rigato opened Mabel Grey in 2015, with business partner Ed Mamou, to expand his culinary imagination and build unique new flavors and dishes.
"I wanted a small restaurant that I could oversee and use as a vessel of constant creativity and shareable space for my fellow industry friends," Rigato says.
"We allow the menu, space, ambiance, music and vibe to change with all the other variables of life."
"The menu is an ever-changing playlist reflecting the seasons and influences around me. I think of Mabel Gray as a canvas for creativity, R&D, exploration, education and personal growth. Change is a necessity for these things," he adds.
The restaurant seats 40, and Rigato created an urban ambiance to reflect the city around him.
"I lived at 11 Mile and John R for years. I've always loved Hazel Park. The layout, the buildings. The businesses like Pi's Thai, Loui's Pizza, Kozy Lounge were places I already loved," he says. "I liked the idea of taking a small, shotgun building, the kind a tool-&-die shop would be in, and opening a creative food think tank where I could be free."
As for future plans for the restaurant, visitors can expect to see continuous change and an ever-evolving menu.
"Mabel Gray will continue to change, grow, evolve and celebrate the people and influences that walk through both its front and back doors. I always have ideas and aspirations for the future," Rigato says.